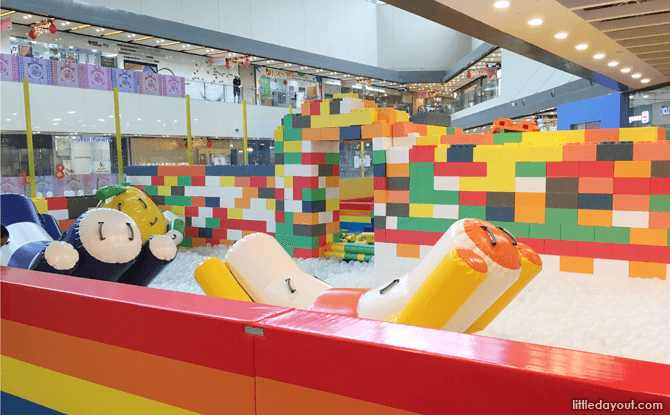 Looking for an indoor playground where you can bring the little one out for a bit of fun? Want to find a convenient place where you can also get some of your errands done at the same place? Perhaps, this Little Day Out list of shopping centres with indoor playgrounds 2018 will be of help.
If you are wondering which are the shopping malls with indoor playgrounds in Singapore for 2018, here is our quick guide that will provide you with an overview and useful information you may need.
Shopping Centres With Indoor Playgrounds 2018
This Little Day Out list of shopping malls with indoor playground 2018 covers paid indoor children's playgrounds only. View a list of FREE shopping mall playgrounds here.
These include a variety of indoor playgrounds including cassia seed playgrounds, those with playscapes and play activities for kids. It currently does not cover activity corners within shopping centres but perhaps it will in the future.
---
-- Story continues below --
This list of shopping malls in Singapore that house indoor playgrounds is organised by shopping centre as well as by the different regions of Singapore. You can choose to sort through the information quickly and have an easy reference to find out where you may wish to bring your child.
Here is our Little Day Out quick reference list of shopping centres with indoor playgrounds, updated for 2018.
| Shopping Mall | Indoor Playground | Unit Number | Website | Region |
| --- | --- | --- | --- | --- |
| City Square Mall | Fun N Laughter | #B2-32 | Website | Central |
| City Square Mall | Happy Castle | #04-22 | Website | Central |
| City Square Mall | AIRZONE | Level 2, North Atrium | Website | Central |
| Forum the Shopping Mall | Sandy Dandy | #02-21 | Website | Central |
| Great World City | Amazonia | #03-08 | Website | Central |
| Marina Square | Pororo Park Singapore | #02-29 | Website | Central |
| Liang Court | The City | #03-04A | Website | Central |
| Suntec City Mall | Cool de Sac | #02-379/80 | Website | Central |
| Suntec City Mall | The Polliwogs | #02-724, Tower 4 | Website | Central |
| The Centrepoint | Little Planet Playland | #02-21/21A | Website | Central |
| The Centrepoint | Pirate Land | #03-09/101 | Website | Central |
| VivoCity | The Polliwogs | #03-12 | Website | Central |
| United Square | Magic Sand | #01-43 | Website | Central |
| AMK Hub | eXplorer Kid @ AMK Hub | #04-02 | Website | North |
| Downtown East | eXplorer Kid @ AMK Hub | Level 3 | Website | East |
| Eastpoint Mall | The Polliwogs | #04-07 | Website | East |
| i12 Katong | The City | #03-31 | Website | East |
| Katong Square | Kaboodle | #02-05 | Website | East |
| The Seletar Mall | Happy Castle | #03-K1/K2/K3 | Website | East |
| Big Box | My Little Giant | #01-12 | Website | West |
| Bukit Timah Plaza | Giggly Feet | #B1-52B | Website | West |
| Bukit Timah Shopping Centre | One Thing Kids Cafe | #B2-17 | Website | West |
| JCube | LOL Playland | #03-04/05 | Website | West |
| Junction 10 | Tickle Tickle | #02-17 | Website | West |
| Rochester Mall | Busy Tables | #03-22 | Website | West |
| The Grandstand | Kidzland | #02-14 | Website | West |
| Hillion Mall | Fun Kids Place | #02-25/26/27 | | West |
| West Coast Plaza | Jollyfields | #B1-12 | Website | West |