It's the festive season once again! The team at Little Day Out is excited to celebrate it with you, our supportive readers who have continuously shown us support throughout this year.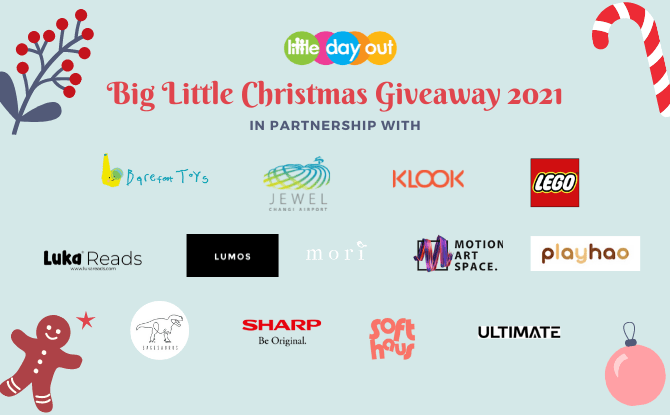 In collaboration with our generous sponsors, we are holding a Big Little Christmas Giveaway from 18 November to 23 December 2021.
There is a whole line-up of prizes that participants can stand a chance to win. A new prize will be up for grabs every three days; so, be sure to follow us on Facebook and Instagram to be kept updated.
You can try for as many prizes as you want (one form submission per prize). You will need to submit a new form for each prize that you are interested in. Don't forget to follow the instructions below to increase your chances of winning.
Scroll To The Bottom To Enter Our Giveaway
---
Little Day Out's Big Little Christmas Giveaway 2021
Here are the prizes that Little Day Out will be giving away from 18 November to 23 December 2021.
---
18 to 20 November 2021: Smart LUMOS RAY Projector & Rize Stand worth $353

From 18 to 20 November, stand a chance to win a Smart LUMOS RAY Projector as well as a Rize Stand that will allow home movie nights to have an upgrade. Designed for small space, the LUMOS RAY weighs in at just 1.2 kg, making it extremely portable and great for the study or bedroom. It is designed to look like a stylish cube and has a native resolution of 720p, a brightness of 3000 Lumens and a lamp life of >50,000 hours. Read our product review here.
---
21 to 23 November 2021: Two Klook Playground Passes worth $216
Klook Playground Passes allow pass holders to save up to 20% on their visits to top indoor playgrounds in Singapore. From 21 to 23 November, we will be giving one winner a chance to win two Klook Playground Passes. Each playground pass lets the holder visit all-time favourite playgrounds such as Kiztopia, Kidz Amaze, Tayo Station, Pororo Park Singapore. The pass is valid for four months and each Playground Pass is valid for 1 adult and 1 child. Read more about the prize here.
---
24 to 26 November 2021: TURING TUMBLE Game & a $50 Playhao voucher
From 24 to 26 November, one winner will be able to win a TURNING Tumble Game and a $50 Playhao voucher. Turing Tumble is an engaging STEM toy where players can build mechanical computers powered by marbles to solve logic puzzles. Read more about it here.
The winner will also be able to get a $50 voucher to purchase a wide range of interesting wooden toys, puzzles and educational toys for kids of all ages from the Playhao online store.
---
27 to 29 November 2021: Alpha Egg Q3 Pen & accessories worth $180
From 27 to 29 November, stand a chance to win an Alpha Egg Q3 Pen and accessories such as a silicone cover, screen protector and casing. This dictionary and translator pen conveniently replaces hard copy dictionaries, reference books and is a tool to help with the reading and writing of Chinese characters. Read more about it here.
---
30 November to 2 December 2021: Mori Gift Bundle worth $153
From 30 November to 2 December, stand a chance to win a gift bundle from Mori, a local social enterprise based in Singapore. This gift bundle will consist of the following items:
1. Jang Fox Portable Doodle Bag ($37)
2. Camel Navy Dual Sling Bag ($41)
3. Emotion and Under the Sea Rewritable Flashcards with drawstring bag ($26+$12)
4. Christmas Activities Box ($28)
5. 2 Notebooks ($9)
See the various products at the site here.
---
3 to 5 December 2021: $150 Voucher for Softhaus Ice Cream
From 3 to 5 December, one winner will stand a chance to win a $150 voucher to use at Softhaus, a premium local ice cream brand and concept by well-known pastry chef, Janice Wong. They have 16 ice cream flavours, such as tangy Mango Banana Passionfruit, a KETO friendly Chocolate Sorbet, and Pear Thyme Honey Eucalyptus and over 20 toppings.
---
6 to 8 December 2021: Playmags 100 Piece Set & Playmags 50 Piece Set Worth $218
From 6 to 8 December, stand a chance to win a 100 Piece Set and 50 piece set of Playmags from Barefoot Toys. Playmags is one of the all-time favourite magnetic tile toys around. These safe, sturdy and colourful constructive pieces ignite a child's imagination and offer endless possibilities of play. Enter to win this highly versatile toy that the whole family can enjoy together.
---
9 to 11 December 2021: Bone Conduction Headphones by Sharp worth $189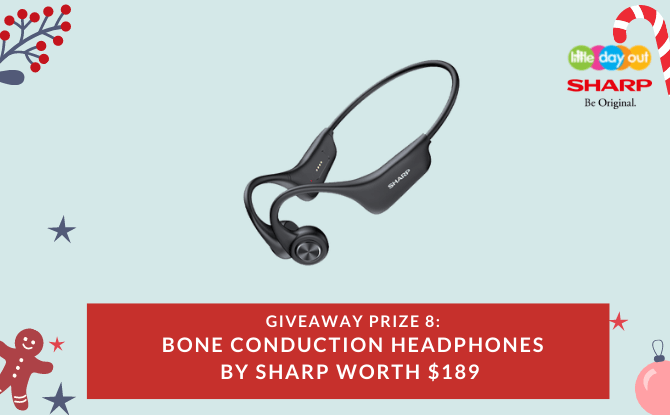 From 9 to 11 December, stand a chance to win a Bone Conduction Headphones: HP-BC50 from Sharp. This lightweight external headphone comes in a sleek and stylish design with a built-in 2GB memory, giving approximately 5 hours of music playtime. It also has a Bluetooth and call answering function. Enjoy ear-free listening with this pair of Bone Conduction Headphones.
---
12 to 14 December 2021:
Jewel Bundle Package 1
for 2 Adults And 2 Children
From 12 to 14 December, two winners will stand a chance to win a Jewel Bundle Package 1 for two adults and two children. This package includes access to the Canopy Park, where visitors can play on the Discovery Slides, Foggy Bowls, Petal Garden, Topiary Walk. It also includes access to the Canopy Bridge, Hedge Maze, Mirror Maze and Manulife Sky Nets – Walking. Be sure to check their site for more details.
---
15 to 17 December 2021: A LEGO set worth $150
From 15 to 17 December, stand a chance to win either a 60295 LEGO City Stunt Show Arena or 41684 LEGO Friends Heartlake City Grand Hotel. Both sets ensure hours of play and imagination.
The 60295 LEGO City Stunt Show Arena includes two monster trucks, two cars, a ring of fire, a ramp, a stunt bike and six mini-figures while the 41684 LEGO Friends Heartlake City Grand Hotel features a three-storey play set filled with creative details and four LEGO Friends mini-dolls for kids to recreate what it is like to stay or work in a ritzy hotel.
---
18 to 20 December 2021: Motion Art Space session for 1 Adult & 2 Children worth $178
From 18 to 20 December, Motion Art Space is giving away an art jamming session that will let participants create a memorable and unique art piece using pendulum swings and different tools. This session is valid for one adult and two children (under 12 years old). Read our experience of it here.
---
21 to 23 December 2021: 2D1N staycation at SHOW with XCape Park credits & inflatable park tickets worth $456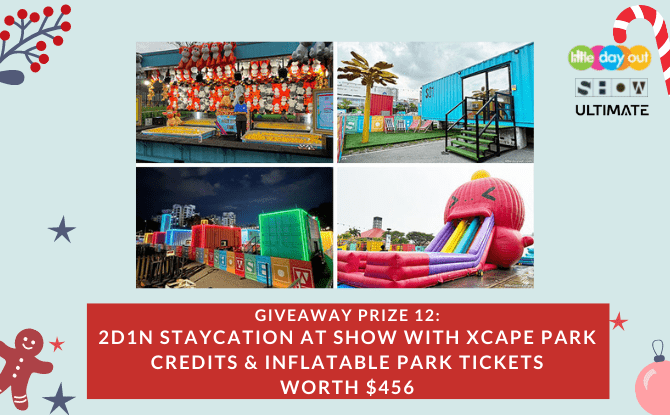 From 21 to 23 December, stand a chance to win an exciting 2-day-1-night stay at the SG Hotel On Wheels (SHOW) in a 40-footer container of their choice. Read more about our SHOW-cation here. To make the staycation even more memorable, winners will be able to have 50 game credits and ride credits for the XCape Park as well as 4 inflatable park entry tickets.
To add to the festive spirit, SHOW will also be giving an additional consolation prize to five lucky winners. All who enter will stand a chance to win a set of $20 games and $20 carnival coupons to use at the D'Ultimate XCape Park.
---
Enter Little Day Out's Big Little Christmas Giveaway 2021
Little Day Out is giving away to one winner:
Playmags 100 Piece Set & Playmags 50 Piece Set Worth $218
For a chance to win this prize, simply follow these 4 steps:
Follow us on Instagram (https://www.instagram.com/littledayout/)
Subscribe to our Online Newsletter (bit.ly/LDOeNews)
Answer the question in the form below:
Be sure to submit your entries by Wednesday, 8 December 2021, 11.59 pm. You can also increase the chances of winning with up to four extra entries when you do one or all of the following:
All the best!