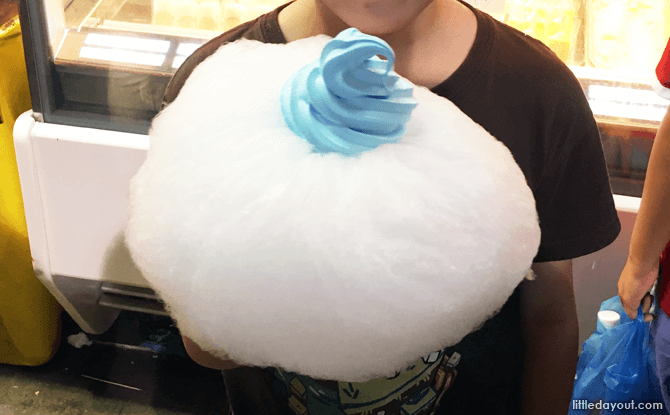 Yearning for a little night out?
A visit to the Geylang Serai Hari Raya Night Market may be in order.
With the streets lit up till July 6 in celebration of Hari Raya, Geylang Serai is a hive of activity. Its massive pasar malam is one of the biggest draws and sure to be an experience for all the senses.
Starting from 5 pm till late in the evening, shops at the bazaar sell everything from clothes to carpets.
---
-- Story continues below --
Oh yes, and food too of course!
When it comes to food, you can choose to get a proper meal from the stalls, or a kebab or the ubiquitous Ramly burger. But, there are plenty of little bites and sweet treats too. Here are some that you will find along the stretch of Geylang Road in front of One KM Mall and Onan Road.
Momolato Soft Serve with Cotton Candy
Wondering whether to get ice cream or cotton candy? No such dilemma here. This sugary sensation looks like a dollop of ice cream has landed on a cloud. Choose from ice cream flavours Sea Salt Milk or Chocolate Gula Melaka or a combination of the two.
Katoshka Double Fried Russets
Q: What is better than fried potatoes?
A: Double-fried potatoes!
Served in a cup, there is a choice four sauces to top it off with – salted yolk, special cheese (slightly spicy), sour ranch or BBQ. Be prepared to wait, but you can place your order first and they will text you once your fries are ready for collection.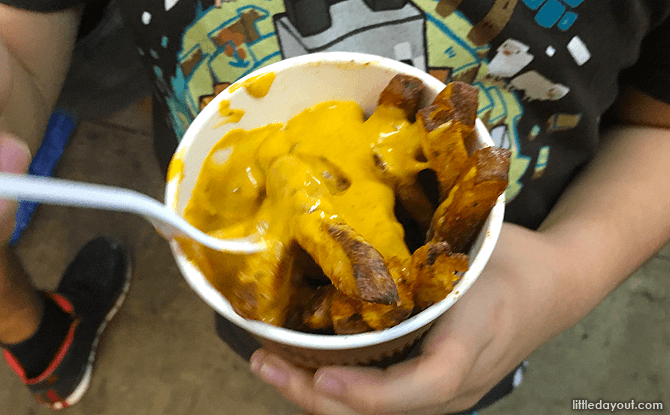 Nutella Ball
Little dough balls infused with nutella. 'nough said.
Fried Oreo
Oreos are yummy on their own but being battered and deep-fried takes them to another level. The cookies are given a crispy golden coat and the melted cream on the insides makes a chewy indulgence.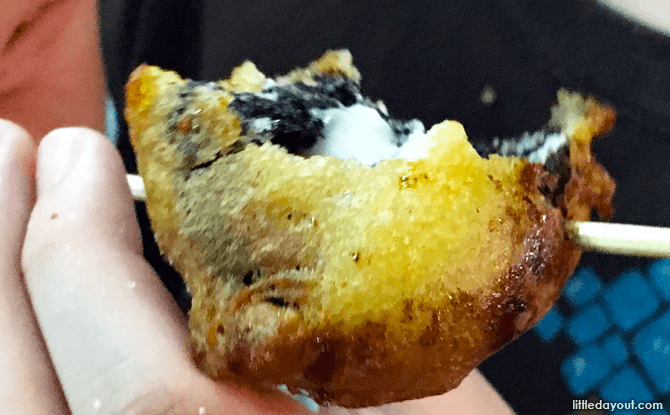 Twist Potato
Twirly and covered with your choice of flavouring, the Twist Potato is quintessential street food – jumbo-sized and perfect for eating and walking at the same time.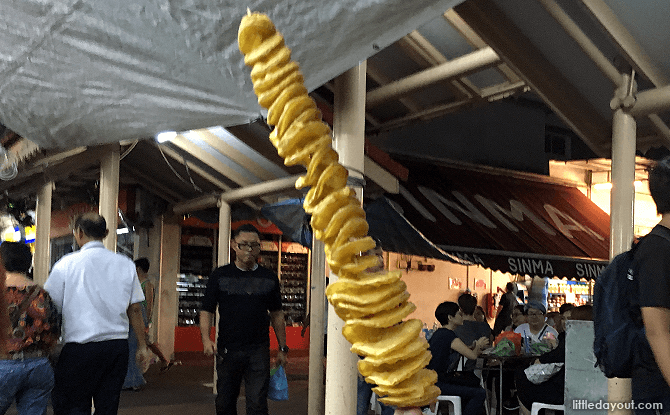 The Hari Raya Night Market at Geylang Serai can be found between Tanjong Katong Road and Lorong 101 Changi. The Closest MRT is Paya Lebar MRT. Be prepared for crowds.