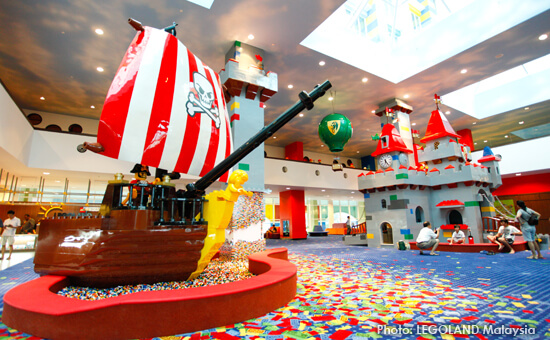 29 November 2013 – LEGOLAND Hotel, Asia's first, opens its doors to guests today.
Themed to provide guests with a complete LEGO experience, the new hotel's facilities include 249 rooms done up in Pirate, Adventure and Kingdom décor, a children's play area brimming with over 100,000 LEGO bricks, and swimming and wading salt water pools. The hotel has 154 parking bays for guests.
At the hotel's lobby, welcoming visitors are a knight's castle and pirate's ship. On display at the check-in area are 12,528 LEGO Mini Figures. These are magnified by a LEGO sculpture of man on a bicycle with magnifying lenses as wheels.
There are more than five million LEGO bricks found throughout the hotel and interactive features that include themed elevators, exploding toy boxes and treasure trails.
All bedrooms include a king-sized bed and separate sleeping area for up to three kids. To add to the excitement, children will a treasure chest in each room that they can unlock after uncovering clues hidden throughout the room.
The LEGOLAND Hotel includes two dining options, the Bricks Family Restaurant and Gourmet Bricks.
LEGOLAND Hotel is located at Nusajaya, Johor. Together with the LEGOLAND Theme Park andLEGOLAND Water Park, they make up the LEGOLAND Resort.
Information on hotel bookings and rates can be found athttp://www.legoland.com.my/en/Hotel/Home/