Have you brought your toddler to the wet market or even the supermarket to purchase groceries? With the DUPLO set 10983 Organic Market from the Garden Range, LEGO Group intends for the shopping experience to be recreated for children 18 months and above in the comfort of your home. I was intrigued by how the concept of buying and selling could be made simple yet full of open-ended fun for young minds with a DUPLO set like this.
---
LEGO DUPLO Organic Market 10983: The Unboxing
40 pieces of DUPLO bricks greeted us when my 3-year-old son and I unboxed the Organic Market 10983 set. The box contained delightfully adorable food pieces including a radish, watermelon, lemon and strawberry.
---
-- Story continues below --
These familiar foods come with varied expressions to encourage self-expressiveness while playing.
The two main 'structures' are a stall front to transact food items from and a weighing scale, promoting ideas of balance and movement as toddlers weigh their food items before purchasing them with the three coins of different values.
Last but certainly not the least is the highlight of the set – a textile reusable bag with a delightful print to boot for toddlers to place the food items they have bought or sold. What a cute way of introducing kids to being environmentally friendly!
---
LEGO DUPLO Organic Market 10983 Review: Buying and Selling in an Organic Market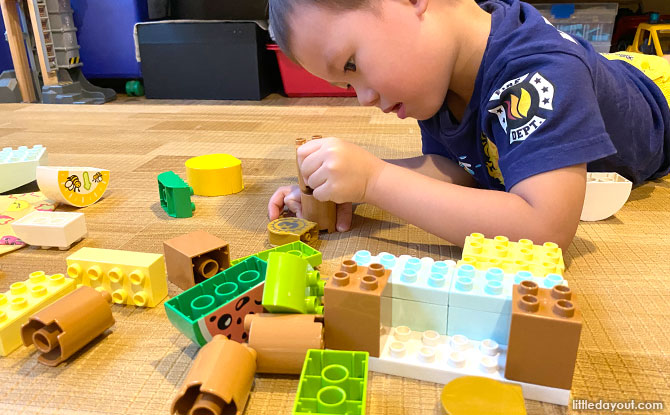 Role-playing is something this set encourages naturally as my son and I set up shop together by piecing the bricks for the stall front.
The white and green roof bricks helped me teach alternating colours as we diligently followed the manual, after having deviated briefly as my son wanted to build a bridge instead.
The roof allowed him to have this connecting-of-bridge experience and we happily proceeded to 'buy and sell'. Upon setting up shop, my toddler immediately took on the role of stallholder as he peeped through the shopfront and asked me without prompting, "What do you want?", as he would do when we play kitchen and restaurant pretend-play.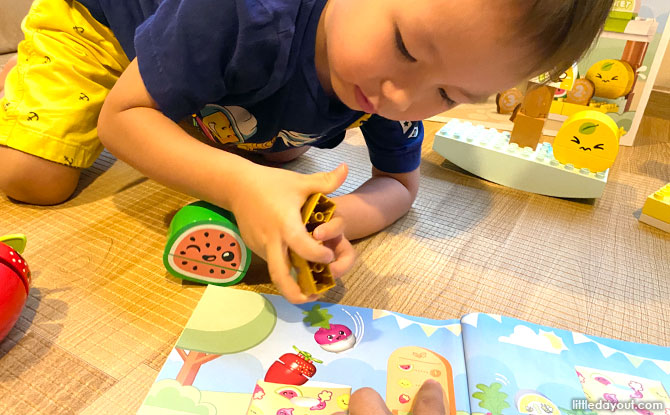 As the customer, I proceeded to select some fruits for him to weigh on the scales and bag for me. I was pleasantly surprised to find a price chart in the carefully designed manual.
That allowed us to explore buying and selling in a more realistic manner as I handed my plastic coin to him in exchange for my groceries.
After the initial transaction, the play sequence collapsed into the repeated bagging and re-bagging of food items which my son happily paraded around the home, rattling off names of our friends whom he would like to gift them to.
That was a proud mama moment as he fondly thought of others whilst role-playing.
---
Role Modelling Healthy Eating By Role Playing Healthy Buying
There is a saying that 'you are what you eat'. If that holds true, what we eat would also influence the healthy or unhealthy food choices of our little ones.
With this Organic Market DUPLO set, parents can role play with their kids whilst introducing healthy food selections and their reasons for doing so. This could kickstart a habit of making healthy food choices from a young age and spark curiosity in little learners as they accompany their parents to grocery shop.
I was glad this spread of nutritious food choices could be expanded with other sets from the DUPLO Garden range, specifically the Growing Carrot (10981), Fruit and Vegetable Tractor (10982) and Organic Garden (10984).
LEGO DUPLO Organic Market 10983 is a toy I would highly recommend as it exposes little tots to healthy eating habits through grocery shopping in a fun and engaging way.
Find out more about DUPLO's Organic Market 10983.