How do vegetables and fruits land on our table to be eaten? The LEGO Group has creatively developed a Garden range of DUPLO, specifically the versatile set Fruit and Vegetable Tractor 10982 to let little foodies explore farming in a fun way.
Farming is something that is possibly far off our minds, especially in our urban landscape. Yet, that doesn't stop us from letting our young ones learn about it and appreciate how their food is grown.
---
DUPLO Fruit and Vegetable Tractor 10982 – The Unboxing
Upon opening the box, we discovered 19 multi-coloured brick pieces, four of which had wheels on them. My 3-year-old toddler chirped in delight that this was his favourite vehicle and proceeded to connect the drivable tractor and its trailers together without hesitation.
The other pieces of the DUPLO set consist of a young farmer figure, a cute seed packet brick as well as 3 food produce bricks, mainly a broccoli, tomato and pineapple.
Altogether, these pieces set the stage of a farm, allowing little ones to join a farmer as he sows, harvests and transports fruit and vegetable from the farm.
---
I Know My Fruits And Veggies!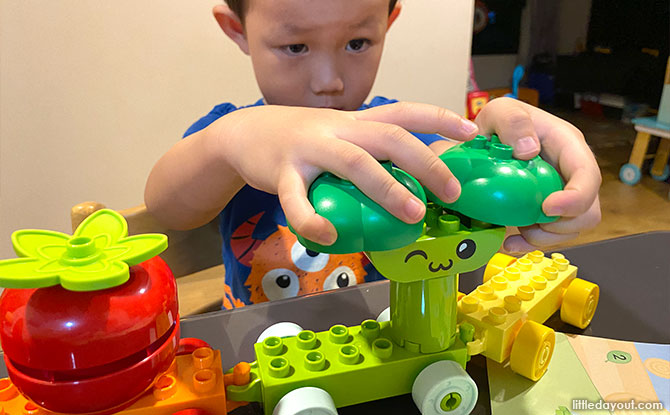 Like the other DUPLO sets in the Garden range, Fruit and Vegetable Tractor 10982 does a wonderful job of introducing healthy foods to little ones.
My son was able to recognise the broccoli and tomato as the few greens he would gladly stuff himself with, be it in pasta or fish soup.
Pineapple wasn't high on the little one's list of favourite fruits and this DUPLO pineapple with its adorable smiling face allowed me to re-introduce it to him in a not-so-adversarial way like in pineapple on a pizza which he dislikes.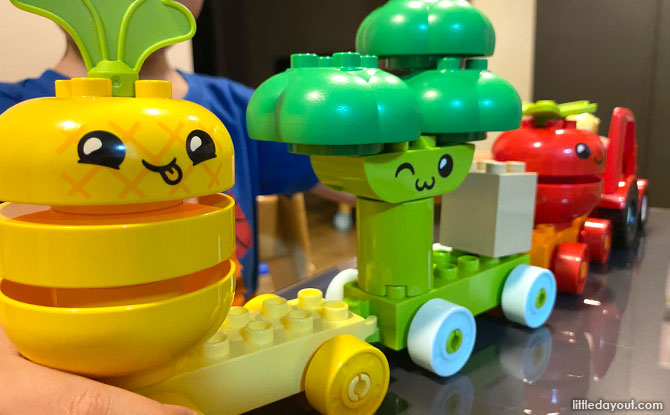 For slightly more picky eaters, Melbourne-based paediatric psychologist and registered feeding therapist, Amanda Abel, suggested some creative ways to play around with the bricks so as to let children be exposed to these healthy foods in a more relaxed and fun environment.
One way was to place the fruit and vegetable pieces in a bag and let children guess the item by touching and feeling it. Another way was to use do a 'traffic light' classification activity.
Using the green and red-coloured bricks provided, parents can label food items in one's home as 'Always' foods and 'Sometimes' foods respectively.
'Always' foods are healthy ones that we can have plenty of whereas 'Sometimes' foods are food items that could be processed and are to be eaten moderately.
---
Grow, Grow, Grow!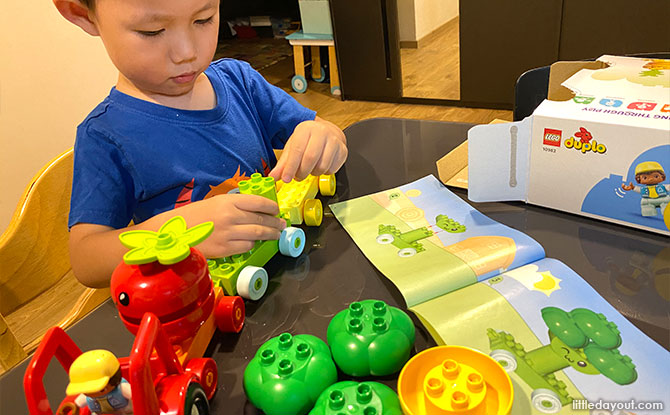 I personally liked how the instructions were simple to follow and how the bricks stack to 'grow' the vegetables and fruit. Little builders can also have organic food fun expanded with the Growing Carrot (10981), Organic Market (10983) and Organic Garden (10984) sets in the DUPLO Garden range.
After having a quick lesson on how seeds are sown to grow vegetable and fruit, my toddler spent the rest of the play session and subsequent ones letting the farmer and his tractor drive around the 'farm' which is our dining area.
---
LEGO DUPLO Fruit and Vegetable Tractor 10982 Review: A Farm Set Fit For Curious Learners
All in all, LEGO DUPLO Fruit and Vegetable Tractor 10982 is a versatile set that provides delightful opportunities for the introduction of farming and nutritious eating to preschoolers. Highly recommended for girls and boys alike!
Find out more about DUPLO's Fruits and Vegetables Tractor 10982.