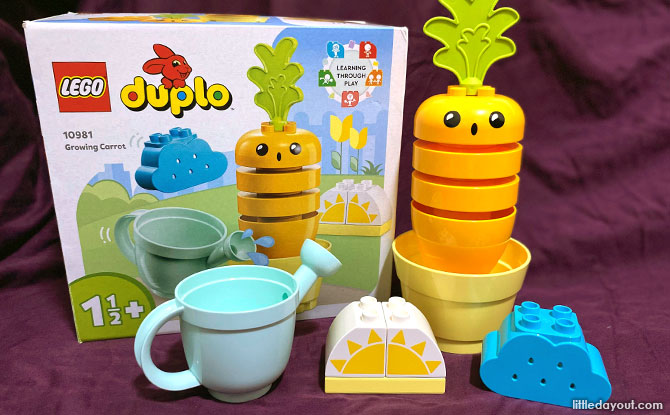 A balanced diet including a nutritious portion of fruits and vegetables is something we hope our children would take to. Yet, sometimes, introducing these healthy foods can be challenging.
With that in mind, The LEGO Group has created a Garden range of DUPLO to help parents and caregivers encourage healthy eating in a fun and relaxed way through creative play. One of the sets from the Garden range is Growing Carrot 10981.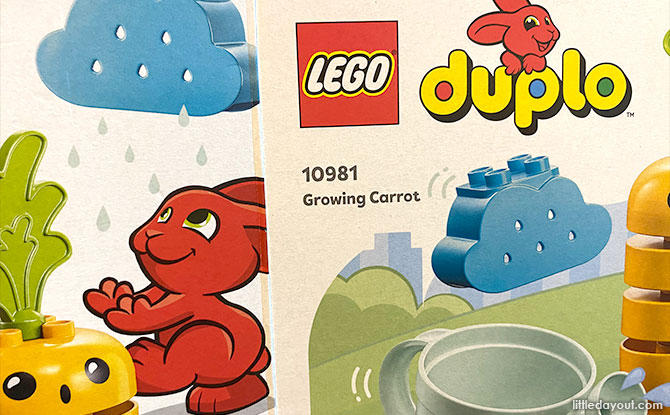 One would know DUPLO's rabbit motif is synonymous with the DUPLO logo. It was heart-warming to see the rabbit's well known staple food – the carrot, represented in this DUPLO Growing Carrot set.
---
-- Story continues below --
DUPLO Growing Carrot 10981 – the Unboxing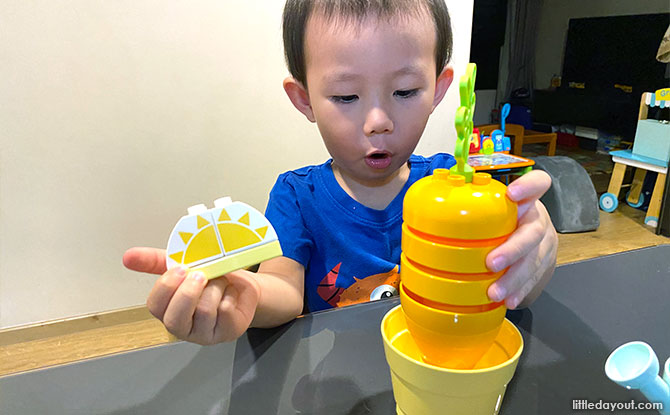 Suitable for toddlers aged 1 and a half years old and above, the LEGO DUPLO Growing Carrot 10981 set has 11 bricks includes a single stackable carrot complete with a carrot greens piece, sun and raincloud pieces to 'control' the weather and a watering can.
Having these few number of bricks makes the set a play item that is suitable for parents to bring along during holidays.
I used to think of DUPLO as big play bricks that oversimplified life (i.e. the bigger the block, the less relatable and playable). However, after engaging my almost 3-year-old son with this set, I realised I was mistaken.
I was personally sold by the thick rounded slabs of the carrot and how the raincloud and watering can were easy to grip for little hands.
---
LEGO DUPLO Growing Carrot 10981 Review: A Farm-to-Table Way Of Play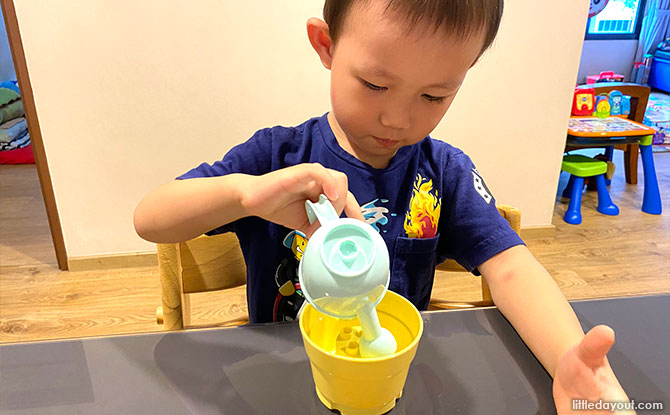 The DUPLO set follows a little carrot's journey of growing into a full life-sized carrot (albeit chunkier and more rounded than its real-life cousins) in a yellow garden pot, whilst letting kids take control over the weather with sun and raincloud bricks.
My toddler was able to fit the pieces together with ease and had fun 'growing' the little carrot by giving it repeated drinks from the watering can.
After each 'drink', we would add one more layer of carrot, adding an element of fun to the storytelling that could be repeated without losing its appeal (who wouldn't want to grow more than one carrot!).
During our play session, we learnt where our food comes from and how it grows with the help of the weather and farmwork that is hard work.
---
Healthy And Fun Eating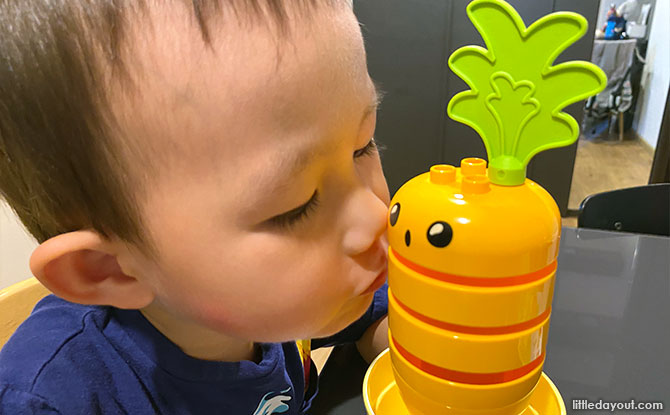 The expertly-designed DUPLO Growing Carrot also encourages healthy eating amongst young children.
Melbourne-based paediatric psychologist and registered feeding therapist, Amanda Abel, has suggested that this Garden range of DUPLO, with its bright pastel colours, can be used to teach concepts like the food rainbow and expose children to a wide variety of foods they could and should eat.
For example, it could be used to introduce foods to picky eaters in conjunction with simple prompts like 'What colour is the carrot?' and 'What are other orange foods you can think of?'.
The DUPLO Growing Carrot set along with others in the Garden Range encourage not just gross motor skills but can strengthen the trust children have for their primary caregivers to provide them nutritious foods in a fun and relaxing environment.
By the end of the play session, my son had come to appreciate the carrot so much that he planted a kiss on its top. It's amazing a bit of play and fun can provide new perspectives for little ones!
Find out more about DUPLO's Growing Carrot 10981.