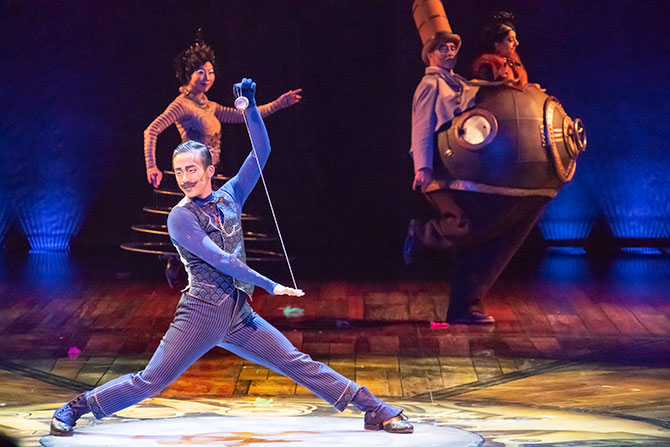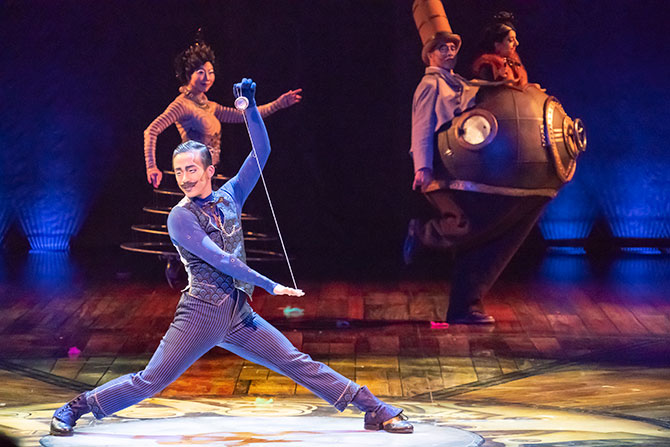 Set in a steampunk alternate reality, KURIOS – Cabinet of Curiosities by Cirque du Soleil is a stunningly visual treat with arresting acts and an earworm soundtrack. It brings the magic and romance of the circus to the Big Top in a spectacular display of artistry and art.
Step inside the Seeker's Cabinet of Curiosities
The main protagonist of KURIOS – Cabinet of Curiosities is the Seeker, an elderly, grey-haired man who looks like he has seen more than his fair share of life. Played by Anton Valen, he is surrounded by whimsical characters like handy helper Nico the Accordion Man and Klara the Telegraph of the Invisible who can use her hoop skirt to receive alpha waves. He has even invented a set of robot assistants, The Kurios, Darlek-looking robots built from scrap.
In his mechanical curio cabinet, he sets out in search for a hidden world where dreams can come true, using an invention he has made (which looks unnervingly like an oversized electric chair) to unveil the invisible realm.
On his journey, he meets fantastical characters like Mr Microcosmos, played by Mathieu Hubener, who embodies technology running on its own steam and yet has a human living inside of him, Mini Lili, played by Rimi Hadchiti, who represents his unconscious mind.
---
-- Story continues below --
Written and directed by Michel Laprise, this Cique du Soleil show appeals to the senses at multiple levels. It can be appreciated for the spectacle of its wonderful acts or pondered upon as a thoughtful treatise on life's journey. Whatever the case, what is for certain is that KURIOS – Cabinet of Curiosities is mesmerising at all levels.
Amazing Acts and Artistry
The acts featured in KURIOS – Cabinet of Curiosities are some of the most memorable that we've seen. Whether it is aerial flights with a bicycle or a scaled-down circus ring with invisible performers, they are creative re-interpretations of classic acts.
One of the highlights of the evening was Upside Down World, a dinner party that turns into a chair-stacking dare that turns into an encounter with a parallel universe.
Another was the Rola Bola act where an Aviator, played by James Gonzalez Correa, ups the ante by performing his tottering feats on an apparatus in motion.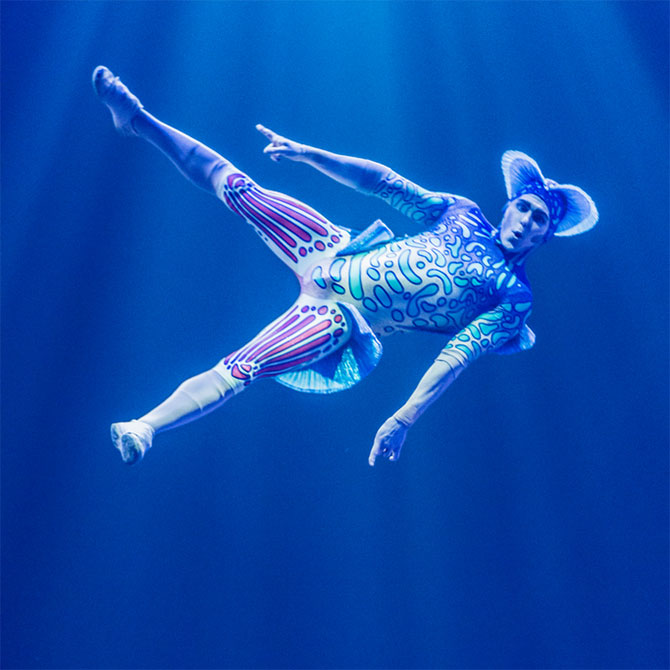 In Acro Net, Mr Microcosmos sheds his pot-bellied suit to dive like a fish, along with six fellow acrobats, into a giant trampoline.
Other must-mentions include the perfectly synchronised "Siamese twins" who performed on the aerial straps and the Theatre of Hands, a creative display of how far a bit of imagination can bring the mind.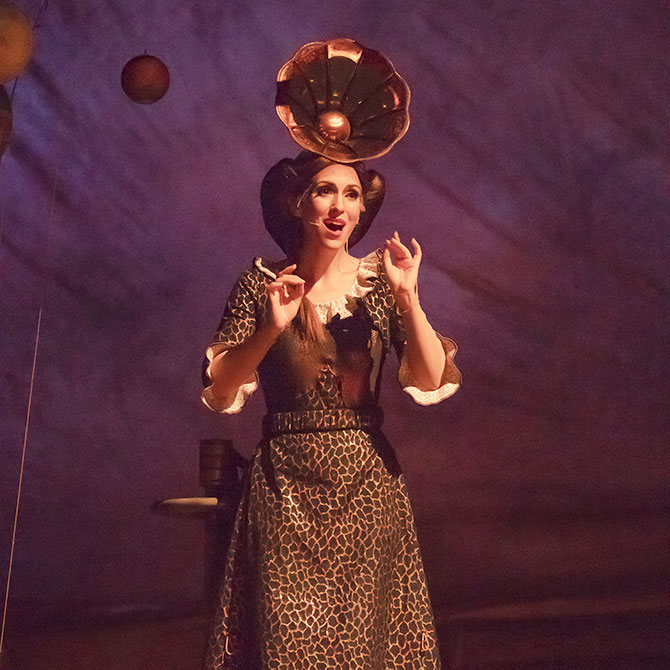 The performers were beautifully supported by gypsy-jazz, electro-funk courtesy of the band led by Marc Sohier. Singer Sophie Guay's spot-on vocals moved effortlessly between deft scat runs and haunting melodies as she appeared magically throughout the set.
In for the Ride with KURIOS – Cabinet of Curiosities by Cirque du Soleil
By the end of the evening, the whole cast takes to the stage to join the Seeker in a joyous ride to the future and the appreciative audience was happy to join along too.
KURIOS – Cabinet of Curiosities by Cirque du Soleil is a show that invites us to engage the imagination and open our minds to rediscover wonder once again.
It is showing in Singapore from 5 July to 4 August 2019 at the Big Top on Bayfront Avenue, next to Marina Bay Sands.
Media Invite.