With Hari Raya Aidilfitri fast approaching, you may have spotted the huge tents that have sprouted out at three major pasar malams (bazaars):
Geylang Serai – along Sims Ave and Geylang Road (next to Paya Lebar MRT station);

Kampong Glam (at Muscat Street); 

Bazaar Raya Utara (next to Woodlands MRT station). 
These bazaars spring up annually for a month during Ramadan (Muslim month of fasting) and close just a day before Hari Raya, which is on 19 August 2012, this year. It's an annual affair for many in the Malay-Muslim community to visit these bazaars in the lead-up to Hari Raya.
Little Day Out takes a peek inside the largest of the three bazaars – the 1,700-stalls strong pasar malam at Geylang Serai, which originated since the 1970s, to give you an idea of what you can expect to find within these markets from our Little Day Out Kid's-eye View.
Bazaar Atmosphere
The market is huge with scores of individual stores, corridors draped with curtains and cloths, and all manner of wares and goodies. Get ready to face the crowds, particularly over the weekend and at night, and head on down to soak in the festive atmosphere.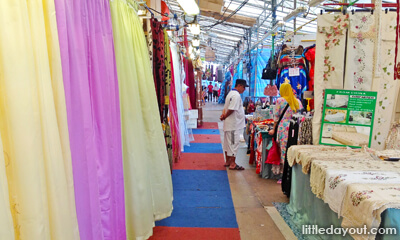 Toys and Knick-Knack Stores
You will find stalls selling swirling flowers, inflated action heros and little masak-masak toys. Sparklers are another favourite among older kids and other little amusements that kids love to buy.
Game Stalls
Go fishing in a small pond or try knocking down skittles. These are classic pasar malam games where the thrill is in trying. And who knows, you may be walking away with a Xiao Ding Dang soft toy!
Kid-sized Baju
Adults may go shopping for new clothes and kids can too. We love these intricate kid-sized clothes with embroidery down the front.
Hari Raya Goodies and Makan
Last, but not least, how can a trip to a bazaar be complete without food in Singapore? There are plenty of small cookies and other edible goodies to pick up and munch on.
You can also feast on some of the best treats in town, such as mini-otah with fragrant spices, satay burgers with patties made of satay meat, dendeng (the halal version of bak kwa – sweet grilled meat), laksa and briyani.
Enjoy colourful and refreshing drinks such as the air kathira (a sweet, milky drink served cold with jelly, basil seeds and shredded dates) from the many food stalls as you make your way around the market.
A trip to these markets will certainly be a fun-filled, festive and fulfilling outing for the little ones!