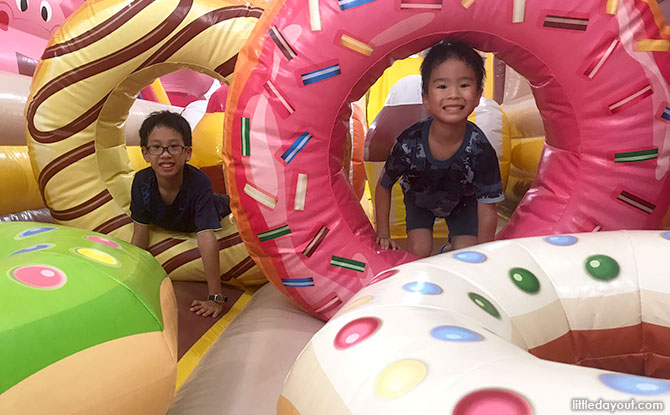 Kids can jump for joy at Jumptopia @ VivoCity, where inflatable bouncy castles comes in candy and dessert themes for sweet delights.
Located at the Outdoor Plaza, Level 1, Jumptopia @ VivoCity features five brightly-coloured bouncy castles that will get kids springing about.
---
Bouncy Castles at Jumptopia @ VivoCity
Bell's Chocolatier Cafe is a bouncy inflatable where the walls are covered in chocolate-themed imagery, allowing anyone who has ever dreamt of diving into a chocolate cake what is probably the closest experience that they are ever going to have.
Tiger's Donut Joint is another bouncy castle – but this time around, it include a ball pit. Kids can imagine that they are donuts being dunked into a pool of sprinkles at this Jumptopia @ VivoCity inflatable.
Gingerbread men are not the only ones running about at Happy's Gingerbread House. Kids will be too.
Raby the rabbit has a colourful lollipop themed hutch. It is pure hopping fun at this confectionery themed bouncy castle.
If the ball pit at Tiger's Donut Joint was not enough, kids can take a dive into the colourful ball pit at Mark's Little Training Gym, which also has a soft foam section.
---
Opening hours for Jumptopia @ VivoCity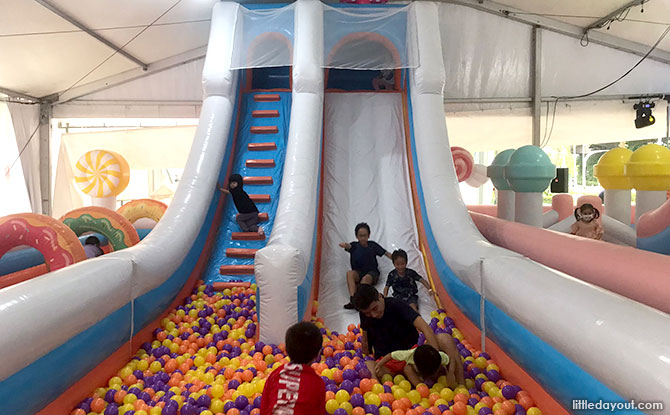 Jumptopia @ VivoCity is open from Monday to Friday, 2 pm to 9 pm, and Saturday, Sunday and Public Holidays from 10 am to 10 pm. Opening hours will be extended till 12 am on 17 December 2022. Check with the VivoCity website for the latest timings and details.
---
Admission tickets to Jumptopia @ VivoCity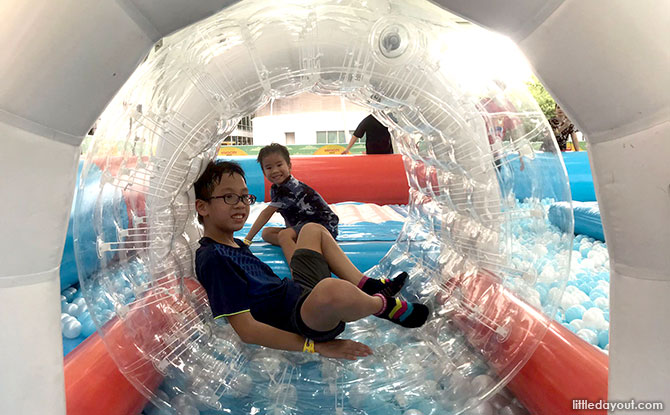 The admission price is $22 for one hour of play for a child and $10 for adult. the Day pass is $38 for a child for full day access and $18 for adults. There are also bundle deals available from $28.
Tickets are available from Klook, the official ticketing partner. Get tickets here.
Get more ideas for the Year End 2022 School Holidays.
This story contains affiliate links. This means we earn a small fee if you purchase something through a link from our website. There is no additional cost to you and goes towards supporting Little Day Out's efforts to deliver the best news and reporting for families.