It is Singapore's 50th birthday and the nation is celebrating with a year-long bash like never before.
As part of the celebrations, a Jubilee Walk covering historic locations in the Civic District will be unveiled in November 2015. Connecting the past, present and future, this new walking trail will be mapped out by monument markers and pubic works of art that commemorate this landmark year.
Starting from National Museum of Singapore, the Jubilee Walk will make its way through Marina Bay and wind up at Marina Barrage.
While we will have to wait till November for the launch of the official Jubilee Walk, Little Day Out has decided to mark out our own Jubilee Trail with so many events taking place around the Civic District in August.
Here are 10 locations where you can get an appreciation of Singapore's past and get into the National Day spirit in the lead up to the SG50 National Day Parade and the Jubilee Weekend (7 to 10 August). Look out for special programmes, events and lightshows organised in conjunction with National Day at these spots.
Read on for more on our little Jubilee Trail and the events you can enjoy in early August!
1. National Museum of Singapore: Singapura: 700 Years & 50 Made in Singapore Products
Singapura: 700 Years – Ends 10 August, 10 am to 6 pm; Website
50 Made in Singapore Products – 15 July to 6 September, 10 am to 6 pm; Website
Singapura: 700 Years traces Singapore's journey from the time of the five legendary kings to post-independence nation-building efforts. Exhibition ends 10 August. Read our review here.
In a second exhibition, 50 Made in Singapore Products, Singapore's manufacturing achievements are presented through photos, videos and nostalgic artefacts. For example, did you know that Bata shoes were once made in Singapore, and Bibi and Baba, now associated with school uniforms, was one of the first few shops to sell children's party apparel locally?
2. Singapore Philatelic Museum: The Singapore Journey – 50 Years Through Stamps
20 July 2015 to 31 July 2016, 9.30 am to 7 pm; Website

The Singapore Journey: 50 Years Through Stamps is a new exhibition that reflects the Nation's trials, achievements and aspirations. There are over 240 items from the last 50 years, including the stamp artwork for Singapore's first stamp that was issued on 9 August 1966 and the 1999 printing plate that features Singapore's first President, Yusof bin Ishak.
3. Esplanade Lawn: The Singapore Story, Ours to Create
1 to 10 August 2015; Website
A special exhibition presented by S'pore Discovery Centre celebrates 50 years of nationhood. With personal stories, fun facts and interactive installations, The Singapore Story, Ours to Create has been specially curated for Singaporeans by Singaporeans.
4. Jubilee Bridge
Opened on 29 March 2015
Though it will only be officially launched in November 2015, you can already take a walk along the 220-metre long Jubilee Bridge, the latest to span Singapore River. This pedestrian-only bridge leads from Esplanade Theatres by the Bay to Merlion Park and serves as an alternative to the narrow walkways on the neighbouring Esplanade Bridge.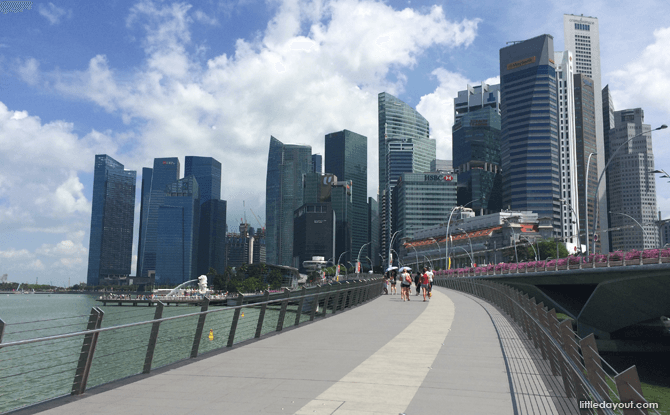 5. Fullerton: 'A Celebration of Our Heritage' Light Show
Nightly from 1 to 9 August 2015, Various times from 8 pm; Website
Fullerton Hotel Singapore presents a spectacular light show with video projections illuminating its façade in a 9-day tribute to Singapore. Landmark moments in Singapore's history and events that took place in the Civic District will be rendered on The Fullerton Hotel. The Public can watch the visual and musical show from across the hotel at One Fullerton or Merlion Park.
6. Clifford Pier: Tracing Transformations: Memories of Our Nation
4 to 10 August 2015, 10 am to 10 pm; Website
Once the point at which immigrants would step off the boats in Singapore, Clifford Pier will be the location of a thematic exhibition – Heritage on the Bay – that explores Singapore's rich heritage from 4 to 10 August 2015. Learn about once-familiar occupations that are slowly disappearing, and witness the changes to Singapore's landscape through the eyes of our taxi drivers. Also, discover 50 uniquely Singaporean dishes, their origins and evolution.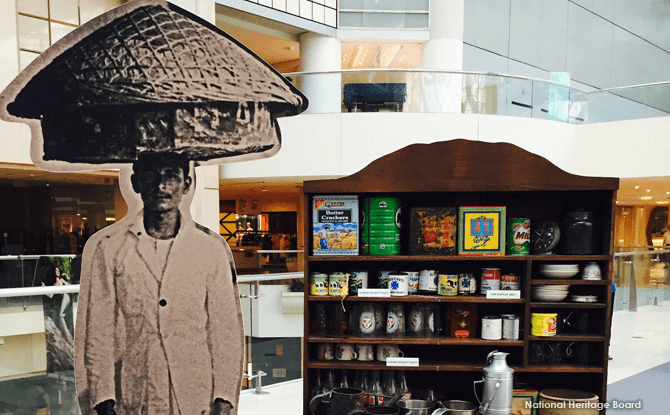 7. Waterfront Promenade Open Space: Uncle Ringo 50 Years of Fun
25 July to 10 August 2015, Weekdays: 6 pm to 11 pm, Weekends and Public Holidays: 1 pm to 11 pm;
Website
Relive carnival fun from the past with Uncle Ringo as they recreate the amusement parks of yesteryear at the Waterfront Promenade.
8. Marina Bay: Light Up the Bay
1, 7 to 9 August 2015, 7.30 pm to 11.30 pm; Website
See the Marina Bay lit up like never before. Celebrate Singapore's 50th birthday with 50 specially designed light installations at the spots marked around the bay and stay for the fireworks over the Jubilee Weekend.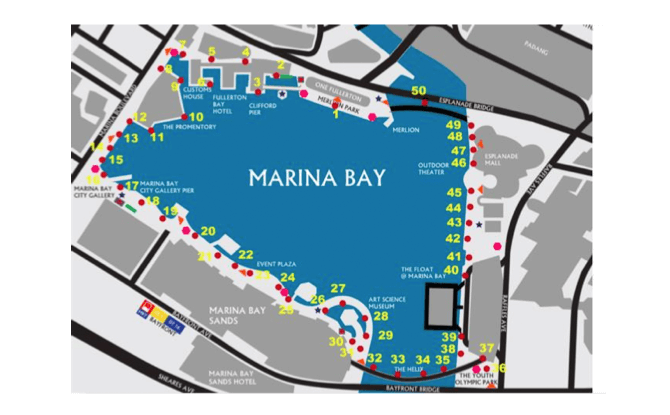 9. ArtScience Museum: Singapore STories: Then, Now, Tomorrow
17 July to 4 October 2015, 10 am to 7 pm; Website
See Singapore through the eyes of the newsman. Drawing on The Straits Times' 170-year old archive, the exhibition Singapore Stories: Then, Now, Tomorrow provides a look back into Singapore's past and challenges visitors to imagine the future.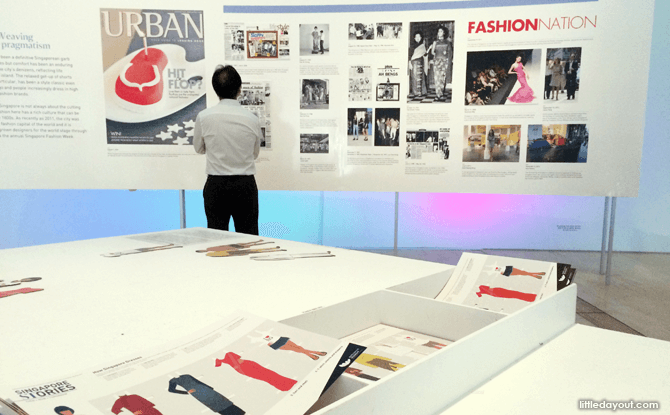 10. Gardens by the Bay: Discover Singapore Stories
31 July to 13 September 2015, 9 am to 9 pm; Website
10 local legends get the floral treatment at the Flower Dome at Gardens by the Bay. Featuring more than 8,000 orchids, get to know the stories behind Tanjong Pagar, Redhill, Sisters' Island, Pulau Ubin, Kusu Island, Sang Nila Utama and the Singapore Stone. Local residents get 50% off usual admission prices during the Jubilee Weekend and local seniors enjoy free entry from 1 June to 31 August 2015.
Image courtesy of Gardens by the Bay
Related SG50 Stories
The Ultimate SG50 Jubilee Activity Guide for Families (*plenty FREE)
Live Screening Venues of the National Day Parade around Singapore

Makan, Play, Shop: Top Nostalgic SG50