Done with visiting relatives and friends? How about visiting the Istana grounds on the second day of the Lunar New Year? The Istana Chinese New Year Open House 2020 takes place on Sunday, 26 January 2020 from 8.30 am to 6 pm.
During the Istana Chinese New Year Open House 2020, visitors can enjoy the Istana grounds and even go on tours of the Istana main building. Here are some of the other activities visitors can look forward to.
i'mable Gift Market at the Chinese New Year 2020 Istana Open House
A highlight of the first Istana Open House of 2020 is the i'mable Gift Market. An initiative by SG Enable, the i'mable Gift Market presents artworks and artisanal products by talented persons with disabilities. The first i'mable Gift Market was opened by President Halimah in Nov 2019 at the Enabling Village.
The i'mable Gift Market at the Istana Chinese New Year Open House 2020 will feature items such as leather products, homeware, jewellery, notebooks and paintings.
---
-- Story continues below --
WRS Booth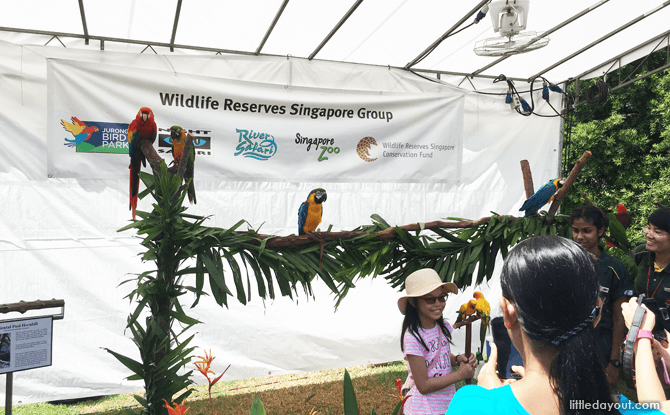 Visitors to the Istana Open House for Lunar New Year 2020 can also learn about rats and other rodents at the Wildlife Reserves of Singapore booth. Interact with two species of rodents – Dumbo Rats and Guinea Pigs as we enter into the Year of the Rat.
[Editor's note: The live animals will not be at the Istana Open House because of the current  coronavirus situation.]
Chinese New Year Performances
Throughout the day, performers will be entertaining the crowds with traditional Chinese performances. The Lunar New Year 2020 Open House will also see buskers performing at the Lawn for the first time.
Performers include Mr Cliff Lee (10 am, Lawn), Qifa Primary School (11 am, Ceremonial Plaza), Ms Grace Lau (12 pm, Lawn), SOKA Band (3 pm, Ceremonial Plaza) and PA Talent (4 pm, Main Tent), amongst others.
Golden Compass School will be doing a lion dance performance at 4 pm at the Ceremonial Plaza.
Tours
There will also be tours of the Istana Main Building and grounds. These are conducted by National Heritage Board and National Parks respectively.
Entry to the Istana grounds is free for Singaporeans and Singapore permanent residents. All others visitors are required to pay an entrance fee of $2 per person. The entrance to the Istana grounds is along Orchard Road, next to Plaza Singapura.
Istana Chinese New Year Open House 2020
When: 26 Jan 2020, 8.30 am to 6 pm
Where: Istana