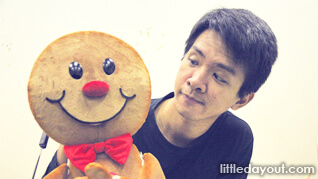 The Gingerbread Man is an annoying spoilt brat who should be taught some manners. Even the actor who plays the well-known prancing pastry thinks so.
Little Day Out went backstage during the rehearsal of I Theatre's third and latest production of The Gingerbread Man and caught up with actor Hang Qian Chou, the man who has been playing the show's lead character since the first installment.
Apparently, it is exhausting playing puppet-master to the high-octane, zippy Gingerbread Man, whom everyone in the story wants to catch – and of course, eat.
A Recipe for Disaster
So the story goes: Once upon a time there was a Little Old Woman and a Little Old Man who decided to bake a gingerbread man.
But things went south when the Old Man messed up the instructions and, eventually, "spoilt" the Gingerbread Man.
The result was an obnoxious, loud child. And all kinds of animals, from a donkey to a fox, give chase to get a bite out of the dancing confection.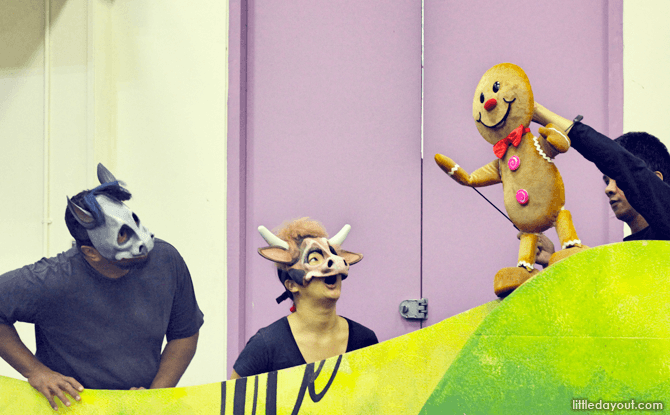 The show is filled with crazy characters and wonderfully catchy songs, in a wacky, rainbow-sprinkles fun sort of way.
"The most difficult thing about playing Gingerbread Man is singing the songs", said Qian Chou.
The 33-year-old actor is not exaggerating. Ginger's songs are shrill, dizzyingly fast, and bursting with endless energy.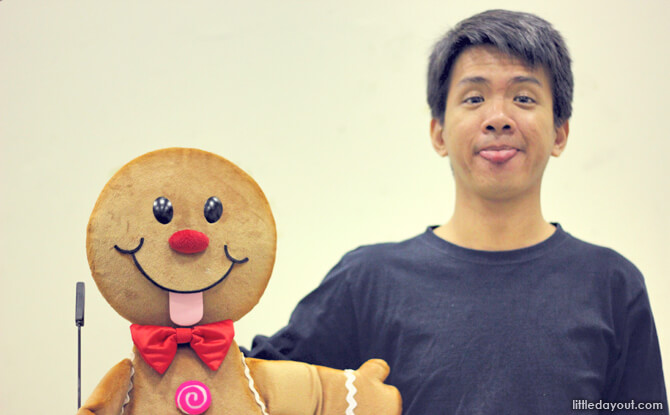 Qian Chou previously played the same character in I Theatre's renditions of the show in 2009 and 2011. This show would be his 12th production to date with the theatre company.
"I don't have to spend so much time remembering the dialogue or the lyrics now, but the singing can be very tiring."
A New Daddy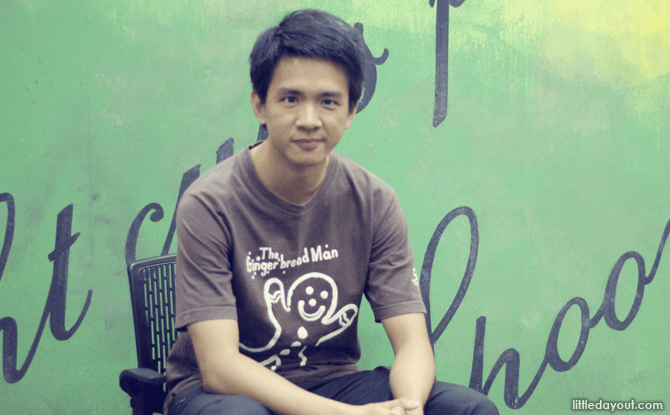 Incidentally, Qian Chou's wife is expecting twins this year. For the dad-to-be, this year's show is especially poignant, as the issue of parenting has been on his mind.
"He's (the Gingerbread Man) quite a brat – and he has to be, for the story to move forward. The story teaches kids, as well as adults, that it's important to treat others with respect, whether or not you like the person."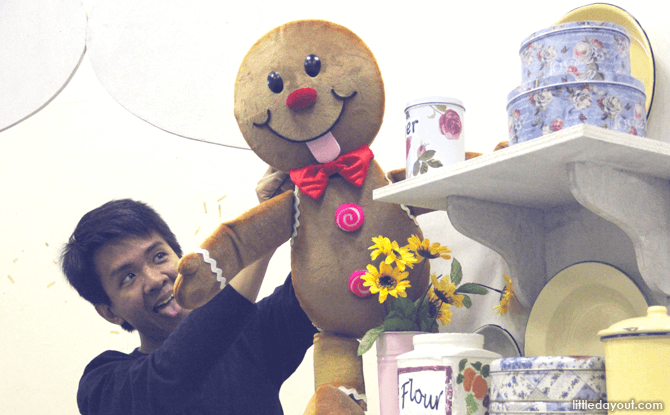 If Qian Chou ever met Ginger on the streets in person, the first thing he would say to the petulant pastry would be: "Calm down."
But it's not all bad. Qian Chou has clearly grown quite fond of his character.
"Gingerbread Man is a child at heart and he's endearing in how he disregards the rules, runs around and plays. But you need to know what rules can be broken, and what cannot."
New Animal Masks
If you caught I Theatre's previous Gingerbread Man shows, you will notice that most of the animal characters in the musical have gotten an upgrade of sorts.
This time, director and scriptwriter Brian Seward chose to get the actors to don animal masks instead of working with puppets.
So, the only puppet on stage would be Gingerbread Man.
"We wanted something different this year. Moving away from puppets, I wanted to make sure that the masks allowed the actors to express themselves easily," said Brian.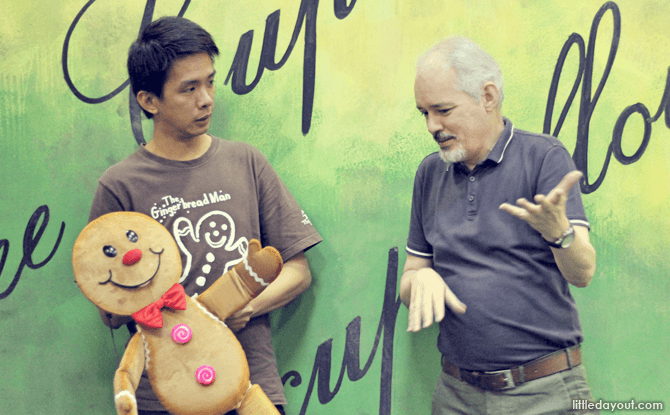 The show's six detailed, pliable face masks made by US mask- and puppet-making outfit Nakupelle cost up to $500 each.
The leading man, Gingerbread Man, costs up to $2,000 per puppet – and there are two of them in the show.
The actors behind the masks and puppets work hard to make them an extension of their bodies, so that their characters are realistic and believable.
Did you know that…
A puppeteer sweats profusely and gets sore arms, even finger cramps, during a show
You don't want to stick your hand into someone else's puppet as it can be really gross in there – that's how personal a puppet is.
The audience can't see it, but puppeteers are usually jostling and elbowing each other in the face behind the stage during the show.
Puppeteers give their puppets a secret nickname, which they don't tell anyone. Shhhh…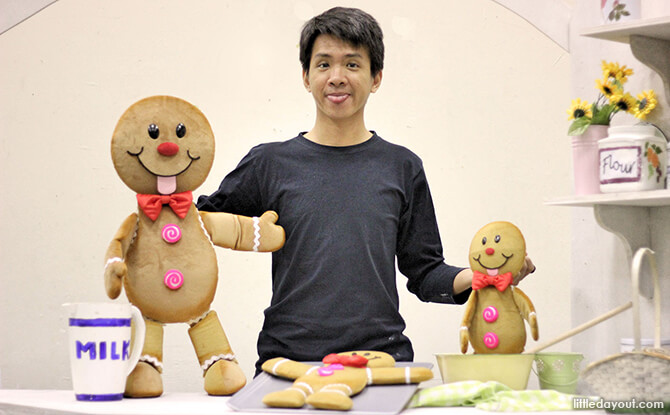 Rock up to The Gingerbread Man musical with the kids and join the delicious chase for the hippity-hoppity Gingerbread Man!
DETAILS
Date:  20 May to 7 June 2015
Venue: Jubilee Hall, Raffles Hotel
Date:  5 to 10 May 2015
Venue: PJ Live Arts, Kuala Lumpur
Recommended for: 3 to 13 year olds and families
Duration: 50 minutes with no interval
Script & Lyrics: Brian Seward
Directed By: Brian Seward
Music composed by: Bang Wenfu
Music Arranged and Directed by: Bang Wenfu
Cast: Alecia Kim Chua, Daphne Ong, Jo Tan, Faizal Abdullah, Hang Qian Chou
Choreographer: Cathy Kee
Set Designer: Wai Yin Kwok
Costume Designer: Brian Seward
Costume Realisation: Joanne Ng Mui Huang
Tickets to The Gingerbread Man are now on sale from SISTIC.
Get the The Gingerbread Man – Fun Activity Pack and more from Little Day Out Shop now!