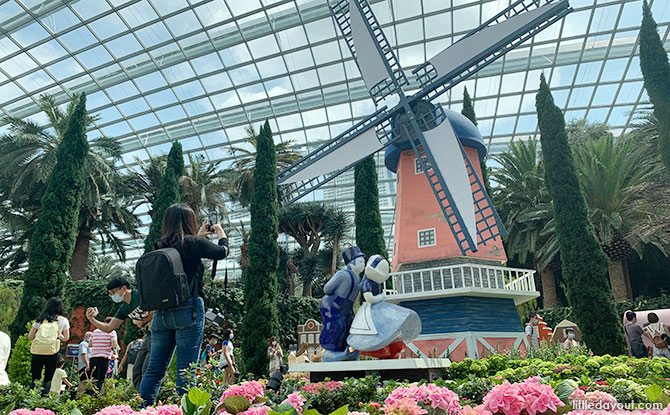 A seven-metre-tall windmill, cute white sheep and more than 20 varieties of hydrangeas have take over the Flower Field at Gardens by the Bay's Flower Dome for Hydrangea Holidays.
---
Hydrangea Holidays: Shades of Red, White and Blue
This is the first time that the hydrangeas have been the flower of focus for the floral display at Gardens by the Bay's Flower Dome. The flowers come in shades of red, white and blue, mirroring the colours of the flag of the Kingdom of the Netherlands.
Hydrangea Holidays also features various instantly recognisable Dutch icons.
---
-- Story continues below --
Beside the unmissable windmill, there are also Amsterdam townhouses and a lighthouse inspired by the West Schouwen, one of the largest and tallest lighthouses in the Netherlands.
Teddy bears wearing Gardens by the Bay hats are on holiday around the hydrangea display. Visitors can pose with them around the Flower Field.
The cute, cartoonish sheep in the field also draw the eye.
---
Artworks for Sale via Silent Auction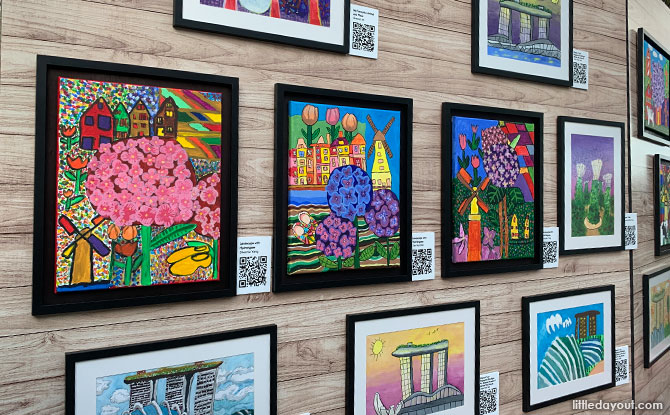 For the first time, the floral display at the Flower Dome features artworks by intellectually disabled artists. 50 artworks by 27 artists from JOURNEY by TOUCH Community Services have been planted around the floral display. These artworks feature hydrangeas and other flowers, along with scenes inspired by the Dutch landscape and Gardens by the Bay.
The artworks on display at Hydrangea Holidays will be available for sale via a silent auction. Visitors who are keen to purchase the artworks can scan the QR code by the artwork to place a bid. Proceeds from the silent auction will go to TOUCH and the artists. Bidding closes on 14 August 2022.
Chief Executive Officer of TOUCH Community Services James Tan said, "At TOUCH, we believe in empowerment – to provide every client with opportunities to contribute based on their individual abilities and to build their independence. We are honoured to be partnering with Gardens by the Bay to showcase the talents of people with intellectual disabilities alongside the beautiful floral display. We hope the exhibition will allow more to see the potential of every individual to contribute to society and understand the importance of support as a community."
Hydrangea Holidays is supported by Bloomberg, and held in partnership with the Embassy of the Kingdom of the Netherlands in Singapore and JOURNEY by TOUCH Community Services. It runs from now till 14 August 2022.
What's Next: You may also wish to visit to the Orchids Of Costa Rica – Resilient Beauty exhibition at the Cloud Forest.