Foodie families in Singapore rejoice! Hoshino Coffee's sixth and newest outlet has been specially designed and deliberately sited at the kid-friendly United Square shopping mall with children in mind.
Having been in Singapore since 2012 and with some 200 outlets in Japan, Hoshino Coffee has firmly established itself as a Japanese-Western café-restaurant. What comes first to our minds are their oh-so-fluffy soufflé pancakes and hand-dripped coffee from premium roasted Arabica beans.
It dawned on Hoshino Coffee's management that their cafés were also drawing in the family crowd after the opening of their outlet in Raffles Holland Village. Said Mr Kengo Sakai, director of D&N Singapore Pte Ltd for Hoshino Coffee Singapore, "It is with this in mind that we decided to open an outlet in United Square, where the whole family can come and enjoy our Hoshino delights and discover Japanese culture at the same time."
Hoshino Coffee United Square is now well on its way to pleasing many families with young children. Here's a list of reasons why families would adore the child-friendly elements at Hoshino Coffee United Square:
1. Children's Books
Some eateries have newspapers and magazines for adults, why not have something for the kids too while we wait for our food? Right here, adults may walk straight past the reception and into the restaurant, but kids will surely notice the array of children's books.
They are suitably displayed on bookshelves at the right height for the kids to browse. Although the books are mainly in Japanese, they are mostly picture books, and would be well loved by any child.
2. Wide Pathways
Fret not if you come in with a Mercedes Benz sized stroller. The aisles at Hoshino Coffee United Square are much wider to faciliate your movement and the easy placement of baby chairs.
3. Family Sized Seats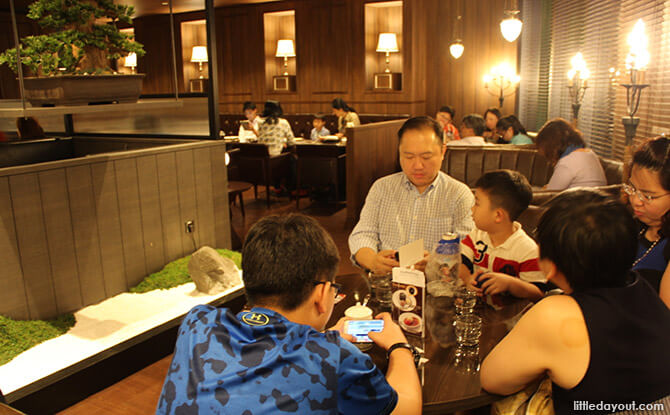 The western-styled booth seats are a good-sized cubby hole for family bonding. Other seats in this outlet come in fours rather than twos.
They have also been more generous with the space between tables at this particular outlet.
4. Kid's Menu
For the first time, Hoshino Coffee Singapore has a kid's menu. These are miniature versions of Hoshino favourites including the chain's signature fluffy pancakes (topped with vanilla ice cream), omu rice or carbonara, and a drink. Only two options are currently available exclusively at this United Square outlet and they come priced at $9.80++.
As a special touch, each order of a kid's menu comes with a complimentary colouring sheet, crayons and a toy.
5. Fusion of East and West
Hoshino Coffee has done a good job marrying the East and West with its Japanese-Western food.
With this new outlet at United Square, Hoshino Coffee takes this blending further with the introduction of zen Japanese elements in its interior decor.
Besides the usual dark interiors and plush leather booth seats in one section, there is another segment with Shoji screens and all things Japanese. Look out for the unique Irori (a Japanese hearth in a traditional home) and the "floating" bonsai typically found in a Japanese garden.
New Hoshino Coffee Menu
Together with this opening, Hoshino Coffee has launched a new menu, expanding to include chicken items such as Teriyaki Chicken Steak Plate with Onsen Egg, and Chicken and Mozzarella Cutlet Plate.
They have also introduced an Angus Beef Steak Plate and Lasagna with Mini Souffle Pancake Plate, as well as placed the popular Matcha Pancake Souffle as a permanent instead of a seasonal item on the menu.
101 Thomson Road, #02-06/07, Singapore 307591
Opening Hours: Weekdays: 10 am to 9.30 pm; Weekends and Public Holidays: 9 am to 9.30 pm
Tel: +65 6264 5878