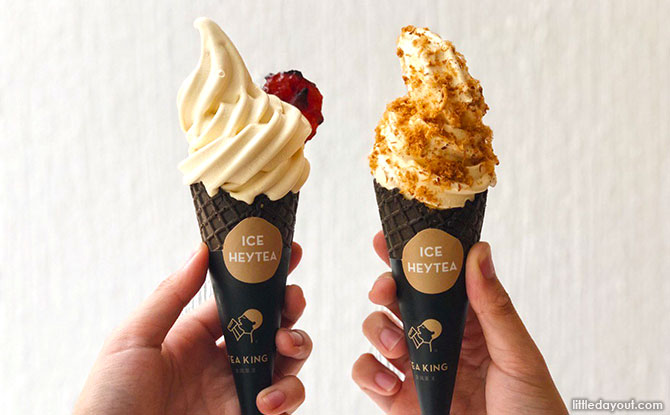 Heytea and Bee Cheng Hiang are familiar names to us, but we never thought we'd hear both brands together until the announcement of their launch of two limited edition soft serve ice cream flavours.
Tea King Crispy Cone with Golden Coin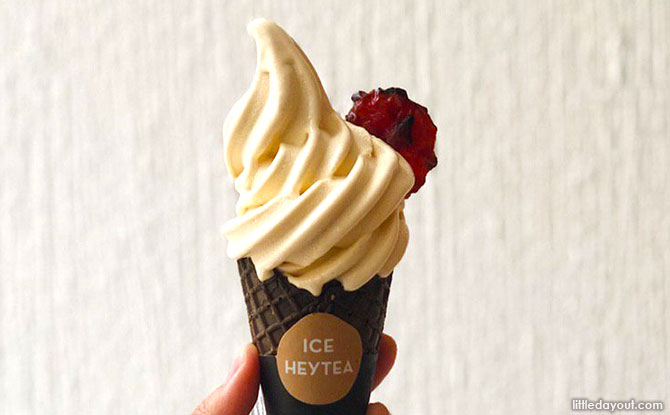 The first soft serve is Tea King Crispy Cone with Golden Coin, which features HeyTea's Signature Tea King soft serve topped with Bee Cheng Hiang's popular Golden Coin Bakkwa ($6.80).
We were initially apprehensive about the idea of tea and grilled pork, but upon tasting it, the dessert reminded us a lot of a creamier version of that delicious sweet savory combination that you get with maple bacon and pancakes.
Salted Egg Yolk Crispy Cone with Krispee Frostee
The second soft serve available is Salted Egg Yolk Crispy Cone with Krispee Frostee. This flavour uses HeyTea's salted egg yolk soft serve as the base and Bee Cheng Hiang's Krispee Frostee pork floss sprinked on top, which gives a crispy crunch with each bite. ($5.80)
The salted egg yolk ice cream was savoury and we were pleasantly surprised that we could feel the "sandy" texture of the salted egg sauce. The crumbly Krispee Frostee topping was quite a hit with many who tried, leaving them all commenting that they wish there was more than a dusting of it on top.
Get Your Heytea Ice Cream With Bee Cheng Hiang Ba Kwa And Pork Floss
Overall, if you're into novel food trends, this is another item right up your alley. We do feel like the price point is a tad steep despite the high-quality ingredients, but I guess that's the price of trying cool and new things. Kudos to Heytea and Bee Cheng Hiang for making this wacky combination work – we can't really imagine a cup of Ba Kwa Milk Tea anyways.
Both soft serve ice creams are sold in both their Ion and Clarke Quay HeyTea outlets in Singapore for a limited time till 30 June 2019.