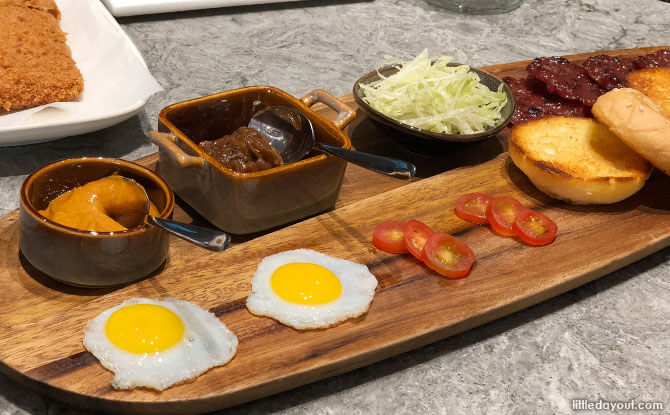 Ever wanted to try grilling bakkwa (Roast Pork), or wondered how pork floss is made? How about trying a menu full of dishes made with delicious grilled meat? After a total of 13 years of conceptualising and planning, Bee Cheng Hiang has finally launched the Bee Cheng Hiang Grillery where you can experience all this and more!
We made our way down to this unique store to put our grilling skills to the test during a special media session. Here is what we experienced at the Bee Cheng Hiang Grillery.
The Grillery
As you enter, the pleasant smell of charcoal grilled meat and sound of cracking fire greets you. The Grillery is decked out with marble countertops, clean white lights and high ceilings. The décor made us feel as if we had stepped into a "premium boutique bakkwa store" – an unusual combination of words to say the least.
The Bee Cheng Hiang Grillery features a charcoal barbecue pit, also referred to as "open barbeque theatre". The charcoal pit a throwback to olden days where bakkwa was barbecued over charcoal.
According to our bakkwa expert-guide, the charcoal grill gives the meat an earthy and smoky aroma and is usually only brought into stores during special occasions such as a Chinatown's light up during Chinese New Year.
And if you have ever gawked at the delicious treat being grilled from behind the glass, the Grillery has a must-do experience waiting for you. Step up to the elevated platform, grab a pair of tongs and learn from the specially-trained Bakkwa Chefs how to work the barbeque station.
We were surprised to discover that the process is more complex than it looks – cooking bakkwa on a charcoal grill requires keeping a watchful eye on the inconsistent flames coming from the pit.
Bistro at Bee Cheng Hiang Grillery
And there is more.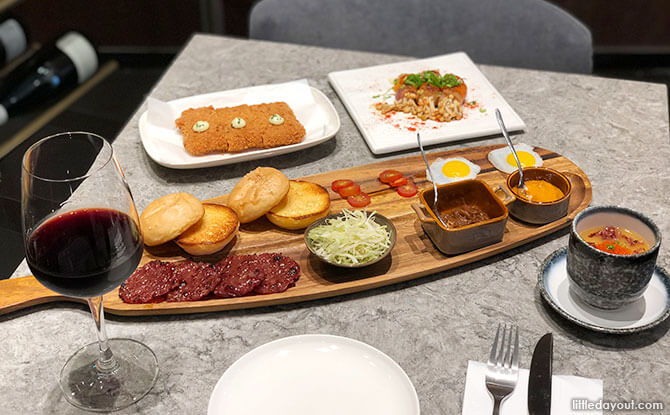 The Bee Cheng Hiang Grillery has a dine-in area with a menu curated by a renowned chef.  We sampled the tapas menu, which foreshadows the upcoming full menu with mains and even desserts.
As bakkwa is a strong-tasting ingredient, we were excited to see how they would be able to incorporate it in all of the dishes.
Here are the dishes that we tried.
Mozzarella Katsu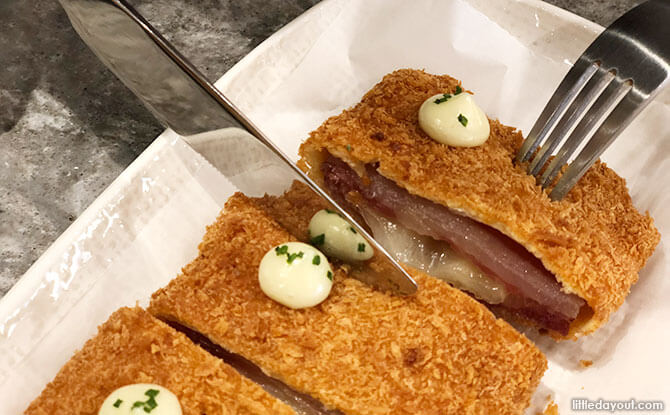 Inspired by Japanese katsu and featuring Bee Cheng Hiang's Gourmet Fusion Bakkwa garnished with house-made mayonnaise, this cheesy katsu was a little sweet. However, the bakwa was not too overpowering, keeping the taste of what would seemingly be a very rich dish rather light.
Gourmet Enoki Roll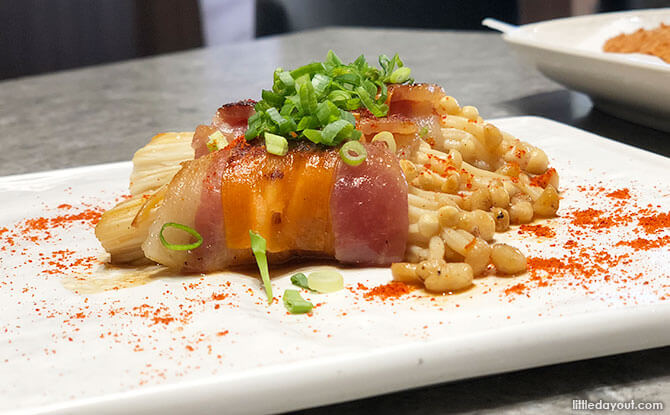 This dish blew us away. It seems like good things come in small and surprising packages. We do credit the "deliciousness" to the usage of the premium Gourmet Bakkwa, which is made from pork belly. It perfectly complemented by the enoki mushrooms and carrots. We honestly could go on about this dish for days and highly recommend you try it for yourself.
Steamed Egg Custard
This steamed egg custard had a total of three layers: a slightly thick broth on top sprinkled with flying fish roe, egg with bite-size pieces of Gourmet Fusion Bakkwa and a surprising layer of caramelised onions right at the bottom. With so many distinct ingredients, we weren't too sure what to expect. Together, they present the palette with a hit of sweet yet salty steamed egg, accompanied by the texture of bakkwa and surprising pops of egg roe.
DIY Sliders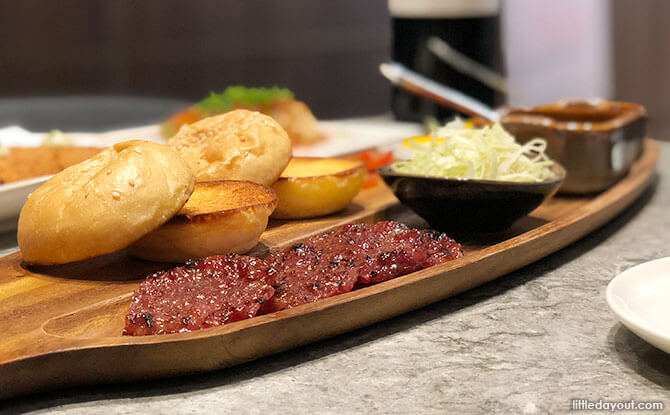 Diners can choose to have the DIY Sliders with a Golden Coin made of pork or chicken coin bakkwa. This comes with sides of caramelised onions, quail eggs and house-made sambal mayonnaise (or just mayo for a non-spicy option).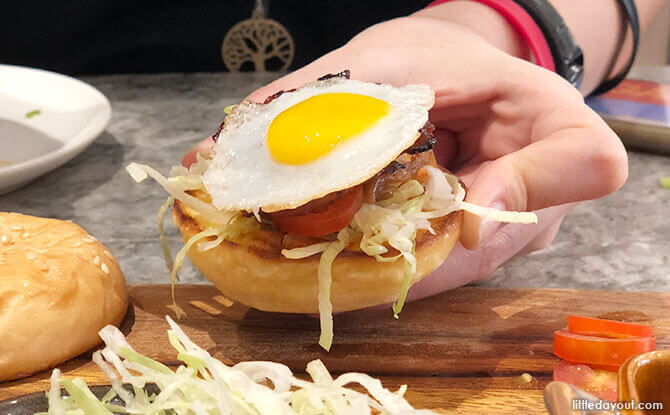 The deconstructed sliders allow both kids and adults to customise their own slider. And thoughtfully, it even comes with gloves if you are worried about messing up your fingers!
The textures of the different ingredients are a good mix and the hint of spice from the sambal gave the burger just the right amount of kick.
Patatas Bravas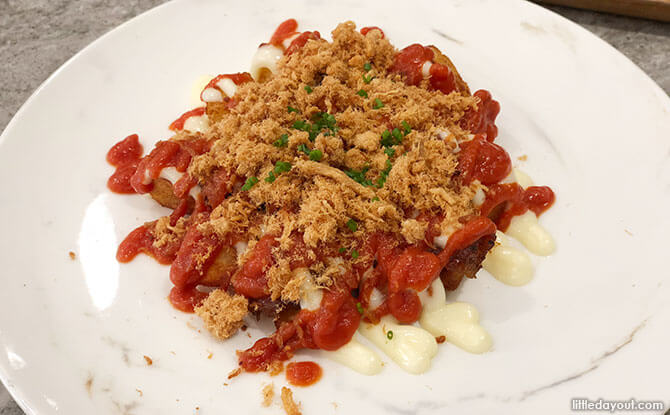 This dish consisted of chopped potatoes generously topped with chunks of Chilli Gourmet Bakkwa and drizzled with the house-made mayonnaise, tomato reduction and pork floss! The ratio of potato to toppings was great, and we felt like it would be the perfect dish for a light meal with drinks on the side.
Wine Cellar and Bar Area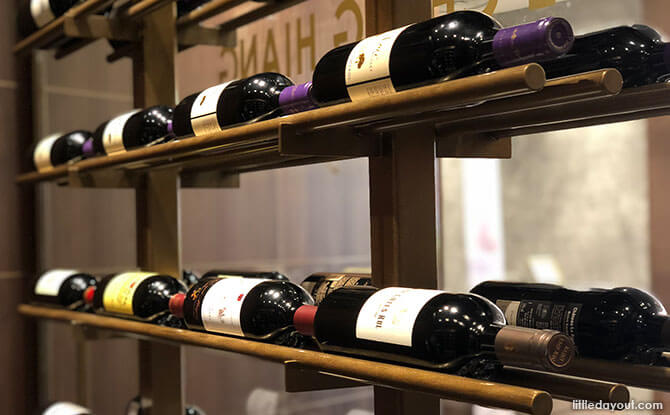 Another feature of the Grillery is its walk-in Wine Cellar. Some of the labels here, such as the Château Virecourt Conté, are exclusive to Bee Cheng Hiang Singapore and specially chosen for their pairing with bakkwa.
Gifting Concierge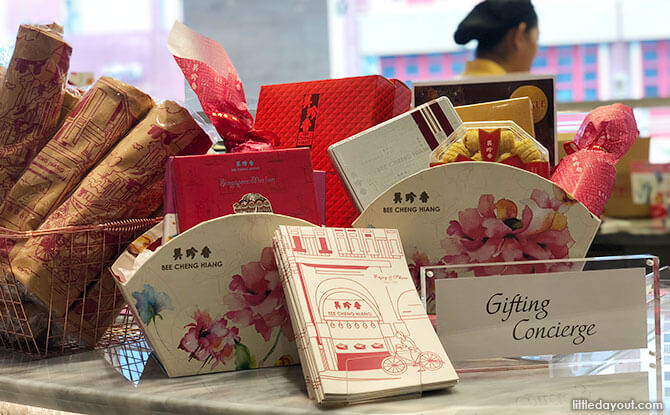 Before leaving, don't forget to stop by the Gift Section within Bee Cheng Hiang Grillery. Purchase freshly grilled bakkwa (we can't help but mention the premium Gourmet Bakkwa made with Pork Belly again) and different varieties of meat floss.
The friendly staff will wrap it for free and they even offer hamper services.
Kudos to Bee Cheng Hiang for their innovative efforts to celebrate the humble bakkwa. We are already looking forward to our next visit to the Grillery. Take note that dine-in seats are limited so reservations are recommended.
Bee Cheng Hiang Grillery
Where: 1359 Serangoon Road, Singapore 328241
Website
Media Invite.