Step into the sweet world of HERSHEY right at Changi Airport and stand to bring home limited-edition HERSHEY chocolates as well as merchandise. Changi Airport is going sweet and delicious for the March school holidays 2021 with its first-in-Changi experience with the iconic American brand from 12 March till 3 May 2021.
---
Hershey's Amazing Chocolate Machine at Changi Airport
Head down to Terminal 3 Basement 2, opposite the food court, to find the Hershey's Amazing Chocolate Machine. The snazzy set up has been inspired by the Amazing Candy Machine found in Hershey's Chocolate World in Times Square, New York.
The Amazing Candy Machine has eight varieties of HERSHEY's flavours loaded into 3-metre tall dispensers.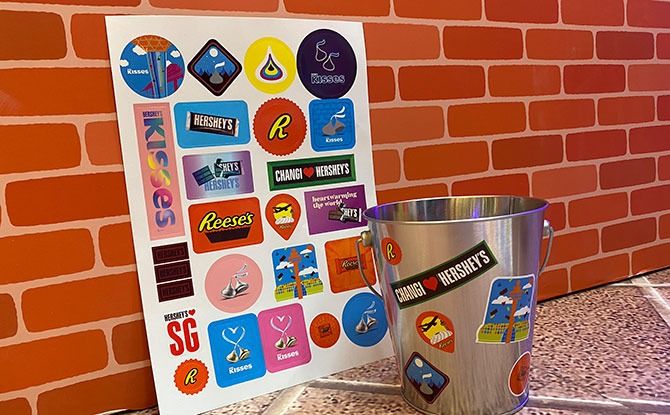 Get hold of a HERSHEY'S Bucket of Happiness, customise it with exclusively designed HERSHEY stickers and fill it with your favourite HERSHEY'S, REESE'S and HERSHEY'S KISSES chocolates!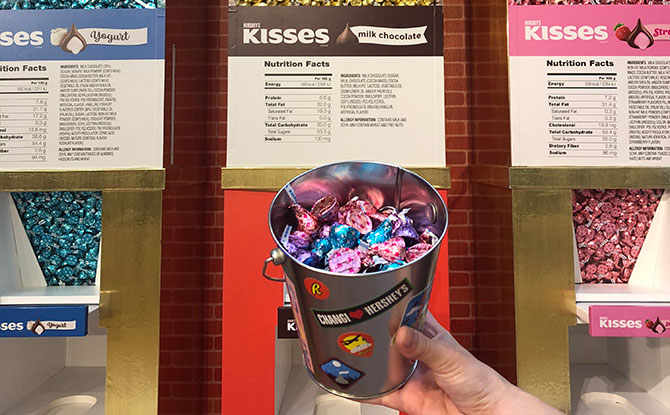 There are three new flavours that you'd want to get into your bucket – HERSHEY'S KISSES Filled Yoghurt, HERSHEY'S KISSES Filled Strawberry and HERSHEY'S KISSES with Hazelnut.
You can also personalise a HERSHEY'S Giant Bar with a special message a photo for that special someone at the HERSHEY'S Sweet Personalization counters.
To redeem this experience, spend $60 (or $80 at supermarkets) in a single same-day receipt in the public areas of Changi Airport to redeem:
One HERSHEY'S Penny Press Souvenir;
One $15 Changi Eats Coupon Code;
One HERSHEY'S Sweet Personalisation at $6.90 each; and
One HERSHEY'S Bucket of Happiness at $9.90 per bucket.
---
HERSHEY'S Chocolate Gallery Photo Spots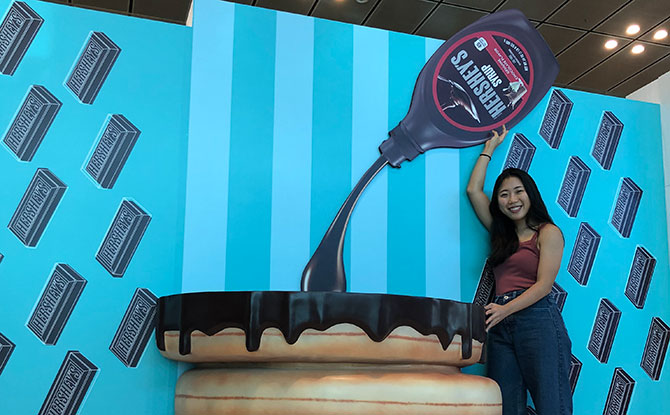 Want to visit more "sweet" spots around Changi Airport during the March school holidays 2021, go in search of Hershey's photo spots around Terminal 3.
At HERSHEY'S Kitchen, you can pretend that you're cooking up a HERSHEY'S creations. Or take a picture with a supersized cup of hot chocolate and a jumbo stack of pancakes soaked in chocolate sauce.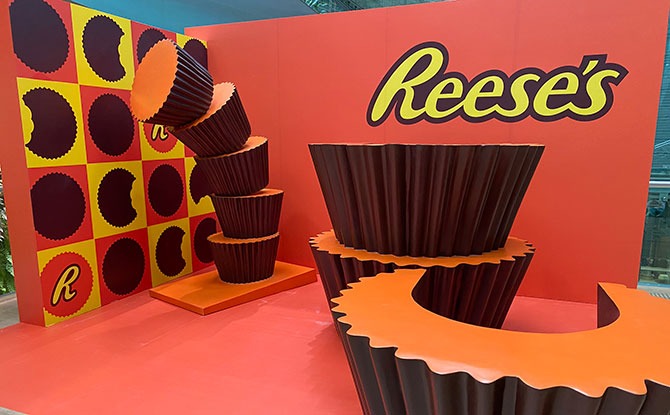 At Terminal 3 Basement 1's T3 ST3PS, lovers of REESE's peanut butter cups can pose with giant peanut butter cups.
And with Easter coming up, look out for a festive HERSHEY'S KISSES installation horticulture display with the Easter bunny and colourful Easter eggs at the end of March 2021.
It looks like it will a "sweet" March school holidays 2021 at Changi Airport. More details to come.
Hershey's Amazing Chocolate Machine at Changi Airport will take place from 12 March to 3 May 2021. Get more details here.
---
Other Activities during the March school holidays 2021
For those looking for other activities to do around Changi Airport and Jewel during the school holidays, there will be a Be A Little Airport Manager Amazing Race and family bundle deals to Jewel's Canopy Park.
Those thinking of heading outdoors can sign up for the Changi Cycling Experience at HUB & SPOKE to go on a bike ride along Jurassic Mile and check out the dinosaurs (including some of the new ones). Kids below 12 will receive a free Jurassic Mile activity booklet.
The Changi Cycling Experience can be booked here.
This story contains affiliate links. This means we earn a small fee if you purchase something through a link from our website. There is no additional cost to you and goes towards supporting Little Day Out's efforts to deliver the best news and reporting for families.