With more than 50 rides and games brought in from Europe and across the globe, there is something for everyone – from the littlest in the family to tweens and teens – at Prudential Marina Bay Carnival. With an awesome location at the iconic Marina Bay, there is no better place to #MakeEpicMemories with your family than at this fun-filled carnival in the city.
Ride Experiences for Families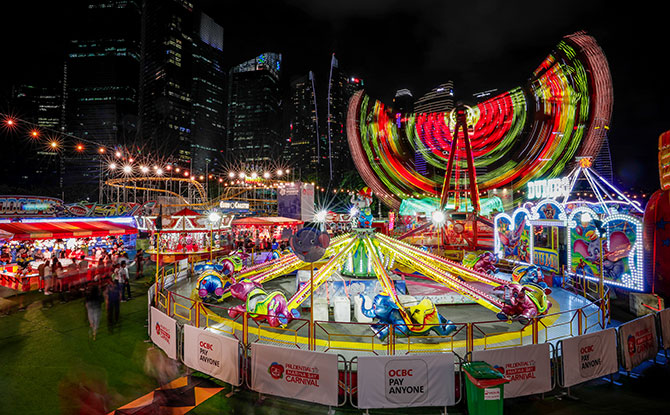 Catering to visitors of all ages, the carnival is ideal for a day out as a family – whether the kids are new to the joys of a carnival, seasoned adrenaline seekers or purely amusement park veterans.
Kiddie Rides Not To Be Missed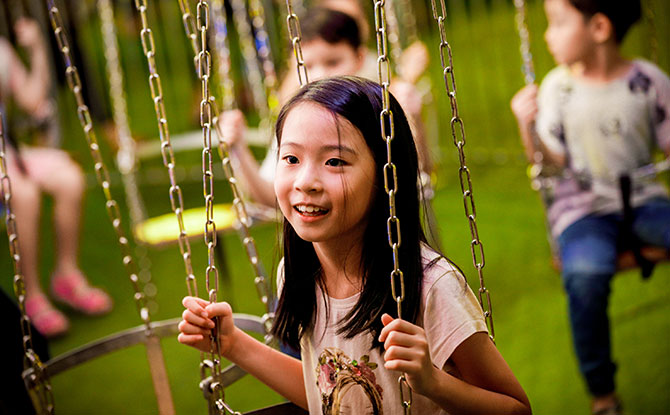 Young ones can enjoy rides such as Chairs – a variation on the classic merry-go-round – and Dumbo, the flying elephant ride.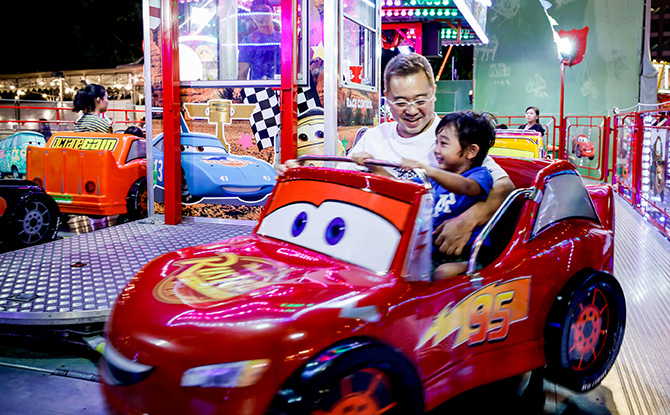 Vehicle-crazy kids will relish the opportunity to get behind the wheel at the Race-o-Rama and Formula 3000 circuits.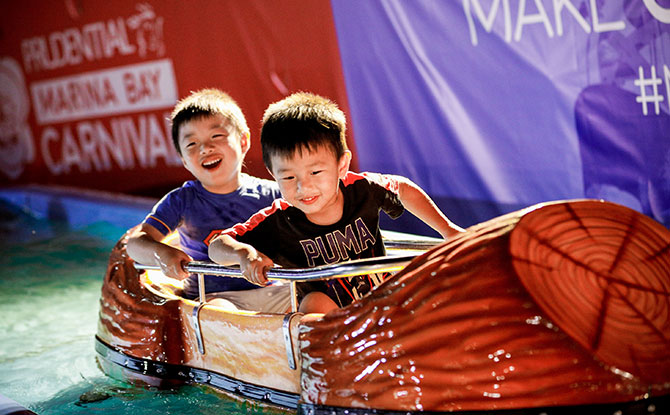 For a splashing good time, children can climb aboard the Mini Flume and float away to adventure.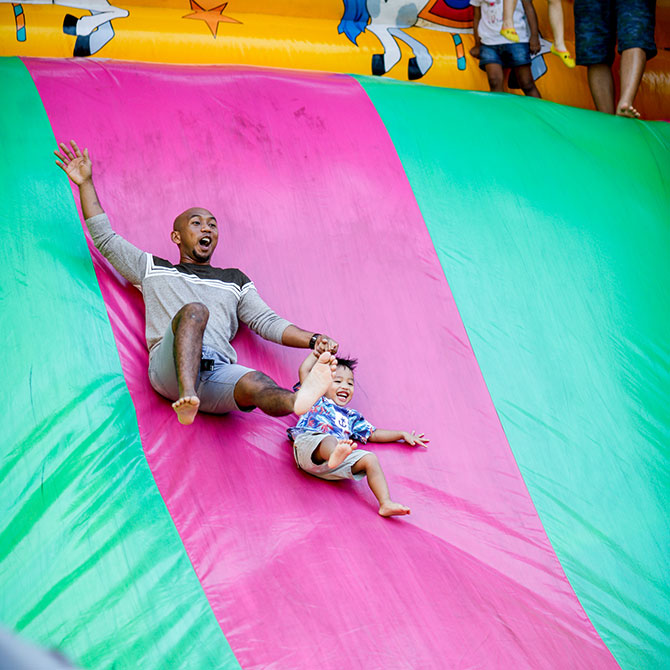 Prudential Marina Bay Carnival also has inflatables that the little ones are sure to love. There is even a two-storey inflatable slide where parents can join their kids for gravity-fuelled fun.
Rides for the Family and More!
The centrepiece of this year's Prudential Marina Bay Carnival is none other than the vibrant Wave Swinger, a brand-new ride flown in from Italy to make its debut for the first time in Southeast Asia.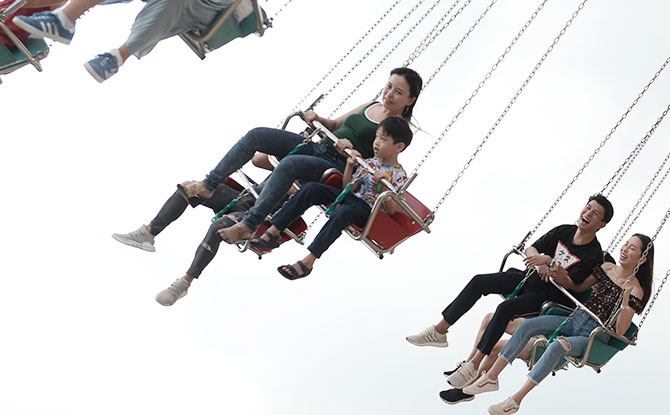 This family-friendly thrill ride sends riders sailing through the air on an unforgettable whirl.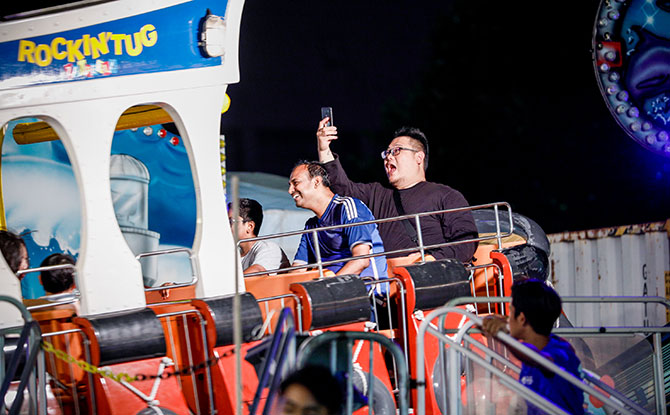 Parents are also encouraged to unleash the child within with their children on rides such as Rockin' Tug together. Have the kids ever asked to ride a pony? At the carnival, they can mount a valiant steed and gallop away on the Pony Express ride or toss around in good fun on the Bounce N Spin.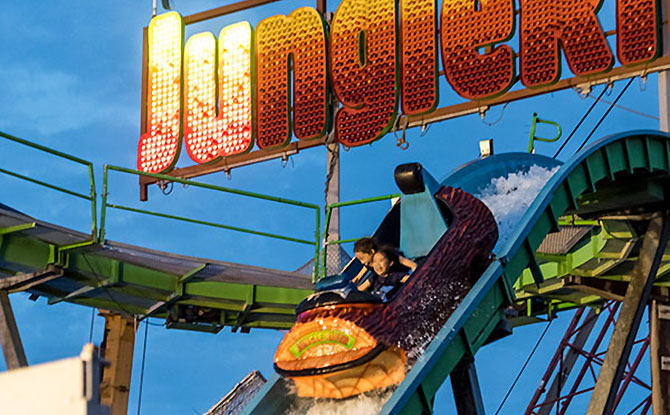 Intrepid families can venture on to the Jungle River and be swept away on this water log flume ride. Hang on tight for the drops!
There are also mini rollercoasters that are perfect for initiating first-time riders to the world of thrilling amusements. The Shark Coaster and Euro Coaster can be enjoyed by both parents and children together but be warned – the kids may get hooked and ask for more.
Other classic attractions around the Prudential Marina Bay Carnival sprawling grounds include Tea Cups and Dodgems.
Wins for the Tweens and Teens
Older children, including tweens and teens, will find that there is plenty to get their adrenaline pumping at the Prudential Marina Bay Carnival too.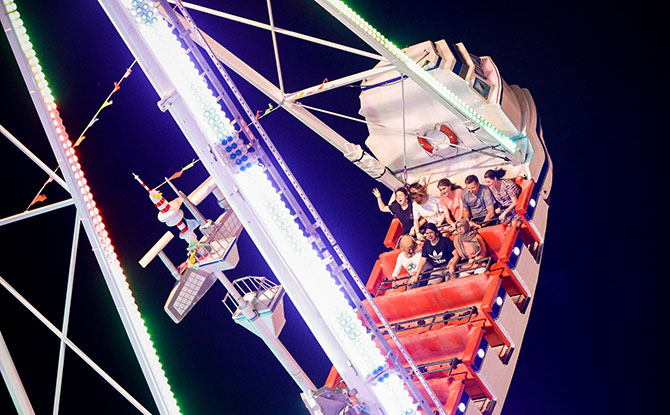 Not only are crowd favourites like the Starflyer, Das Schiff and Mach 5 back, but new thrill rides have been added this year.
Jumper Jumper and Freak Out are two new thrill rides that pack a whole lot of fun for the adventurous and fearless ones at this year's carnival.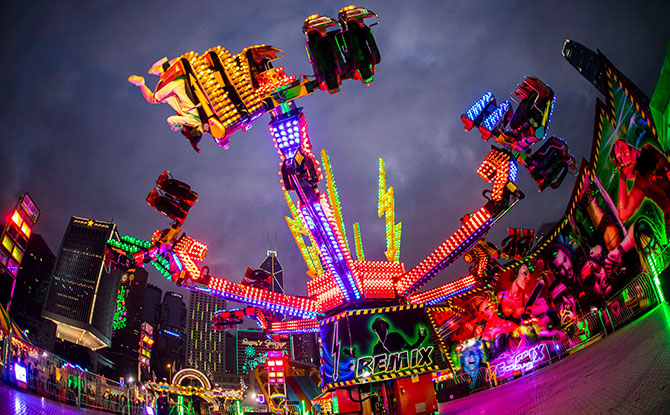 Prudential Marina Bay Carnival has also just introduced its highly-anticipated addition to the repertoire of thrill rides this edition, Remix Extreme. Billed as possibly the carnival's wildest ride, it will take brave souls on a breath-taking 26-rotations-per-minute, reaching over 100 kilometres per hour and a maximum G-force of 3.8.
Adventure-seeking, older children will definitely want to give it a go.
Games Galore
No carnival is complete without games and prizes to be won – and there are plenty of prizes at the Prudential Marina Bay Carnival.
In fact, there are $3,000,000 worth of soft cuddly toys to be won at the carnival!
Test your skills with fun games such as Bowling, Can Blaster, Hot Shots, Lobster Pot and countless others. You and the kids may well walk away with a cuddly toy (or more) in your arms.
Epic 2-for-1 Offer
From now till 10 March 2019, the Prudential Marina Bay Carnival is having an Epic 2-for-1 offer on rides and games.
Pay full price for one rider and a companion can go along on the same ride for free. This means that a parent-and-child pair can enjoy a ride together or two kids can ride together for the price of one.
At the game stalls (with the exception of Hook A Bag and Odd Numbers), pay full price for one game and get an additional round for free – you basically get to double your chances of winning!
This limited time Epic 2-for-1 offer is made possible with the support of the carnival's title sponsor, Prudential Singapore!
Awesome Programmes – More Than Just Games & Rides
There is more. Entertaining activities have also been lined up for the period of Make Epic Memories at the Prudential Marina Bay Carnival.
Acts to look out for include larger-than-life stilt walkers and masquerade jugglers from contemporary arts company, Circus in Motion, magicians from Artful Deceptions, and even complimentary face painting and fortune telling sessions! Mark your calendars for it is going to be a rollicking good time at the Carnival for the whole month of March!
Make Epic Memories at Prudential Marina Bay Carnival
Prudential Marina Bay Carnival opens from 4 pm till 11 pm every day. There are so many amazing ways to have a great time as a family at the Carnival – and it comes with wonderful views of the city too.
Pay a visit to the Prudential Marina Bay Carnival this March and #MakeEpicMemories with your friends, family and loved ones!
For more information, please visit www.marinabaycarnival.sg
Prudential Marina Bay Carnival
When: Now till 24 March 2019
Opening hours: 4 pm to 11 pm daily (Last entry at 10.30 pm)
Where: Bayfront Event Space, next to Marina Bay Sands
Website
Epic 2-for-1 Offer on Rides and Games from 28 February to 10 March 2019. Terms and conditions apply.
This feature is brought to you by Prudential Marina Bay Carnival.