Put on a set of boots, grab a net and get ready to go hunting for frogs.
Families looking for an animal encounter with a difference can hop over to the Jurong Frog Farm during the school holidays. This one-of-a-kind farm is organising special programmes for families with kids during the weekends of December.
Enjoy a spot of frog catching ($6 for half-an-hour) and sample the Jurong Frog Farm's famous delicacies such as the Royal Hashima Dessert or Deep Fried Frog Meat (Saturdays, Sundays and public holidays, 9.00 am to 5.30 pm) and Gong Bao Frog meat (Saturdays, Sundays & public holidays, 10.00 am to 2.00 pm).
If all that sounds too adventurous, the Jurong Frog Farm's standard Family Tour may be more to your liking.
On the Family Tour, visitors will be given a brief introduction to the Jurong Frog Farm's history, learn about the American Bullfrog's lifecycle and have the opportunity to participate in a 'Hands-on-Frogs' show & tell session. They may even be able to take a photograph while balancing a full-grown American bullfrog on their heads. The tour also heads outdoors for a 'Feeding Frenzy' with the frogs and fishes.
Family Tours are conducted at 9.00 am, 10.00 am and 2.00 pm on weekends and public holidays. Tour tickets can be purchased at $25 per group of up to five persons. Additional tickets at $5 per person can also be purchased for groups larger than five persons.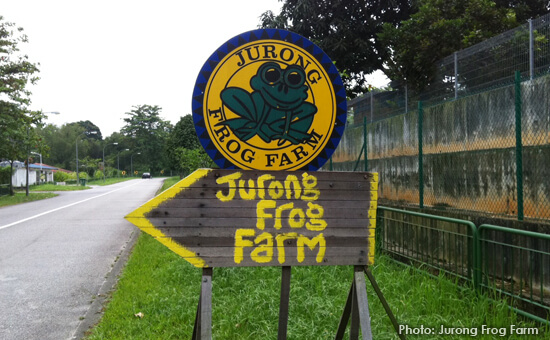 Get directions to the Jurong Frog Farm.
More information about the farm can be found on its website at www.jurongfrogfarm.com.sg.