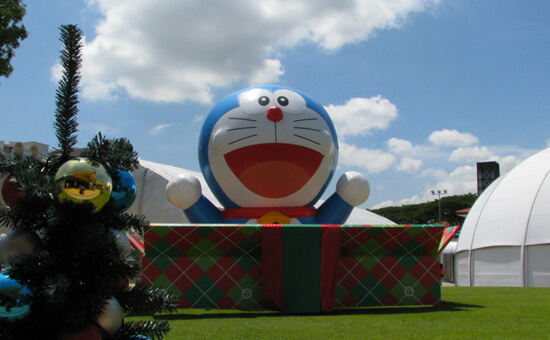 Join Doraemon and his friends at Downtown East this Christmas.
Towering over the Begonia Lawn is a 4-metre tall inflatable Doraemon and five other action scenes from the popular Japanese animation series have invaded the rest of Downtown East.
Doraemon Show and Games
Children can meet Doraemon, Nobita, Shizuk, Gian and Suneo at a live song and dance show taking place from 6 to 31 December 2013 (except Mondays) at 7.00 pm on weekdays, and 3.00 pm and 6.30 pm on weekends at the Event Square.
Between 1 to 31 December, hop around the free Doraemon Maze at Costa Sands Resort (Downtown East) Entrance between 12.00 pm and 9.00 pm and stop by a Doraemon Carnival at the Downtown East lobby where you will receive an exclusive Doraemon Notepad with $10 spent at game stations.
Paint Your Way into the Singapore Book of Records
As part of the festivities, families can participate in an attempt to enter the Singapore Book of Records for the "Most Number of People Painting Clay Figurines". Set to take place on 8 December between 11.00 am to 1.00 pm, kids and adults can get creative with paints and brushes on 12 cm tall clay Doraemon figurines. The best figurines will go on display at Downtown East.
Another highlight during the holidays is the Doraemon Fitness Workshop. The high-energy fun starts at eXplorerkid on 15 December at 10.00 am. Kids will learn to dance to the Doraemon theme song and may even get a chance to perform together on stage with Doraemon! Pre-registration is required for this family-friendly event.
For more details on the Doraemon themed events taking place at Downtown East, visitwww.downtowneast.com.sg