Harry Potter fans will want to grab a fistful of Floo powder and transport themselves down to Changi Airport during 2018 festive year-end season as the magic of A Wizarding World Holiday at Changi sweeps into the airport.
From 16 November 2018 to mid-February 2019, visitors to Changi Airport will be able to visit locations from the world of Harry Potter, take part in themed activities and collect exclusive Harry Potter merchandise at this spell-binding event.
Diagon Alley at T3
The area near Terminal 3 Check-In Row 11 has been transformed into Diagon Alley-inspired activity area. Here, Muggles and Wizards alike can take participate in free Harry Potter-themed activities.
To do so, there is no minimum purchase required. Instead, all you need to do is post photos of yourself at three A Wizarding World Holiday At Changi's event setups on Facebook or Instagram with hashtag #ChangiWizardingWorld, show this to the staff at Diagon Alley and, poof, you can choose to try out two of the four activities. Full terms and conditions can be found here.
---
-- Story continues below --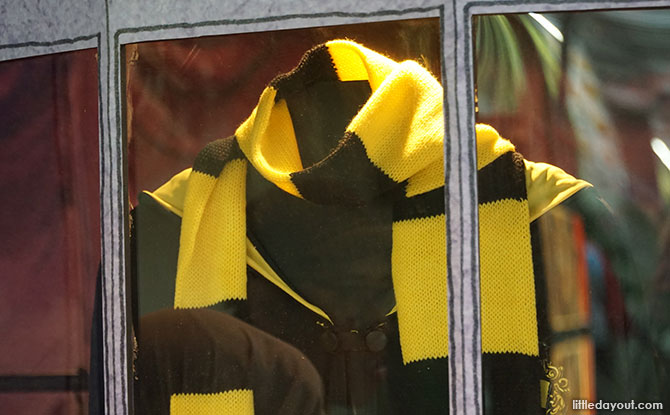 At Madam Malkin's Robes for all Occasions, you can put on Hogwarts robes, pose in front of the Magical Photo-taking Mirror and have a digital photo and sent to you by email.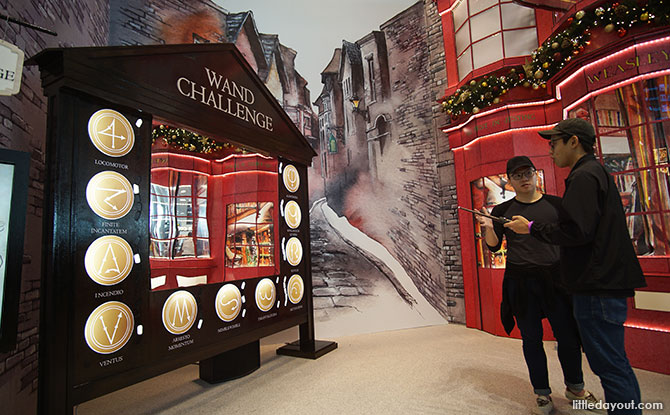 Head to the Wand Challenge to learn how to "swish and flick" a wand to cast a magical spell.
Fancy a bit of Quidditch? Hop on to a broomstick and tossing the Quaffle through a hoop to score a goal.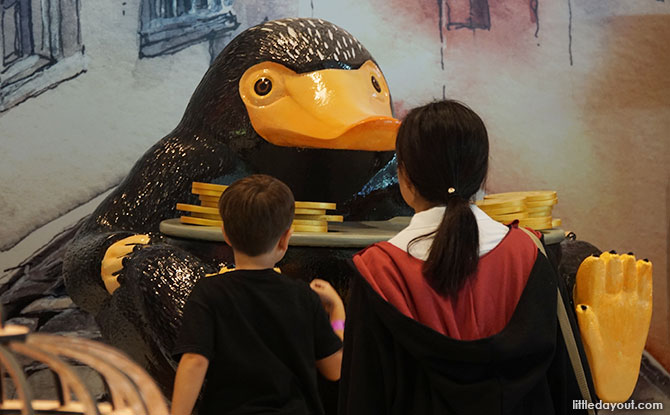 Play a game with a gigantic Niffler by balancing as many coins as possible without them toppling.
Visit Hogsmeade And Hogwarts
A Wizarding World Holiday at Changi continues at the Terminal 3 Departure Hall.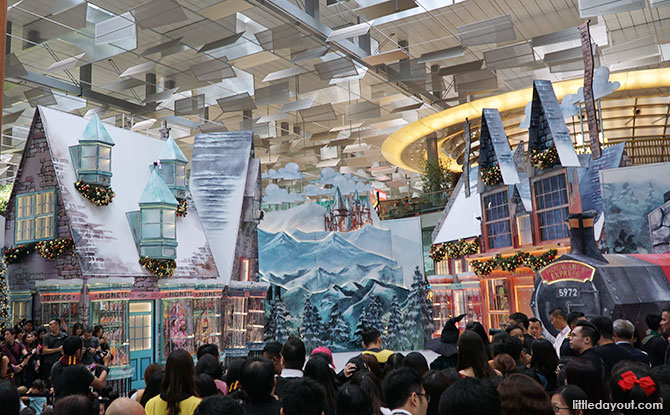 Fans will be excited to visit a Hogsmeade Village display complete with shops like Zonko's Joke Shop, Madam Puddifoot's Tea Shop and the Owl Post Office.
Peer into the shop windows to find familiar objects from the Harry Potter stories.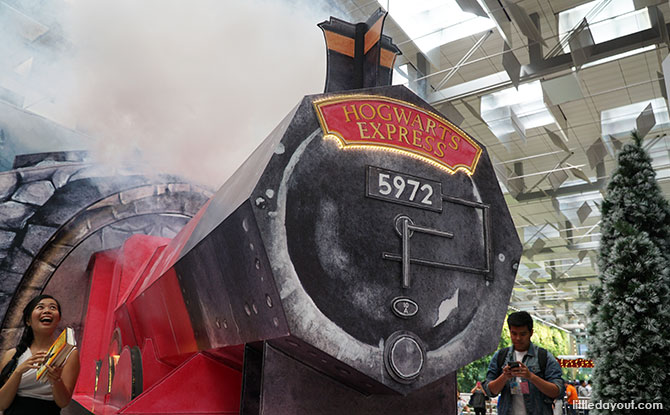 The billowing Hogwarts Express provides a nice, extra touch.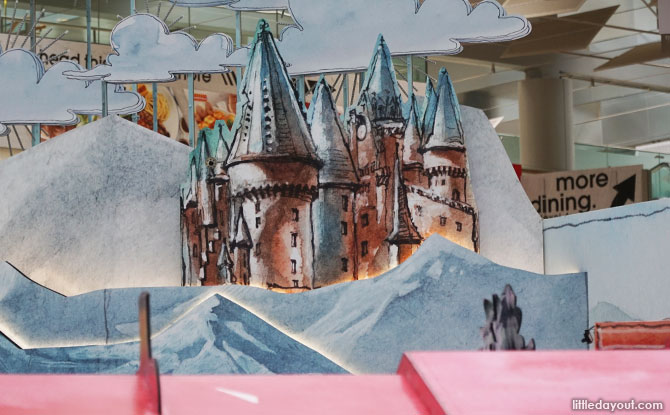 In the distance, the Hogwarts School of Witchcraft and Wizardry can be seen from the village.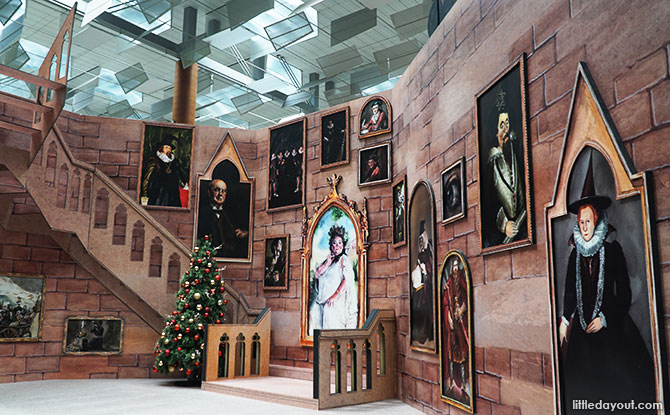 Go to the rear of the display and you can visit Hogwarts' Grand Staircase, complete with portraits and paintings
The village of Hogsmeade also serves as the centrepiece for A Wizarding World Holiday at Changi's daily live shows and "snowfalls" – perfect for enchanting audiences and ushering in the holiday mood. Get show timings details here.
More From the World of Harry Potter at Changi Airport
There are other Potter-rific photo opportunities around Changi Airport.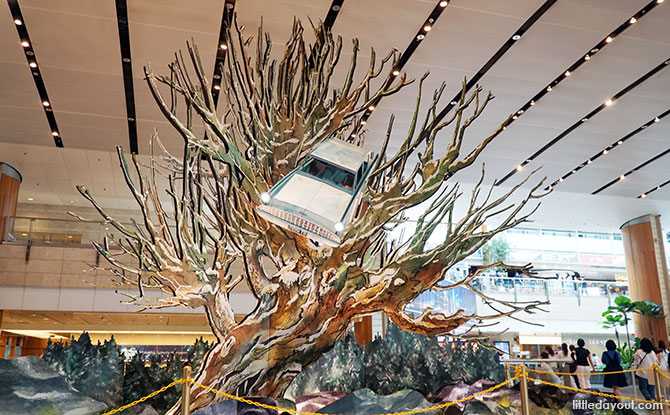 Bringing new meaning to the phrase "stuck at the airport" is the Weasley's flying Ford Anglia which is caught up in the Whomping Willow over at the Terminal 2 Departure Hall.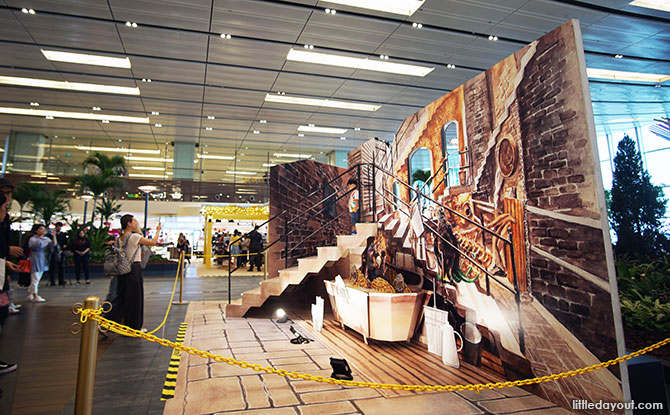 Those who are passing through Terminal 1 Transit Area will want to take a picture with Newt Scamander's Menagerie from the Fantastic Beasts series.
Harry Potter Collectibles at the Airport
As part of A Wizarding World Holiday At Changi, Harry Potter fans can also look forward to Harry Potter-inspired merchandise at Changi Airport during the year-end 2018 season.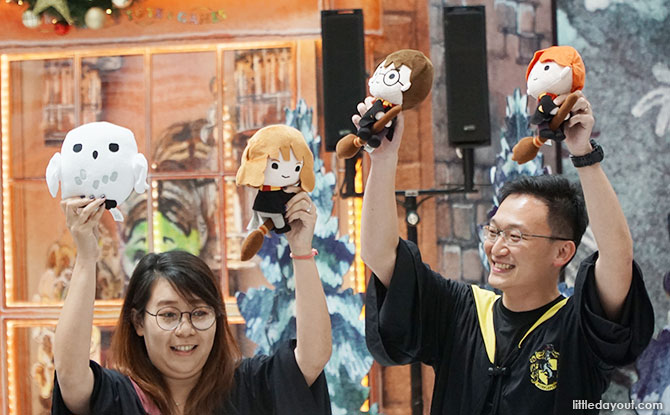 These include cute plush toys and travel pillows with Hogwarts house emblems on them. These are available as purchase-on-purchase premiums.
There are also A Wizarding World Holiday At Changi pop-up shops located at Terminals 1 and 3 transit areas.
Get more information on A Wizarding World Holiday At Changi here.
A Wizarding World Holiday At Changi
When: 16 November 2018 to mid-February 2019
Where: Changi Airport, Singapore