Children's Cancer Foundation's flagship fundraiser Hair for Hope turned 20 this year and supporters headed down to VivoCity on 29 and 30 July 2023 to help raise funds and generate awareness about childhood cancer.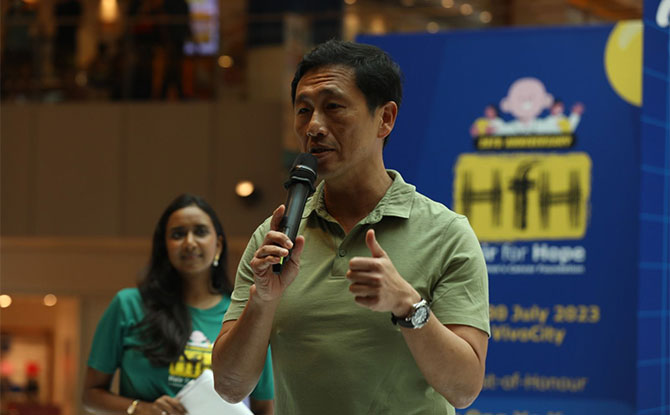 During the event, where the Guest of Honour was Health Minister Ong Ye Kung, supporters took the symbolic step of shaving their heads bald to create awareness of childhood cancer in Singapore.
This gesture was also to show children with cancer and their families that they are not alone in their fight against cancer.
A common short-term side effects of undergoing cancer treatment is hair loss, which may affect the confidence of children with cancer. By shaving their heads, shavees aimed to let children with cancer know that it is okay to be bald.
---
-- Story continues below --
---
Hair for Hope: Fund Raising and Raising Awareness
The fund-raising event is in aid of children with cancer and their families.
The idea for Hair for Hope dates back to 2003 when a group of nine volunteers of Children's Cancer Foundation decided to shave their heads as a symbolic gesture to help create awareness for children with cancer. This was done in conjunction with the annual Children's Cancer Foundation fundraising event, Tulips Hearts Day.
The effort in 2003 attracted $2,000 in donations for the Children's Cancer Foundation.
In 2004, Hair for Hope was officially launched to the public with 73 supporters, made up of members of the public and volunteers, choosing to shave their heads. Their efforts raised close to $48,000 for the charity's beneficiaries.
This year, Children's Cancer Foundation hopes raise $3.8 million through Hair for Hope.
Proceeds raised from Hair for Hope will go towards Children's Cancer Foundation's programmes and services for children and families impacted by cancer.
In addition, Hair for Hope is aiming to set a new national record in the Singapore Book of Records in 2023, clocking an accumulation of 70,000 shaven heads over 20 years.
---
Supporting the Work of Children's Cancer Foundation
Members of the public that wish to support the Children's Cancer Foundation can to do so by making a donation online or via cheque.
Details on ways to support Children's Cancer Foundation can be found here.