You must have heard of the story of the cowherd and weaver girl. This story originated from the Qixi Festival or 七夕节.
Qixi Festival was one of the eight staple Chinese festivals celebrated in Singapore ever since the mid-1800s. Did you know that this festival used to be grander than Chinese New Year? However, over the last few decades, it was slowly forgotten.
But now, Qixi festivities will be returning to Singapore over the next seven weekends. There are different events and activities taking place as part of the Qixi Festival 2023 in Singapore.
Read on about the origins of the Qixi festival and other interesting facts about this Chinese festival and to find out how you can experience the festivities.
---
-- Story continues below --
---
Origin Story of the Qixi Festival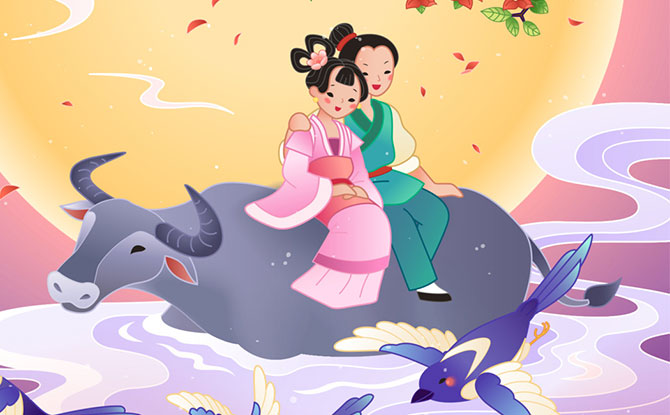 The Qixi Festival comes from Chinese mythology. It is a celebration of the love story of two star-crossed lovers – the Cowherd (Niu Lang) and Weaver Girl (Zhi Nu), and also explains how two stars in the sky – Altair and Vega – came to be.
There are many variations of the Qixi story and here is one.
Niu Lang, a Cowherd, comes across seven celestial fairies bathing in a lake one day. His companion, a cow suddenly talks, encourages him to steal their clothes while they are in the water.
The fairies tell the youngest amongst them, Zhi Nu, to go out and retrieve their clothes. However, as Niu Lang as seen her naked, she agrees to his request to marry her.
Zhi Nu stays on earth with Niu Lang and does not return to the heavens. Niu Lang and Zhi Nu get married, have two children and live happily together.
However, when the Empress of Heaven finds out that a celestial fairy has married a mortal, she is enraged. She forces Zhi Nu to return to heaven, leaving Niu Lang heartbroken.
The cow speaks again and tells Niu Lang to kill it and wear its hide. This magic hide would allow Niu Lang to go to the heavens to find his wife. Niu Lang reluctantly does so and goes to heaven with his two children to find Zhi Nu.
When the Empress of Heaven finds out, she is so angry that she uses a hairpin to rip the heavens to separate Niu Lang and Zhi Nu. This creates the Milky Way with the two stars, Altair (Niu Lang) and Vega (Zhi Nu) on opposite sides.
However, the story doesn't end there. Some magpies took pity on the star-crossed lovers and they formed a bridge across the Milky Way, allowing the pair to reunite once a year on the 7th day of the 7th month of each year.
---
Forgotten Festival by Women – Is Qixi the Chinese Valentine's Day?
Qixi, literally means double seventh and is also known as the double seventh festival. It is also known as the Seven Sisters Festival.
In Singapore, the festival and its traditions were organised by immigrant Chinese women. As early as 1850s, Chinese immigrant women like majies introduced the festival which was celebrated till the 1970s.
The unwed Cantonese women formed Milky Way Associations to performing mass celebratory customs and practices.
This tradition then faded out due to resettlement and other changes. The main participants were majies, female factory workers, Samsui women and entertainment hostesses.
So, Qixi is not the Chinese Valentine's Day but centred on the practice of participants wishing upon the stars under the night sky.
---
Qixi Festival 2023 in Singapore: Event Highlights Including Sailing down the Singapore River, Crocheting Magpies, & Listening to Stories
Although Qixi Festival has not been celebrated widely in Singapore for half a century, it is returning in a big way.
The Qixi Festival 2023 falls on 22 August.
Clan associations, community partners led by cultural researcher Lynn Wong have banded together to revive the festival in Singapore.
In conjunction with the festival, activities such as free boat tours and trails, storytelling sessions, crocheting classes, heritage cooking and demonstration workshops are being organised in Singapore.
The Qixi festivities 2023 kick off on Friday, 7 July and will culminate in a mega carnival at Smith Street, Chinatown on Saturday and Sunday, 19 and 20 August 2023.
There are three main themes to this year's Qixi festivities: (Her) Story, QiQiao (乞巧) and Sustainability.
The Qixi festival 2023 will be celebrating the stories of female migrant pioneers with talks, panel discussions and exhibitions. Families can learn more about the Samsui women and factory women working graveyard shifts.
---
Make a Wish Magpie
The association of magpies with the Qixi Festival dates back to the Han dynasty. Pen your wishes on paper magpies and help form a "magpie bridge" for your wishes to be granted.
Better still, how about making a wish with a crochet magpie? Customise your own magpie crochet plushie at a crotcheting workshop that also takes place on Sundays at 2 pm and 4 pm.
If you take a closer look at the mascot of the festival, it has a bald patch. Can you guess why? Hint: Magpie Bridge
---
Qixi Fest River Cruise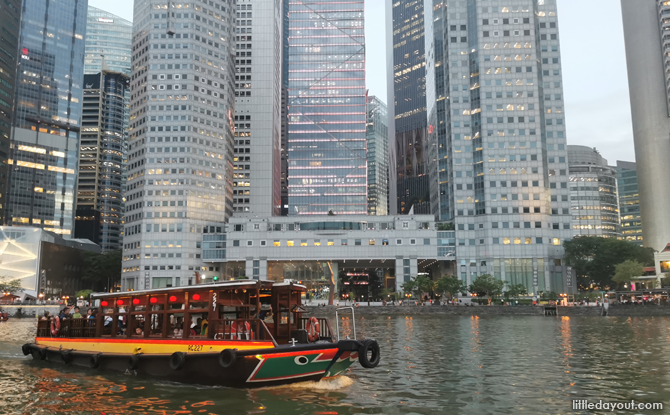 There will also be specially curated boat tours retracing stories of female migrants as well as the Kinmen people whose boats once plied the Singapore River.
The free Qixi Fest River Cruise will take place every Sunday from now till 20 August 2023 at 8 pm to 8.30 pm in English, and 8.30 pm to 9 pm in Chinese. There are a total of 12 free boat tours along the Singapore River, accommodating up to 30 pax per timeslot.
The boat tours are held in collaboration with clan association partner Kim Mui Hoey Kuan (金门会馆) and will take participants past key sites and monuments beginning and ending at the Clarke Quay Jetty.
Participants with tickets should arrive 15 minutes earlier for registration.
Dates of Boat Tours: 9, 16, 23, 30 July & 6, 13 August (Sundays)
8pm to 8.30pm: English Guided Tour
8.30pm to 9pm: Chinese Guided Tour
Embarkation & Disembarkation Point: Singapore River Cruise Clarke Quay Jetty. Book your spots here.
---
Stories and Family-friendly Workshops
Rediscover the stories of the foremothers through hands-on food preparation workshops centred on lost heritage foods such as Majie Chilli biscuits, Tung Ann and Meizhou Yam balls.
Families can also pick up new skills such as calligraphy, Hanfu craftsmanship, learn the harmonica and bond through outdoor sketching and riddle-solving.
Some highlights of family-friendly workshops include a Chinese Opera Parent-child
Workshop in which you can customise your own headgear and a East Meets West calligraphy workshop to pick up a traditional artform with a modern twist,
Tickets can be purchased at this site.
---
Qixi Fest Mega Carnival on 19 and 20 August 2023
The Qixi festival 2023 in Singapore will end on a high at a mega carnival.
Get treated to live band performances, guzheng orchestral music and a martial arts display by young children. This carnival will be held at Smith Street, Chinatown where many of the foremothers once lived and worked.
For more about Qixi Fest.
If you enjoyed this story, we predict that you may also enjoy reading this one about Chinatown murals.