On 23 September 2023, Google released findings from its third APAC Kids and Families Online Safety Survey, conducted with 8,000 parents across Australia, India, Philippines, Thailand, Vietnam, Singapore, Malaysia, Japan, Korea, Taiwan and Hong Kong.
---
Google's APAC Kids and Families Online Safety Survey
According to the survey, the majority of children in Singapore (80.4%) spend 1 to 6 hours online, and more than half of parents (54.7%) will allow their child to spend more time online as they grow older.
The key uses for tech include supporting a child's school and education (68.7%), helping a child explore their unique interests (53.3%) and teaching a child about online safety (56.8%).
---
-- Story continues below --
Amongst the results of the APAC Kids and Families Online Safety Survey were findings Singaporean parents are increasingly concerned about their children's exposure to inappropriate content.
Chief amongst the concerns was the online safety issue that children see inappropriate content online. According to the survey, one in two children in Singapore having encountered it at least once in the past year.
The top three types of inappropriate content reported by parents were
misinformation (55.4%);
deceptive ads and spam (50.7%); and
violent content (48.7%).
---
Decline in Online Safety Discussions with Children
Even with the growing dangers children face online, Singaporean parents are becoming less confident in discussing online safety with their children.
This year's survey found that only 79.4% felt confident in engaging their children on this topic, down from 83% last year.
This decline may be due to a number of factors, including the difficulty of finding age-appropriate and easy-to-understand examples of online safety issues to discuss with their children, and the rapidly evolving nature of the online world.
Nearly half of the parents surveyed (47%) said they struggle to find the right time to talk to their children about online safety.
Despite these gaps, more than half of local parents said they are willing to allow their children to spend more time online and expect to change digital rules for their child's Internet use as they grow older.
This can be concerning as parents are faced with the need to develop new rules – sometimes before even putting the fundamentals in place – which makes the online journeys of children increasingly challenging to manage.
---
Using the Right Tools To Manage Family's Online Safety
Norman Ng, Regional Operations Lead, Trust & Safety Global Engagements, Google Singapore said, "More kids and teens nowadays are savvy navigators of the digital world. Our survey results highlight the urgent need to make online safety a central part of their conversations at home. We understand that each family's relationship with technology is unique, and we encourage parents to make good use of tools such as Family Link and Be Internet Awesome to aid their digital parenting."
For parents looking for the right tools to help manage their family's online safety, some of the tool and resource available on Google include:
Age-appropriate content restrictions on Google Play and Search via Family Link that allows parents to adjust parameters for their children's devices.
SafeSearch, which is on by default for signed-in users under 18 and helps filter inappropriate, explicit, and mature content.
Kids tab on Google Play Store for children to discover age appropriate applications.
SafeSearch's new blurring setting. This automatically blurs explicit imagery, such as adult or graphic violent content, by default when it appears in Search results
YouTube Kids. This provides children with a more contained environment to freely explore content online
Library of Digital Safety Resources and the Be Internet Awesome programme that teaches kids the fundamentals of digital citizenship and safety.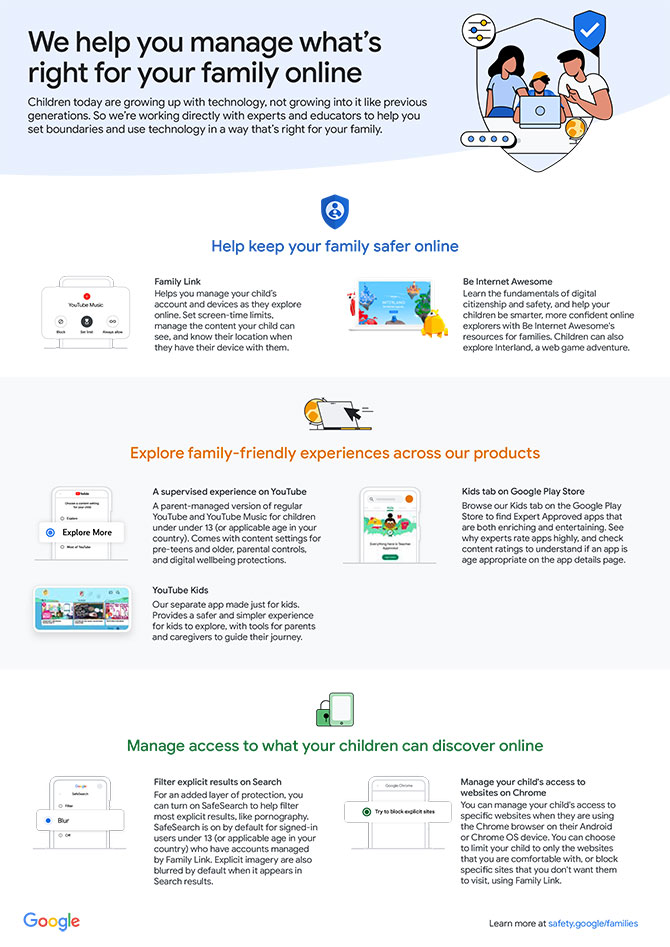 It was also revealed earlier in July 2023 that in Singapore, Google is also collaborating with four local organisations —Limitless, Samaritans of Singapore Ltd, SG Her Empowerment and TOUCH Community Services – through its Priority Flagger programme to identify and remove violative content from YouTube. in Q2 2023, 39,536 videos in Singapore were removed for violating YouTube's community guidelines.