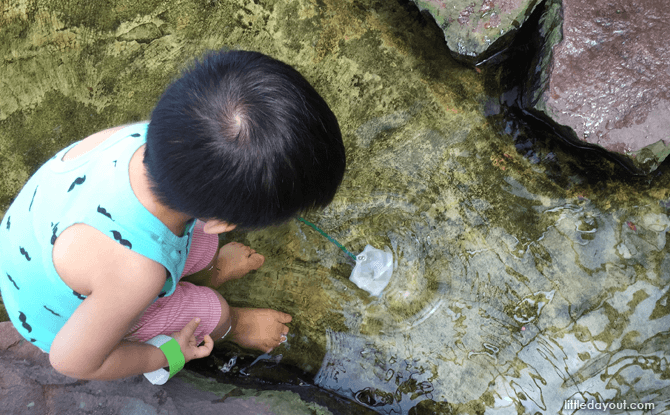 There was a time when we used to go longkang fishing and while the afternoon away splashing around looking for fish.
Introduce your kids to the nostalgic fun of fishing in a "longkang" – local slang for anything from small drains to big canals.
Let's go longkang fishing!
Longkang Fishing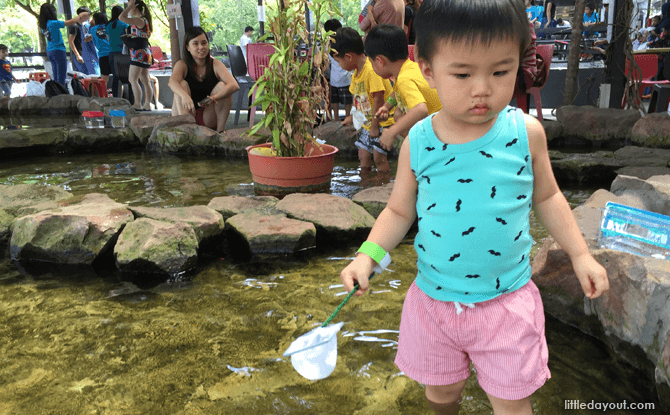 Okay, fine, one look and we know that this is no longkang.
The "longkang fishing" offering by Fish@Big Splash looks more like a neatly landscaped pond, and less like a dirty drain.
But the idea is there – wading in knee-deep water, poised with a fishing net, trying really hard to chase some guppies into our net.

The $12 ticket includes a fishing net; add on $3 and you get a small tank to stow away your catch. Your child can bring home up to 18 fish in this little tank, and it will be a good lesson of responsible pet ownership.
But if you wish to only rent the tank, the fee is $1. And if you decide to return the fish you caught, the little tyke gets a little souvenir toy fish to bring home instead.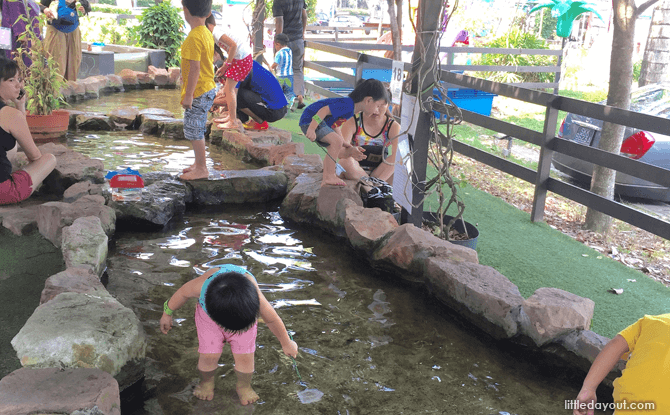 Designed for kids two to 12 years old, this is a cluster of three adjoining oblong ponds, forming one large longkang.
Our little two-year-old was mesmerised by the quick-swimming guppies, darting here and there around the longkang, between the legs of the children.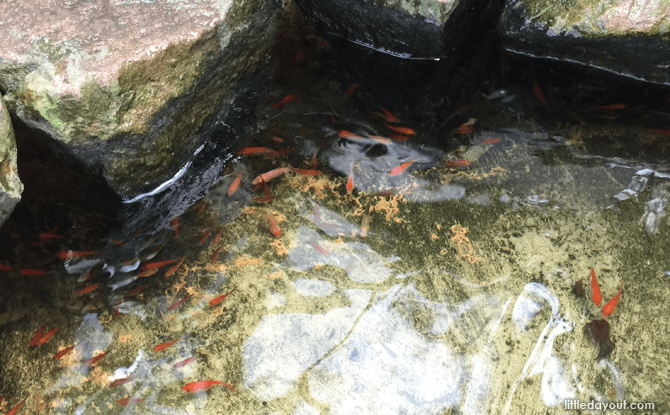 The fish often escape between the cracks where the oblong ponds join… and emerge, as if by magic, into the next pond.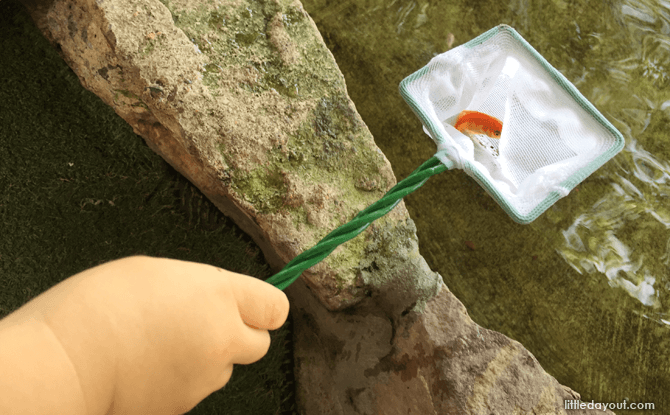 It's more difficult than it looks, catching these wriggly fish with the tiny nets!
Feeding Fish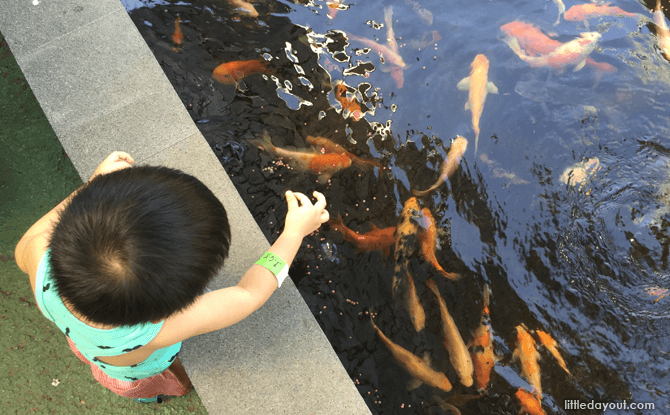 The other activity that kept our tot busy was the fish feeding.
You can get a small container of fish food for $2.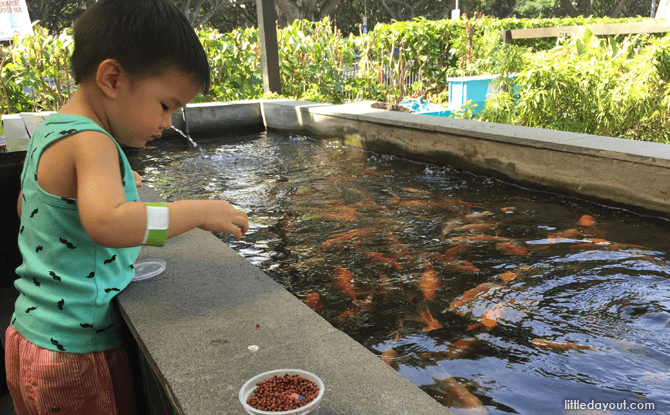 There is a pond of large koi thrashing about in the water. It's quite entertaining how they notice movements above the water, and swarm towards a friendly feeding hand.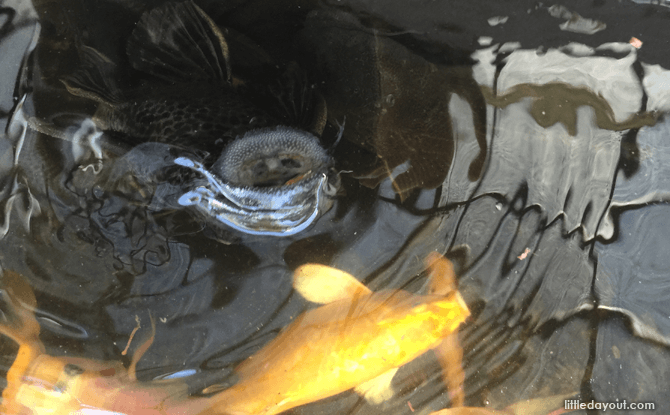 And if you look really, really closely, you just might spot a few black suckerfish. They are in charge of eating up the algae and cleaning up the pond.
But woah, they were going at the fish food like nobody's business.
There are also a few smaller blue tanks around the fish feeding area, where the kids can feed more fish.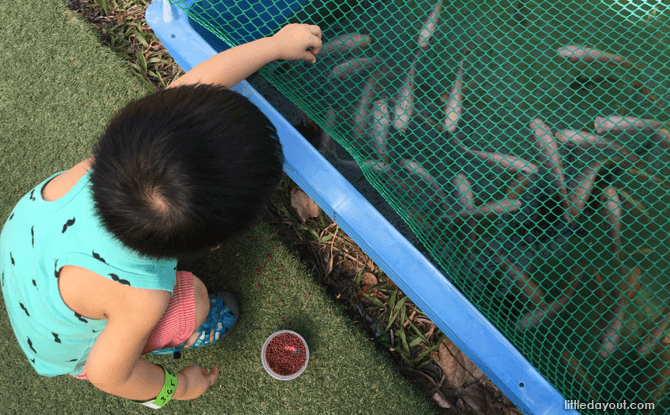 We noticed that the fish in the blue tanks appear hungrier than the koi in the main pond. Not surprising, since the koi is the centre of most (over)feeding attention.
Our tot enjoyed the fish feeding so much, he didn't want to stop until he had given away all the fish food.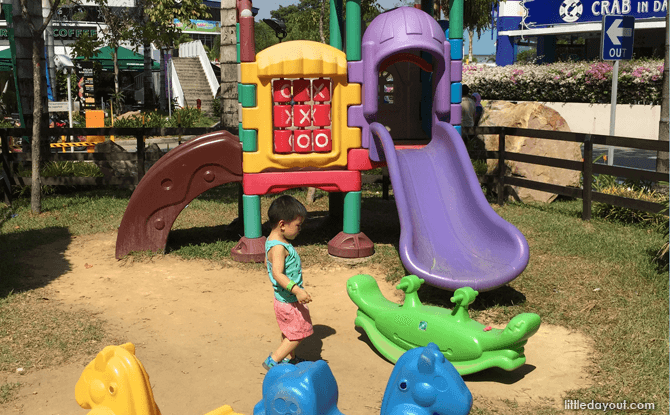 Tired? Take a break from all that fishy business at the little playground in the middle of the sand pit.
Prawning and Other Activities
More activities for the rest of the family – there are also big-head prawns and freshwater lobster in another large pond.
Prawning bait and rods are provided.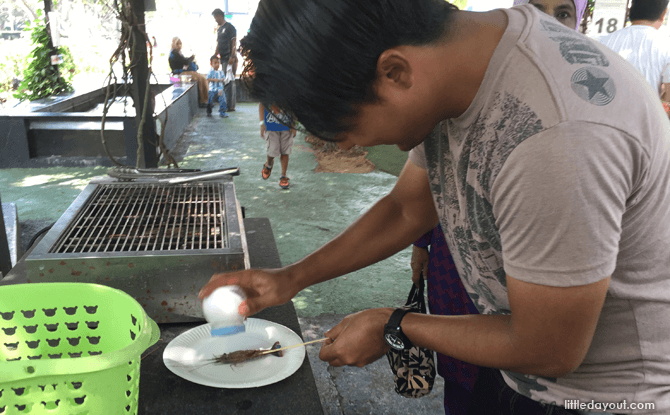 Also, you can grill your fresh catch whenever you want.
Or if you want to relax for a bit, there is a fish spa pond, where little fish will nibble away at the dead skin on your feed. Sweet.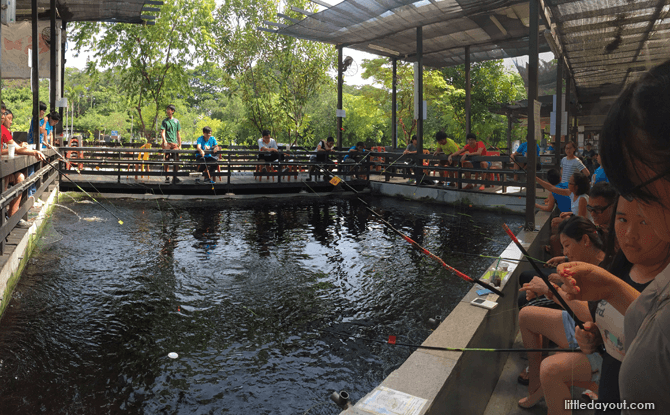 For those wanting a bit of saltwater action, Fish@Big Splash has another large pond with seawater fish such as golden pomfret, red snapper and grouper.
Bait and fishing rods are also provided, so fish away for your dinner!
Incidentally, Fish@Big Splash is open 24 hours. For some really urgent longkang fishing or prawning at 3 am, no doubt.
But yes, the round-the-clock opening hours would be attractive to youngsters who are staying up late camping or holidaying at the chalets at East Coast Park.
In the day, the sheltered longkang fishing area keeps the kids and parents cool.
Bring along a change of clothes for the child – some parents even dress their kids in swimsuits. What is longkang fishing without getting a little wet?

Fish@Big Splash
(directly opposite Crab in Da Bag and Starbucks)
902 East Coast Parkway, #01-30, Block H, Big Splash
Singapore 449874
[Editor's Note: Fish@Big Splash has closed.]