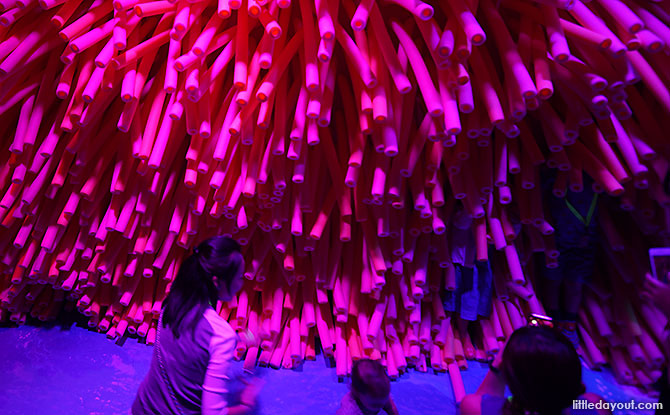 From 23 November 2018 to 6 January 2019, S.E.A. Aquarium at Resorts World Sentosa is throwing the spotlight on glowing sea animals under the theme of Glowing Ocean with five zones of light art installations and experiences.
Organisms in the Glowing Ocean
In the watery depths, one of aspect of the glowing ocean can be found in bioluminescence and biofluorescence. These two phenomena refer to the situation where a living organism emit light on their own. However, there are differences between bioluminescence and biofluorescence.
Bioluminescence occurs within the living organism's own body by means of a chemical reaction that produces light from within. The organism can control and regulate the glow coming out from their body and adjust it for its purpose, whether to search for a meal or for a mate. Animals which exhibit bioluminescence include deep-sea angler fish and fireflies.
On the other hand, biofluorescence does not result from an internal chemical reaction. Instead, it occurs when an organism absorbs light and re-emits it again to give off a glow.
---
-- Story continues below --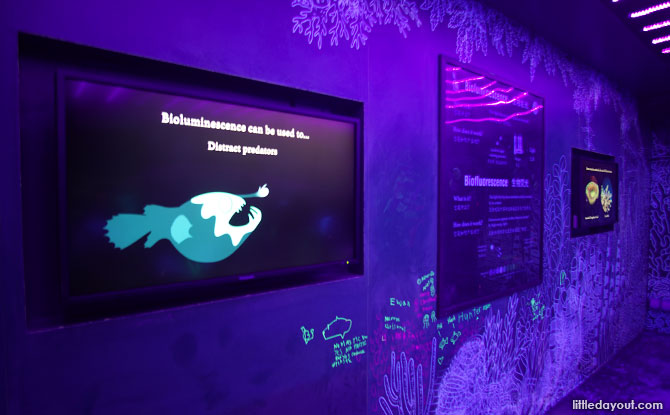 At Glowing Ocean at S.E.A. Aquarium, these differences are articulated and visitors can also leave a fluorescent message which will glow under the UV lights of the room by penning a message or drawing a picture on the dark room's walls.
Coral & Sea Jellies
Coral is a living organism that exhibit bioluminescence. Part of the glowing ocean, they can radiate pinks and blue in shallow waters or even turn into more psychedelic hues of reds and greens in deeper part of the oceans.
Another organism can appear to glow in the waters of the ocean is sea jellies. These floating organisms with umbrella-shaped bells and tentacles have translucent bodies which allow light to pass through them. Floating close to the ocean's surface, in colonies, these can create the effect of a glowing ocean at sea.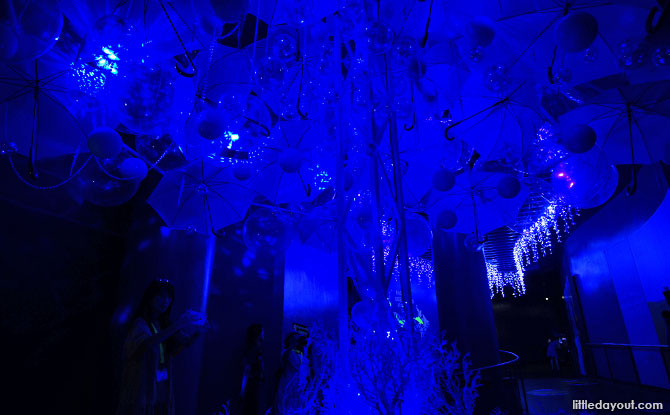 Through the various installations, Resorts World Sentosa's S.E.A. Aquarium's Glowing Ocean provides a different perspective of these unusual organisms living in the world's waters. And new perspectives are sometimes the most important to gain.
Glowing Ocean, S.E.A. Aquarium, Resorts World Sentosa
When: 23 November 2018 to 6 January 2019