Tired of the usual staycation? How about going on a special glamping holiday in the heart of a historic district with Kampong G(e)lamping at MHC in December 2020.
---
Glamping At Malay Heritage Centre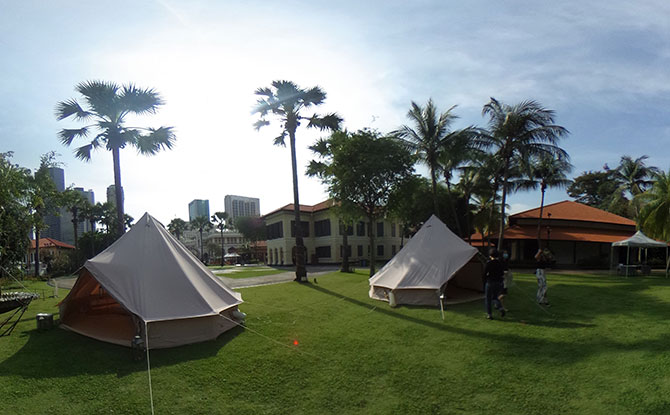 From 15 to 24 December 2020, the Malay Heritage Centre at Kampong Gelam will be hosting a special glamping experience on its grounds. Up to five people at a time will be able to enjoy a two-day, one-night experience at the historic district and spend a night under the stars on the Centre's beautiful lawn.
Two tents will be set up for the Kampong G(e)lamping at MHC experience. One will serve as the sleeping quarters with two queen-sized bed and a hammock while the other will be equipped with a projector screen for a night-time cinematic experience.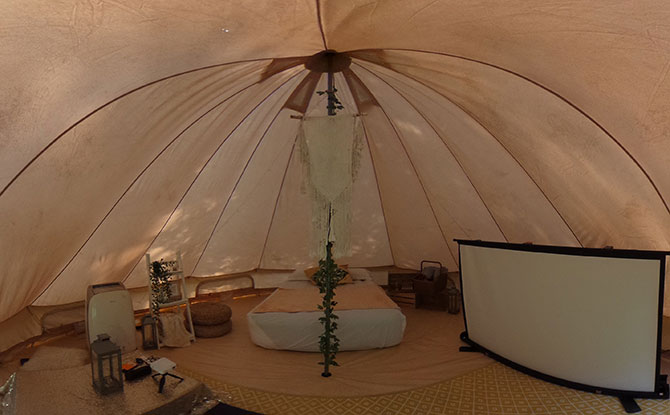 Both tents will be equipped with portable air-conditioners and fans. Fresh linen and quilts will be provided for the stay. The surrounding garden will also be decorated with lights to provide a more atmospheric experience.
---
-- Story continues below --
---
Kampong G(e)lamping at MHC Itinerary
As part of the Kampong G(e)lamping at MHC experience, guests, or G(e)lam-pers, will take in the sights and sounds of the historic Kampong Gelam district on a guided tour. They will be introduced to the area's specialty shops and be entertained with the lesser-known stories about the district's landmarks.
There will also be a specially curated tour of the Malay Heritage Centre's galleries.
Dinner will be prepared by personal chef and culinary instructor Ruqxana Vasanwala in an outdoor setting and feature dishes such as Nasi Kerabu.
---
Registration Opens 23 October 2020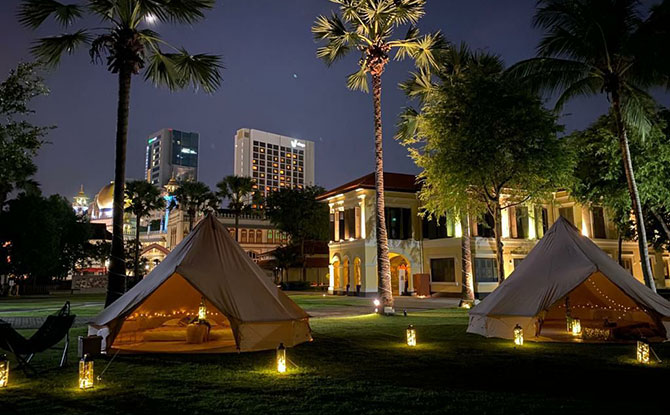 Registration for Kampong G(e)lamping at MHC opens on Friday, 23 October 2020 at noon on Malay Heritage Centre's Facebook and Instagram pages.
There will only be nine slots available for this exclusive experience. Each slot is priced at $450 and can accommodate up to five persons, including adults and children two years old and above. These slots will be made available on a first-come-first-served basis.
Malay Heritage Centre will be giving away one slot for the Kampong G(e)lamping at MHC experience between 30 October and 6 November 2020 on its Facebook page.
Ms Asmah Alias, General Manager of MHC, said, "We are always looking for creative ways to showcase our rich cultural heritage to Singaporeans. In this time of travel restrictions, we wanted to introduce a different and novel local experience – to G(e)lam-p up Singaporeans' staycation plans and allow them to rediscover new facets of Singapore's heritage through this one-of-a-kind overnight experience. We look forward to welcoming friends and families to join us in creating unique memories with the Kampong G(e)lamping @ MHC pilot programme, and we hope to continue rolling out more of such experiences in future."