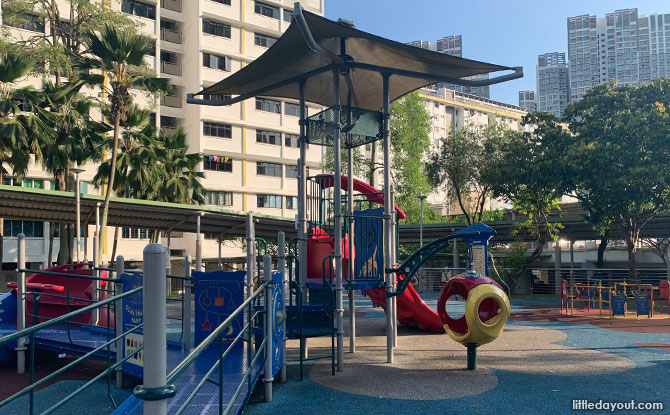 With its convenient location just beside the popular market, the Ghim Moh Market playground is one which many kids have visited and played at.
The blue-and-red playground features several play elements which draw in kids of different ages.
---
Playing at the Ghim Moh Market Playground
At the centre of the Ghim Moh Market Playground is a little tower play structure. Under the tarp of the tower, kids can climb up and and scramble about having their own fun.
The playground also has a distinctive triple slide. Up to three kids at a time can have a go a sliding down the red slide. The starting points for the slides are at different heights too.
Besides the slides, there are also little balls which kids can curl up into and pretend that they are hiding away from the rest of the world.
One other feature of the Ghim Moh Market Playground is that is it designed to be inclusive for wheelchair users. The ramps at the playground's structure provide access to the large see-saw which even wheelchair users can make use of.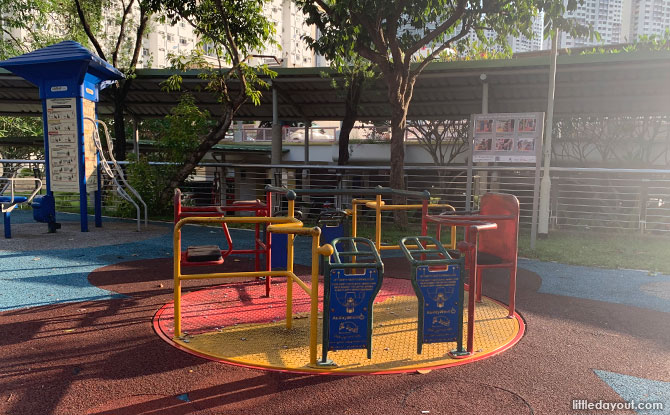 The merry-go-round is set level to the ground so as to be accessible as well.
---
Ghim Moh Market Playground: A Convenient Play Spot for Kids
With its great location, the Ghim Moh Market Playground is popular for families with young kids who may be visiting the adjacent market and food centre for a meal.