Changi Airport is celebrating the June holidays 2023 by teaming up with game giant Hasbro Gaming to bring a fun, larger-than-life versions of classic games to Terminal 3 from 26 May to 16 July 2023.
Head down to Changi Airport and step into a world of "phygital" (a combination of physical and digital) versions of timeless games like Monopoly, Connect 4, Hungry Hungry Hippos and Twister.
The area in front of Terminal 3 Departure Gates has been transformed into a giant game hall – with a twist – and a Twister mat too!
Instead of having to crowd around a table to play regular-sized tabletop games, the well-loved games from Hasbro have been super-sized for everyone to get stuck in and involved in the gaming action.
---
Game On! at Changi Airport: Hasbro Gaming Fun at Terminal 3 Departure Gates
There are a variety of different Hasbro Gaming classics represented.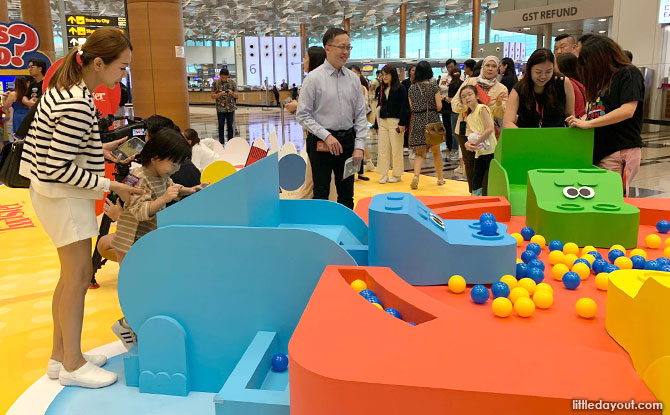 Who doesn't love the game of Hungry Hungry Hippo? There is now a giant version of the chomping hippo game at Game On! at Changi Airport.
Players can get the munching mammals to chow down on the yellow and blue pellets at the centre of the play area by tapping on the screen as fast as possible. Fastest fingers wins!
The hippos are so cute that you may also want to head to a photo spot to snap a picture with them.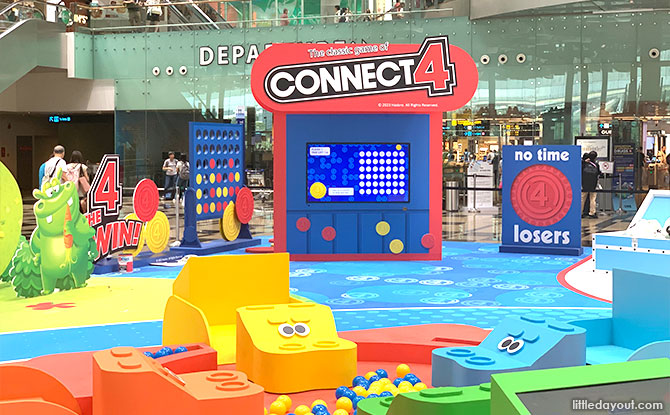 Connect 4 is all about strategy and yet simple enough for kids to play. Kids can put their strategy skills to the test at the digital version of the game at the giant Connect4 station.
At the very centre of the Terminal 3 Departure Gates pop-up is a photo spot themed after one of the world's most popular games – Monopoly.
You can pretend to play the property market (no cooling measures here) and there are bags of cash for you to flaunt the moo-lah. But be careful that things don't get so heated that you get sent straight to jail and do not pass Go and do not collect $200!
Spin the wheel at the Game of Life and navigate the choices you have to make in the road ahead.
Guess Who? is a classic game of trying to decipher your opponent's character. Will you be able to solve the puzzle at the digital version of the game?
Having fun? Then remember to "twist again like we did last summer" at the giant Twister play mat.
Spin the wheel to decide where each player's limbs go on the mat. Adults may want to stretch first before challenging the kids!
To enjoy the phygital experiences at the Hall of Games, one free Gamer Pass can be redeemed with a minimum spend of $50 ($80 for supermarket) in a single receipt at participating outlets in the public areas of Terminals 1 to 4 (excluding Jewel Changi Airport).
Redeem an additional free pass with payment by Changi Pay or Mastercard. Alternatively, Gamer Passes can also be purchased at $5 each.
---
Chutes and Ladders and Hungry, Hungry Hippo Inflatable Playgrounds
For even more fun for kids, it is hard to beat a bouncy inflatable playground.
There are two at Changi Airport Terminal 3 for the June school holidays. They can be found close to the Departure Hall Check-in Row 11.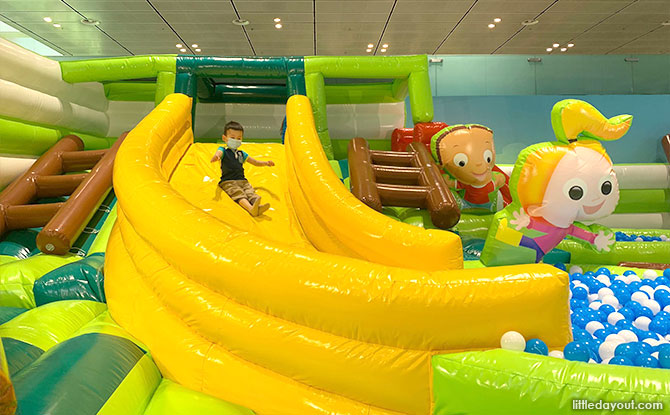 Climb up the inflatable ladder and slide back down again on the yellow slide at the Chutes and Ladders bouncy playground.
For those who have always wondered what it must feel like to be chomped up by one of the hippos in the Hungry Hungry Hippos game, here's your chance to find out.
The Hungry Hungry Hippos inflatable playground is plenty of fun for kids. They can bounce about with the hippos, which include some smaller-sized, cute ones swimming in the sea of red and yellow balls.
One Mega Bounce pass can be purchased at $5 with every $50 ($80 for supermarket) spent in a single receipt at participating outlets in the public areas of Terminals 1 to 4 (excluding Jewel Changi Airport), capped at three passes per receipt.
An additional pass can be purchased with payments made by Changi Pay or Mastercard. Direct purchases of passes can be made at $15 each.
---
Shop for Hasbro Gaming Games and Redeem Exclusive Collectibles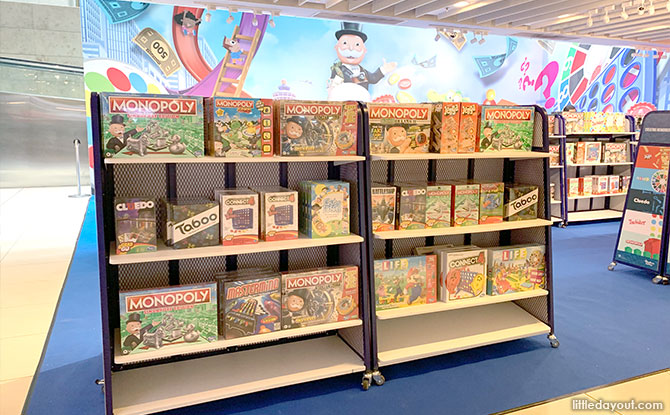 Down at Changi Airport Terminal 3 Basement 2, there is a Hasbro pop-up shop that sells various Hasbro Gaming tabletop games. It's a convenient spot to pick up something if you feel inspired to carry on the fun and games at home.
At the Hasbro pop-up show, you will be able to find grab-and-go versions of games like Hungry Hungry Hippos and Guess Who?, represented at the Game On! at Changi Airport installation at the Departure Hall, as well as others like CLUE and Battleship.
There is also a counter where you can redeem Game On! at Changi Airport premiums.
If you hit the qualifying spend for the Gamer Pass or Mega Bounce pass, you'll also be eligible to purchase a Changi-exclusive Hasbro Gaming premium at $11.90 each.
Purchase up to three premiums per receipt or up the limit and take home all four designs if you pay with Changi Pay or Mastercard.
Choose from either a Twister or Cluedo cushion that you can cuddle up with while enjoying games with friends and family, or sweep up the Monopoly or Connect 4 backpack.
---
Game On! during the June Holidays 2023 at Changi Airport
Get gaming and have fun together as a family at Game On! at Changi Airport during the June Holidays with Hasbro Gaming's classics. Make fun memories with timeless family-friendly games and at the various photo spots.
Get more details about Game! On at Changi Airport.
There's also more going on at the airport – like this Marvel-themed event at Jewel Changi Aiport.