Furama RiverFront Review: We review the Fumara RiverFront's new family-friendly hotel rooms.
With the prices of everything going up and up these days, even a local staycation can cost you an arm and a leg. That's why a hotel like Furama RiverFront that offers good value and a kid-friendly environment that will help little ones enjoy the stay as much as you do is such a find.
Having recently completed a gradual renovation process, the Furama RiverFront has overhauled its old image as a largely business hotel. Though it still has rooms targeted at business travellers, the hotel has made considerable efforts to create a cosier, more family-centric vibe. This means the introduction of 12 new family rooms and four theme rooms, as well as the introduction of the #FuramaKids staycation package.
Family Rooms
The hotel has tailored 12 rooms specially to suit the needs of families with young children.
---
-- Story continues below --
Featuring a bright, cheery colour scheme, each Family Room comes with two Queen-size beds and kid-friendly furniture.
Details are designed with kids in mind, such as providing child-friendly utensils and Milo in addition to the usual tea sachets and instant coffee.
Forgot to pack the kids' toothbrushes? Not a problem, as toiletries such as toothpaste, toothbrushes and hair-and-body shampoo are supplied.
A cute touch your kids are sure to love: their own hotel slippers and bathrobes. Now they can really vacay like the adults!
Do take note: you need to indicate during your booking if you are staying with kids. Otherwise, the amenities provided will be regular ones for adults.
Furama RiverFront Review: Theme Rooms
There are four rooms decorated according to special themes that are sure to appeal to kids: Underwater, Pirates and a fairytale-like Castle room.
Each room comes with a double decker bed and is made to accommodate two adults and two kids. If your kids are young, you can probably even sleep two of them comfortably on the upper level (no need to fight over who gets to sleep on top!). There are also pull-out mattresses under the beds if you want more sleeping options.
Oh, and did we mention there's an Xbox console in the room as well? Controllers are available for loan from the reception.
Play Areas Everywhere
To keep the kids entertained – and allow mum and dad a breather – there are play areas on both the hotel's ground floor and within its restaurant.
On the ground floor is the PAWS playroom. There's a trampoline which your kids will likely make a beeline for, and the room is also stocked with LEGO, building blocks and other assorted toys.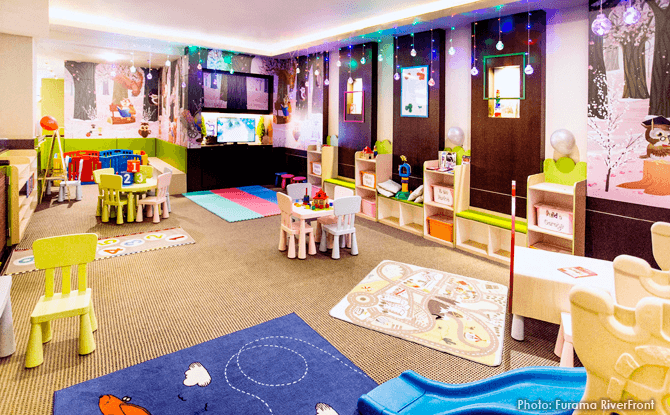 The hotel coffee house, The Square, also features a good-sized play area with toys, activity sheets and cartoon screenings –sufficient to occupy the kids so parents can take their time to relax over a meal.
The pool isn't huge, but it has a small shallow section where kids can splash and play. Nearby, you'd find a small inflatable waterslide. Little ones under the age of six or seven would have a blast on it, but older kids may not find it such a draw.
A word of caution: even though the waterslide is soft and kept wet with running water, it is still possible for children to get abrasions from it, so do make sure they go down the slide properly and keep their arms and legs away from the sides.
#FuramaKids Staycay Package Deal
From now till 31 December, if you book a Family Room or Theme Room with Furama RiverFront's #FuramaKids staycation deal, you get to enjoy these benefits*:
A goodie bag for each child containing assorted entertainment and craft items
Complimentary breakfast
Complimentary WIFI
Kids amenities upon request
Access to the swimming pool and PAWS playroom
Buffet lunch/dinner at $60 nett for two adults at The Square@Furama or Kintamani Indonesian Restaurant
The option to enjoy a selection of bite-sized high tea pastries and sandwiches with Furama RiverFront's Afternoon Tea Set at $15 nett per person (instead of the usual $20++ per person)
Enrolment to Furamafirst programme with Gold status
Price: $268 nett per Family Room per night on weekday / $288 nett per Family Room per night on weekends
Booking period: Now till 31 December 2016
Stay period: Now till 31 March 2017
*Terms and conditions apply.
Visit www.furama.com/riverfront for full details and reservations.