All parents beam with pride when they see their children performing confidently on stage. Yet, to Faust International Youth Theatre, simply a showcase of star talent is not the goal. The focus is on fun-filled learning and commitment.
Since landing on Singapore's shores in 2012, Faust International Youth Theatre has been offering drama workshops for ages four to 16 and creative writing courses for ages six to 16. Its free trial drama workshops held all year round give children a foretaste of its week-long holiday programmes and its term-long courses.
Little Day Out caught up with Ms Aarti Hemnani, General Manager of Faust International Youth Theatre Singapore, to find out more about Faust's dramatic approach in helping children learn.
Could you tell us more about Faust Singapore's offerings?
---
-- Story continues below --
Our drama workshops are a great creative outlet and a positive experience for all ages because it is a safe, nurturing environment where children learn and build confidence. Those who are shy open up and those who have buckets of energy learn to channel this positively and gain focus.
We run free trial workshops throughout the year, inviting newcomers along to give drama a try and see what we do. The idea is to have a go and have fun. It's much more likely that a child will learn if they're having fun!
What is Faust Singapore's philosophy and approach?
The most important aspects are confidence, respect and fun. Our aim is for the young people in our programmes to develop theatrical skills and knowledge whilst learning to cooperate, work together and enjoy the process. Drama isn't all about the amazing end product – performing is important and great fun but the process is equally important.
What makes the programmes offered by Faust Singapore unique?
We focus on an individual's needs within a group environment. Instead of creating a talented 'star', we aim to create a generous, skilled collaborator. This makes not only a better actor but also a better learner and achiever.
How are Faust Singapore's programmes for younger and older children different?
Our programmes for younger ones are more leader-led, with opportunities along the way to develop imagination and share ideas. Workshop content is often story-based or based on something the children know, as this familiarity helps to get the creative process started. We also include a lot of fun, energetic games that build focus, eye-contact and cooperation.
For older ones, our aim is to nurture and encourage them to be independent creative collaborators. Content is theme or stimulus-based but also includes improvisation, dramatic techniques, skills and theatre vocabulary. The games played at this age are equally fun but focus more on preparing the body and mind for performance.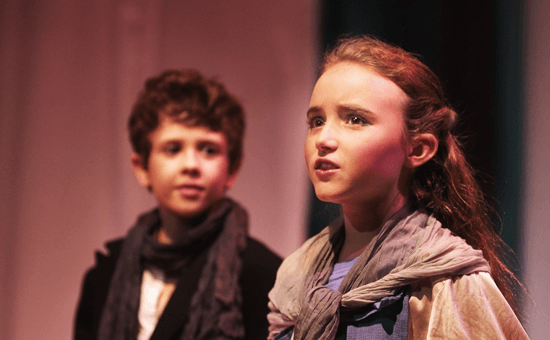 Do you believe that all children can benefit from exposure to theatre and drama? Why?
Yes! As I think confidence, respect and fun are universally beneficial. Drama is a subject area that is extremely cross-curricular and helps with other areas of development such as making friends, learning to work together, public speaking, and being empathetic. I think it's worth every child being exposed to drama and then deciding if it's for them!
Register for a Free Trial Drama Workshop
Parents can call 6235 3582 to register for a free trial drama workshop on 7 December 2013 for ages 4 to 16. Christmas Holiday Programmes take place from 9 to 20 December 2013 and Term 2 begins on 11 January 2014.
Win a Free Place at Faust's Christmas Holiday Programme!
Now, you can stand to win a free place in the five-day Faust Holiday Theatre or Creative Writing Programme, worth $380, this December.