If there is one structure that captures that futuristic spirit of Odaiba, it is the Fuji TV Building. There is no mistaking the silver-coloured building and the big round sphere that is the Fuji TV Building Observation Deck. It almost looks like a space station straight out of a sci-fi movie.
The distinctive building is home to the Fuji Television network. For those who are curious as to what lurks inside the big sphere, it is an observation deck and open to the public!
Entering the "Space Station"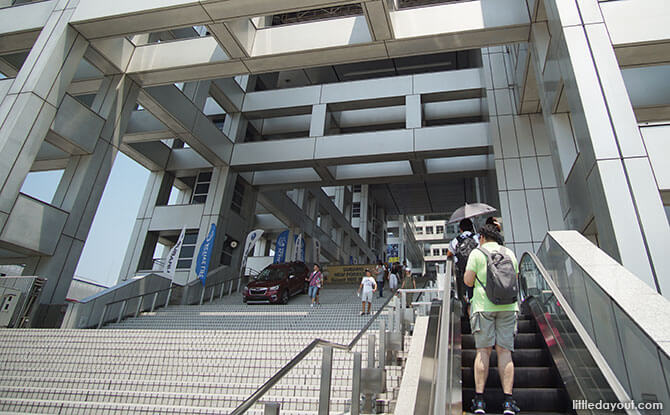 The Fuji TV Building Observation Deck can be reached by elevator from the 7th floor of the building. Just getting up to the open concourse on the 7th floor, known as the Rooftop Garden, is a bit of trip as you take the escalator upwards from the ground floor.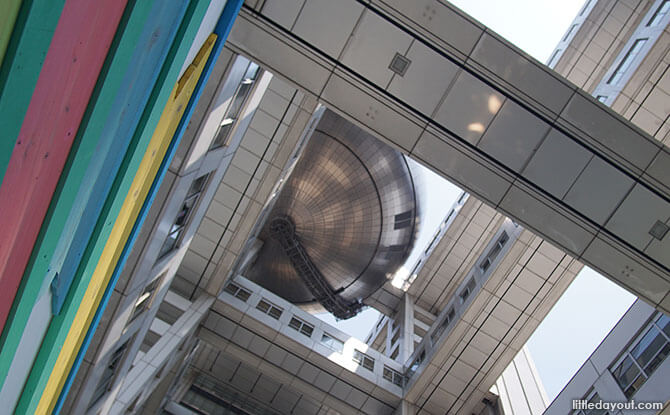 Access to the Fuji TV Building Observation Deck is ticketed. The admission tickets to the Hachitama Spherical Observation Room, as the big sphere is called, can be purchased from a Ticket Box at the 7th floor concourse.
---
-- Story continues below --
With ticket in hand, you can then make your way to the elevator which will take you up the to the sphere on the 25th floor.
The View From Above
When the elevator door opens, you will find yourself along one of the passageways on the 24th floor that connects to the ball.
Here, there are special observation cameras which allow you to zoom in to the view of the Rainbow Bridge and the Odaiba shoreline below. Press a button and you will be able to get a view of Odaiba as it was during the Edo period, giving you a historical perspective of the area.
A flight of stairs leads up to the 25th floor where the top half of the observation deck is located. Here, there are more spectacular views all around and a Hachitama Shop.
The dome-shaped room is used to hold various events and activities.
Exploring the rest of the Fuji TV Building Observation Deck, a section of the 24th floor is another event space.
There is also a restaurant at the Fuji TV Building Observation Deck for those which wish to enjoy the view with some food.
Fuji TV Building Observation Deck
The Fuji TV Building and its Observation Deck is a good place to get an overview of Odaiba and the sights it offers. Besides the Observation Deck, you can also visit the Theatre Mall at level one which has a Chungginton Shop and a Sazae-san Shop.