Go on a cinematic journey through 700 years of history and explore interactive installations at From Singapore To Singaporean: The Bicentennial Experience, the centrepiece event of the Singapore Bicentennial.
From Singapore To Singaporean: The Bicentennial Experience will be held from 1 June to 15 September 2019 at Fort Canning Park. The Bicentennial Experience comprises of two parts – Time Traveller and Pathfinder.
Time Traveller – Episodes From The Past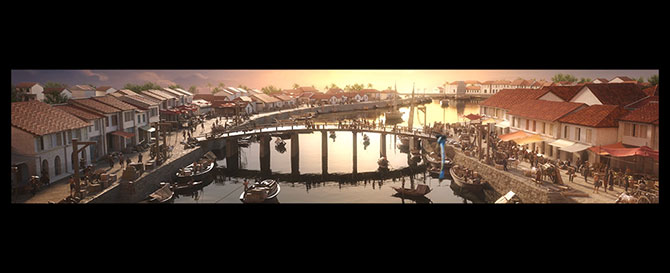 Time Traveller is a cinematic show that takes place within Fort Canning Centre. During the 60-minute presentation, viewers will get to experience Singapore's story over the last 700 years. This will be presented in five different acts and incorporate elements such live actors and special effects.
Act 1: Beginnings starts from the time of Sang Nila Utama before moving on to Act 2: Arrivals in 1819. The narrative progresses on to the development of Singapore in the 19th century and the outbreak of World War II in Acts 3 and 4 before winding up with a look at the contributions of ordinary people.
The Time Traveller showcase will be held at regular intervals throughout the day.
Pathfinder – Singapore's Place in the World
Pathfinder is an outdoor experience where visitors can make their way through eight interactive pavilions and installations around Fort Canning Park. This free-and-easy trail invites visitors to reflect on Singapore's journey.
Discover Singapore's place in the world as the Emporium of the East and how historical events around the world coincided with Singapore's history.
Key Moments in History
"We had conceived the Bicentennial Experience as an immersive world where visitors can drop into key moments of our 700-year history and be an eye-witness to the many points where we navigated the tides of time through war, climatic episodes, geopolitics and the everyday struggles of the peoples who were once here," said Mr Gene Tan, Executive Director of the Singapore Bicentennial Office.
"Our hope is that visitors of all ages will be inspired by our tumultuous history and find out for themselves just what it took for us to journey from Singapore to Singaporean."
From Singapore To Singaporean: The Bicentennial Experience
Admission to From Singapore To Singaporean: The Bicentennial Experience is free of charge but admission tickets are required. Tickets are offered on a first-come-first-served basis from the Singapore Bicentennial website from 10 am on 17 April 2019 onwards.
Time Traveller is open on Mondays from 8.30 am to 5.30 pm, and Tuesdays to Sundays from 8.30 am to 10 pm. Pathfinder is open to the public from Mondays to Sundays, from 8.30 am to 10.30 pm.