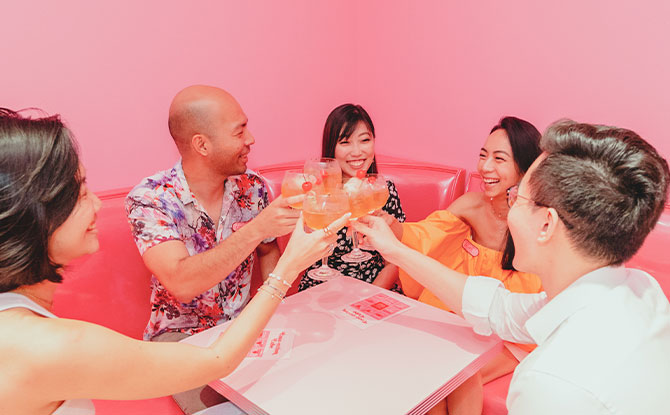 The Museum of Ice Cream is a merry and family-friendly spot for families to enjoy. Starting 1 February, the museum will be introducing the all-new Night at the Museum experience catered to young adults and couples which promises a series of memorable activities and intimate conversations to facilitate connections.
---
Night at the Museum of Ice Cream
As the experience is catered to young adults, guests will be welcomed with a refreshing, floral Hendrick's Lunar Gin cocktail or mocktail, served at Scream's Diner. Participants can bob to old-school jams that can be selected and played on a vintage jukebox while enjoying their drinks and good company.
---
Cone-nection Cube
A key activity to look forward to at the Night at the Museum experience is the "Cone-nection Cube". In this activity, guests must complete a series of quests that leads them to open up to one another, connect, and form fond memories. The reward for completing the Cube is a celebratory sprinkle shot at the alfresco bar made exclusively for the Night at the Museum experience.
---
-- Story continues below --
Where Should We Begin – A Game of Stories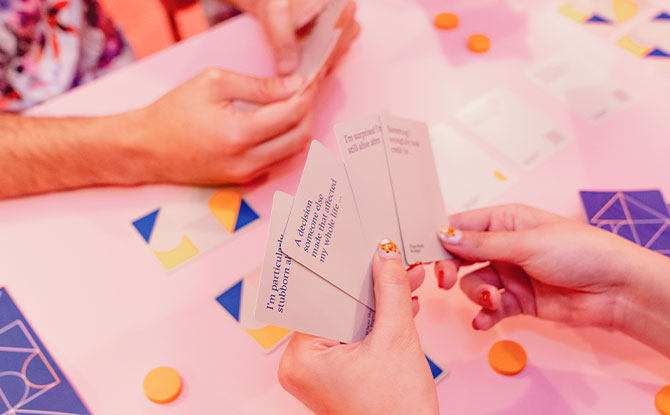 Another key activity planned with young adults in mind is "Where Should We Begin – A Game of Stories", a card game designed to spark safe and intimate self-disclosure by psychotherapist and New York Times bestselling author Esther Perel. This activity will be integrated into exploring the museum where guests can journey through 14 uniquely themed installations.
They will also receive cards from the currently sold-out game that encourage them to divulge secrets about themselves through introspective and retrospective storytelling.
---
Exclusive drinks and sweet treats
Those who want some extra drinks throughout the night can do so amid the twinkling lights at the alfresco bar. Enjoy a variety of drinks surrounded by pink palm trees, a retractable roof and lounge chairs. It is open to public and does not require patrons to be MOIC ticket holders.
Exclusive MOIC specials include photogenic thirst quenchers such as Pink-a-Colada, a bright pink fruity cooler, and Summer Oasis, a sparkly gin-based cocktail. There are also craft beers from Local brewery Brewlander, wines and spirits. There is also the option for a milkshake or ice cream in flavours that are exclusively available at the Café and Bar.
---
How to visit MOIC Night at the Museum
The first MOIC Night at the Museum run commences 1 February 2022 at 6pm. Besides the first week of Chinese New Year, the Night at the Museum experience opens from 6 pm, Thursday to Sunday, and the latest admission time is 8 pm. Tickets start from $48 and the experience, which takes 60 to 90 minutes, comes with a Hendrick's Lunar Gin cocktail and unlimited sweet treats.
Limited tickets are now available at the link here and guests are encouraged to purchase them before they sell out. More information can be found here.