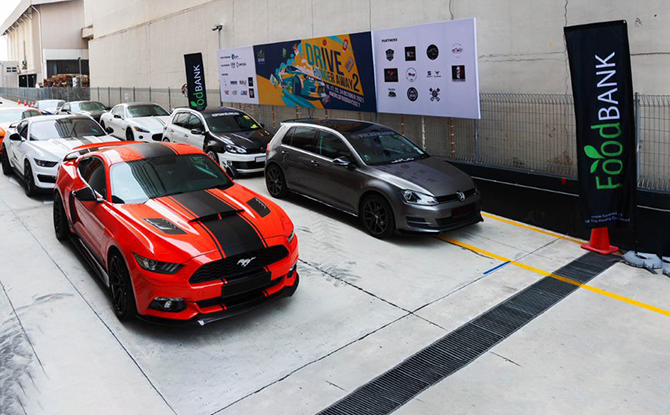 In conjunction with World Food Day 2022, The Food Bank Singapore will be holding its third edition of Drive Hunger Away on 15 and 16 October 2022.
World Food Day aims to highlight the need for food security and access and availability of nutritious food for all levels of society.
In line with The Food Bank Singapore's 10th year anniversary this year, Drive Hunger Away 3 aims to collect 50 tonnes of donated food, raise S$50,000 and distribute more than 1,600 food bundles. 
Fellow food banks around the region will also be holding campaigns to raise food and funds in their respective countries and cities from 8 October until World Food Day on 16 October. These include Feeding Hong Kong, FoodCycle Indonesia, Green Food Bank China, Rise Against Hunger Philippines, and Scholars of Sustenance (Bali). 
---
-- Story continues below --
---
Driving Away Hunger
Here in Singapore, the organisation is partnering with 15 car clubs and two car convoys who will be lending a hand to ensure no one gets left behind. The drivers will be holding food and donation drive, and dropping off food donations at The Food Bank Singapore at XPACE, 218 Pandan Loop.
Participating organisations include DBS Convoy, Eagles Car Club SG, Euro Car Club Singapore, SG Convertible Club, PCP Group and others.
Some of the car clubs will also be distributing food bundles to 16 of the charity's feeding partners.
Volunteers from DSM, DBS and Unilever have also partnered with the FBSG to donate food and miscellaneous necessities, pack the bundles and support Drive Hunger Away 3.
Ice cream store Creamier is also teaming up with The Food Bank Singapore to combat the annual mooncake wastage. It is creating a special salted egg ice cream called Over The Moon. This makes use of out-of-season premium lotus yolk mooncakes to create a creamy  salted egg flavour.
---
The Food Bank Singapore: Reducing Food Insecurity
"FBSG hopes to bring Drive Hunger Away to more food banks in Asia. With more of us joining forces, we can work towards reducing food insecurity beyond our shores in a creative and innovative manner. For everyone who can, let's come together to solve hunger issues at home and beyond. There is so much more than we can do together in our tiny yet powerful red dot. Let the feeding begin," said Nichol Ng, Co-founder of FBSG. 
While the maximum capacity has been reached for car clubs to participate, The Food Bank Singapore still open for food sponsors and donations on Giving.sg.