One of the issues we hear from parents and teachers is the child's inability to concentrate on tasks. Whether it lessons, homework, chores, instrument practice or even meal times, children may find it difficult to focus due to all sorts of reasons. It might sound a little ironic that using apps on mobile devices can help children to focus.
Technology can be an double-edged sword. While excessive screen time is detrimental in many ways, you can also choose to use technology to help maximise your productivity and optimise processes. Similarly, children can be encouraged to focus and display positive behaviour using apps for tracking and incentivising. Here is a list of free apps that we found pretty useful:
Free Apps That Can Help Your Child to Focus
---
App #1: Eggzy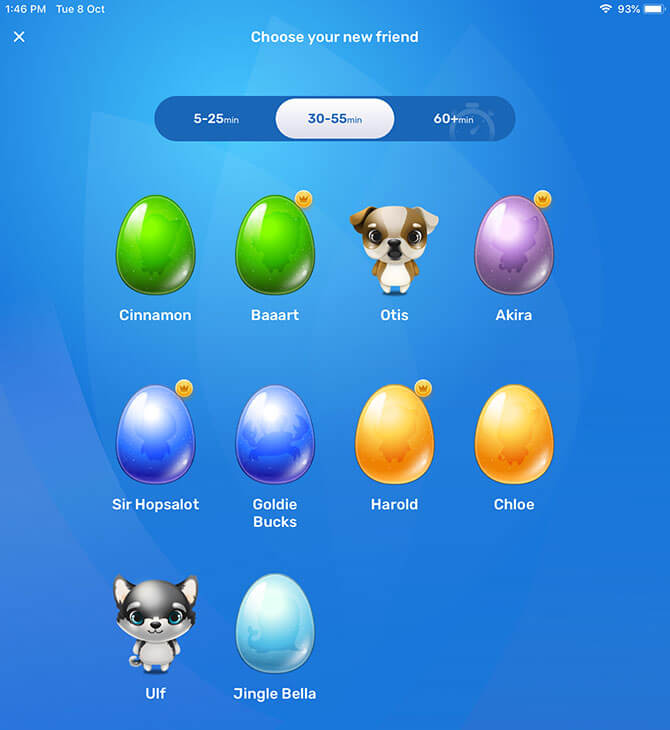 Don't count your eggs before they hatch. Literally so.
Eggzy uses the pomodoro technique, which is a school of thought that teaches a segment of focus time followed by a short segment of break. Each round of "pomodoro" is typically 25 minutes followed by a five minute break.
---
-- Story continues below --
Eggzy facilitates this by letting the child or adult choose the number of minutes taken for a magical egg to hatch. It keeps the child focused by ensuring the mobile device or tablet is facedown so the magical eggs chosen will hatch. If the device is flipped up because of distractions, the egg might crack. This focus timer helps to reduce device usage and encourages concentrating on certain tasks, thereby boosting productivity.
Our thoughts:
It certainly worked well on our 8 year old when it came to homework time. He was able to use it quite easily without our help. The thought of an egg hatching to a child was probably a fascinating one that worked well as a "reward" after some work. Be it instrument practice or finishing a meal, Eggzy is effective as a gamified app to keep the young ones focused.
---
App#2: Class Dojo
Sounds familiar? This is a commonly used app amongst teachers who may share the results with parents on behaviour, class activities and so on. While parents usually use it to see how a child behaves, the "teacher"mode can be used to track both positive and negative behaviour.
First sign in as a teacher, create your "class" which would be your own children, and create the kind of positive and negative attributes you would like to see exhibited. Each attribute has a set of points. If "focus" is one of the attributes, the child's ability to focus would be observed accordingly. Parents can choose to penalise the child if certain attributes are not showing, and this results in point deduction.
Our thoughts:
While this app is meant for adults, it is easy to record the child's behaviour easily and track specific behavioural traits aside from focusing. Class Dojo is not a gamified app, hence rewards would come from parents setting up the system.
---
App #3: Focus To-Do
Another pomodoro timer app, Focus To-Do also includes task management. It combines the focus timer with to-do lists, reminders for tasks and errands. This could get the child to determine the type of tasks required, pick the task to accomplish, set the timer for 25 minutes and begin focusing.
This app is suitable for older children and even adults as it has more functions and goes beyond a single timer. For instance, there are recurring tasks, grocery lists and a schedule planner. It even helps analyse time spent on tasks with reports generated to measure productivity and efficiency.
Our thoughts:
Focus To-Do is a straightforward app that has many functions for older users. It helps keep users organised and a good overview of time spent focusing. It would definitely help anyone to get things done with detailed monitoring.
---
App#4: Tide
Tide is an app that combines a focus timer with background music. It has a beautiful interface which gives you an instant moment of serenity. You can choose to play nature sounds for your child while the focus timer is running to boost productivity.
There is also a "mediation" mode – great for taking breaks. Immerse in the sounds of the gentle waves, rustling leaves, chirping birds as the child conquers Mount Revision.
Our thoughts:
Tide is calming and chases away the stresses of deadlines through its white noise and nature sounds. It is also for those with anxiety and sleep issues who might find space to breathe in the midst of endless list of tasks.
---
App #5: Habitica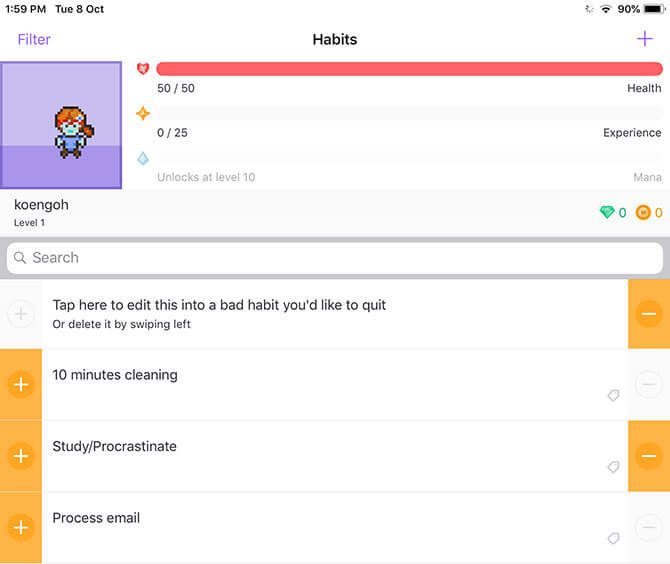 Another gamified focus app, Habitica would possibly be the most popular one given that users get to create avatars, gain experience, gold and unlock levels according to completion of tasks.
Much like many popular quest games, Habitica cleverly mimics functions of games that makes focusing fun. As the child advances, more content can be unlocked to acquire pets, new skills and quests! There is an option of adding both good and bad habits, bad habits are obviously tasks to avoid as that would subtract "Health" of the character.
Our thoughts:
We wonder if Habitica in itself would be distracting the user from tasks. It definitely injects a whole dimension of fun in task completion. Other friends can join in to form a "party", defeat the "Quest boss", battle monsters, join Guilds which means more game time. Parents might need to set limits on the app itself if it gets the child hooked on "exam revision".
---
Focusing Apps Best used with Parental Supervision
With almost every child toting a mobile device these days, there are ways to use the devices to encourage good habits and maximise productivity. Parents should still remember to monitor device usage even with the useful apps for focusing switched on. You never know if your child might be focusing on a source of distraction.