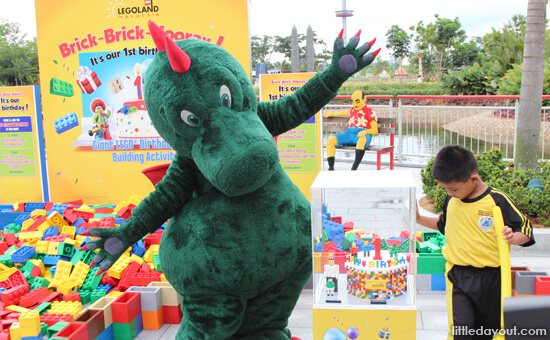 Is it possible to celebrate the first birthday of Asia's first LEGOLAND theme park without a cake? Certainly not.
LEGOLAND Malaysia is making sure that there will be one and it has set a three-metre wide base for the world's first LEGO cake in the run-up to its first anniversary on Sunday, 15 September 2013.
What's more, everyone can join in the fun and get in the act of making its cake with over 300,000 LEGO bricks from today, 5 September, for the next 10 days.
This LEGO cake building session with LEGOLAND Master Model Builders and Park visitors is just the start of its series of activities lined up for its first birthday bash.
The three-metre wide, 1.6 metres high LEGO cake in the 'baking' is the first in the world and will comprise of over 300,000 LEGO bricks.
Birthday Treats from 7 September
From 7 September 2013, there will be jugglers, stilt walkers, unicyclists, magic shows and LEGO building challenges at the Park to pump up the party atmosphere. Every day is set to feel like a birthday at LEGOLAND.
LEGOLAND Malaysia's First Anniversary Celebrations on 15 September
A full day of celebrations has been planned on 15 September, including dance performances, a kids disco party and an amazing 3D LEGO fireworks display, where bricks appear to be falling from the sky with the help of special 3D glasses.
Visitors who share their birthday with LEGOLAND Malaysia (15 September) will get free entry and special rates (RM 90 per day ticket) for up to five friends when they visit LEGOLAND Malaysia on that day.
And of course, the LEGO cake, topped with delightful white icing, decorations and a candle, is expected to be ready in time for LEGOLAND Malaysia's first birthday as well.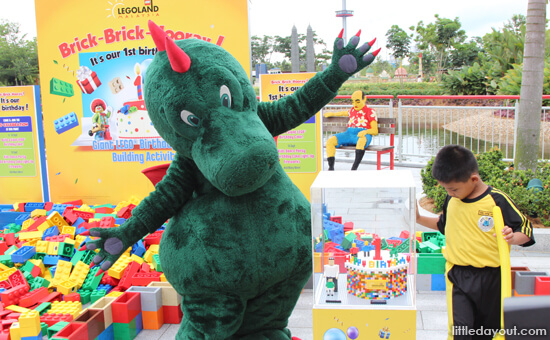 LEGOLAND Malaysia's mascot, Ollie the dragon, and a boy look at the model of the LEGO cake.
Now, if its creative chef could put a flavour to the bright and colourful cake, what would it be?
"Strawberry… and chocolate," said Stefan Bentivoglio, LEGOLAND Malaysia's Model Shop Manager and the LEGOLAND Master Model Builder behind this cake and also the LEGO snake, after a deliberated pause. But he quickly added, "No durian definitely!"
You may disagree. But just imagine enjoying a whopping 646.2192 kg cake that is 1.6 metres high in any flavour you wish it to be!
Happy 1st Birthday, LEGOLAND Malaysia and have a fun family day out everyone!