Marks & Spencer has launched Farm to Foodhall, The Magic Ingredient, the first-ever children's book to be sold at M&S Food. Designed for children between the ages of 4 and 9 years old, the 64-page storybook includes 10 different activities which families can do together.
Co-created and published by HarperCollins Children's Books, with words by Linda Chapman and illustrations by Sarah Jennings, Farm to Foodhall, The Magic Ingredient tells a wonderful story, with plenty of hands-on recipes and crafting ideas too.
---
Farm to Foodhall, The Magic Ingredient: Marks & Spencer Educational Story Book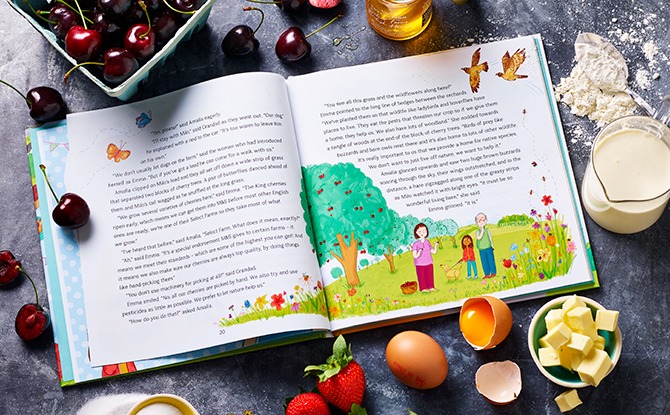 Farm to Foodhall, The Magic Ingredient is an educational story book that helps children understand the importance of food and where it comes from. It explores the world of sustainable farming and is designed to spark conversations about ethical eating.
The story is centred around the main character Amalia as she looks to create a birthday feast for her granddad by journeying around Marks & Spencer farms. Along the way, she discovers fun facts, recipes and activities.
The Farm to Foodhall, The Magic Ingredient book is available for $15.90.
---
Limited Edition Farm to Foodhall Merchandise
To complement the book and help create these delicious recipes including the cherry pie, chicken korma, salmon parcels and more, M&S has created a limited edition set of Farm to Foodhall merchandise, complete with mixing bowls cookie cutters, utensils, and a tote bag, to carry home these ingredients!
The Farm to Foodhall collection is now available at Wheelock Place, Vivo City and Parkway Parade stores only.