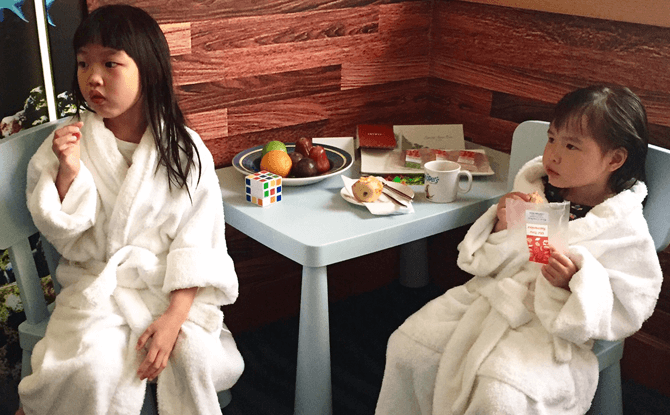 A family staycation in Singapore provides the opportunity to unwind and recharge without having to travel far. Check in and relax, lay back and enjoy time with the family around Singapore's hotels. Lux out by the pool and let your cares fall away as you settle into a family staycation in Singapore.
Family Staycation in Singapore
With hotel room staycation deals, you can stay the weekend, weekday or both. Kid-friendly staycation deals cater to kids and may provide dining options or accommodation perks specially suited for little ones.
Here are some places where you can enjoy a family staycation in Singapore in 2017.
Enjoy a family staycation at Ritz Carlton where they bring the spirit of the outdoors, indoors. Kids get to sleep in a tent pitched inside a Premier Suite. There are also children's activities on weekends, daily ice cream passes and a special surprise if their birthday falls within the stay period. The Ritz Kids Night Safari Adventures takes place through to 30 November 2017 and starts from $780 per night. Details here.
Hotel Jen Tanglin Family Suite Package
Relax at Hotel Jen Tanglin with a "suite" family staycation in Singapore. The Family Suite Package includes a 50 sqm Executive Suite, Club Lounge access and an extra free bed for children under 12 years old. Also included are up to 3 dine-in buffet meals at the J65 restaurant for 2 children below 12 years old. A minimum stay of two nights is required. Details.
Shangri-La's Rasa Sentosa Resort & Spa, Singapore's Family Fun Package
Head to Sentosa for a resort-style family staycation. Included in Shangri-La's Rasa Sentosa Resort & Spa's Family Fun Package are buffet breakfast and dinner. Kids between5 and 12 will be able to participate in the activities organised by Toots club with one hour of play time at the club's giant tree-house slide. Those below 5 will be able to receive complimentary access to Mini Toots Club. Also included is one-hour use of selected water sports facilities on a daily basis. Prices for the Family Fun Package starts from $485 per night. Details.
D'Kranji Farm Resort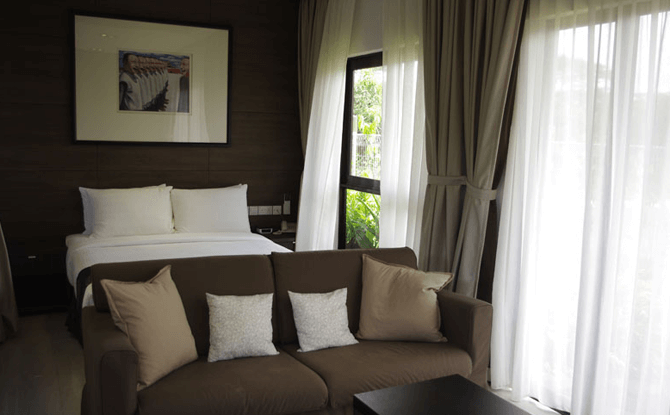 D'Kranji Farm Resort provides a "countryside" alternative to urban family staycations in Singapore. The accommodation they offer start from Standard Villas with 1 single queen-sized bed or 2 single beds, to the Family Suite which can take up to 8 persons with 4 Queen-sized beds across 2 bedrooms, a separate living area and with a backyard BBQ pit. Details.
Village Hotel Changi's Play & Stay Weekend Promotion
Get away to a slower pace of life at Changi Village. The Village Hotel Changi has a weekend Play & Stay promotion which includes complimentary two-hour bicycle rides or two game of bowling. Promotion is valid till 31 December 2017. Get more details here.
Grand Corpthorne Waterfront's Weekend Staycation by the Singapore River
Have a family staycation by the Singapore River at Grand Corpthorne Waterfront. With their weekend staycation deal, you can board at their Family Deluxe room with 1 extra bed. Kids under 5 get a Welcome Fun Pack (up to two) and you will also enjoy flexible check in times with stay time of up to 24 hours. The staycation offer is valid for stays up to 30 December 2017 and on Fridays, Saturdays and Sundays only. Details.
Furama's Staycation with Parents Perks
You can book a 3-generation family staycation at a special rate with Furama hotels. Under Furama's Staycation with Parents Perks promotion, guests enjoy 50% off the second same-category room booked. In Singapore, this promotion is applicable to both Furama Riverfront and Furama City Centre. Details here.