From 24 to 26 February 2017, Singapore will be transformed into a literary playground. Catch the spotlight on Singapore writers and Singapore literature all weekend with the inaugural #BuySingLit initiative.
You'll be spoilt for choice with over 40 fun-filled activities, in all four official languages, including book fairs, storytelling sessions, interactive shows, walking tours and book treasure hunts taking place islandwide.
#BuySingLit: Buy Local, Read Our World
For the love of local books, the entire book trade has banded together to spearhead this #BuySingLit movement to encourage you to 'Buy Local, Read Our World'. Over 30 homegrown book publishers, distributors, retailers, and literary non-profits are united in their aim to celebrate stories from Singapore, and to help one and all discover and purchase Singapore Literature. 
Here are five ways to show your support for Singapore literature, or more affectionately, SingLit, and highlights of where you can have fun with your kids:
#1 SingLit Out There
Discover places anew with SingLit. Find poetry and prose in the world around you via guided tours and outdoor installations.
SingLit Heartland Book Drop
A treasure hunt across the island involving 50 books of Singapore literature hidden in plain sight.
17 to 26 February
Various venues
Bookshop Scavenger Hunt
A SingLit treasure hunt at bookstores around the island, with a chance to win an iPad Air 2 preloaded with 20 Malay e-books.
25 February, 10 am to 2 pm
Plaza, National Library Building
*This programme will be in Malay.
Learning Journeys – Timmy & Tammy Family Nature Walk at Singapore Botanic Gardens
Join in this family-friendly ramble in the footsteps of Ruth Wan's Timmy & Tammy.
26 February and 25 March, 4 pm to 6 pm
Singapore Botanic Gardens
Walk, Learn & Eat in Serangoon Gardens
A tour of Serangoon Gardens with the authors of Heritage Journeys: No Place Like Serangoon Gardens, includes morning tea and lunch at culturally significant places.
25 – 26 February and 4, 11, 18, 25 March, 8.30 am to 12.30 pm
Serangoon Gardens
Singapore Poetry on the Sidewalks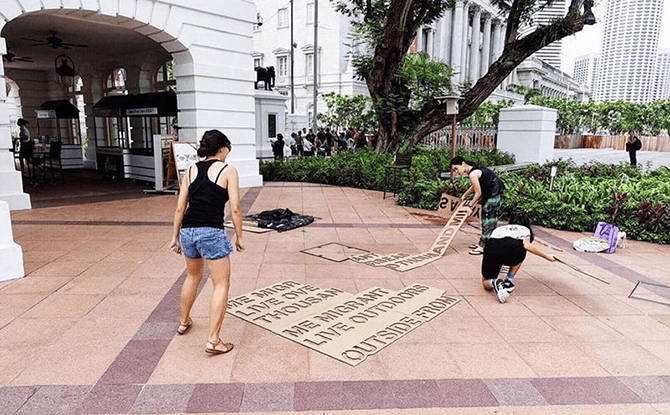 A public art project in which excerpts of local poetry are written on the sidewalks in special paint and are visible only when it rains.
From 20 February, all day
Singapore Art Museum
The Whispering Wallpaper
An interactive wall with a collage of illustrated characters from picture books and graphic novels by Singapore authors.
24 to 26 February, all day
Plaza Singapura
#2 SingLit In Person
Meet your favourite author or character, listen to a story being told, and enjoy lively debates and discussions on literary topics. Young readers will enjoy storytelling sessions with children's book authors such as Rilla Melati Bahri and Andy Chua, while aspiring writers can enjoy a cuppa with literary pioneer Catherine Lim at the Singapore Cricket Club.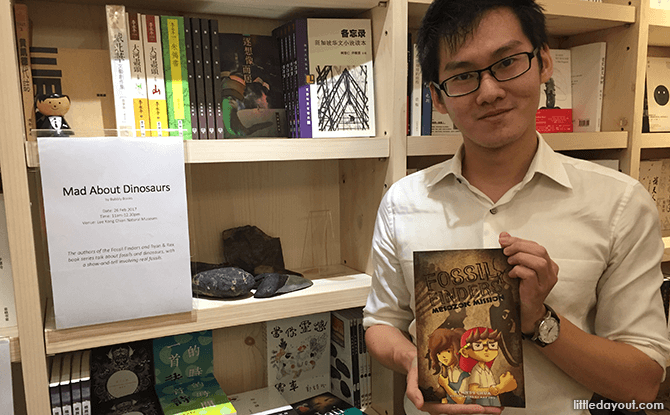 The authors of the Fossil Finders and the Ryan & Rex children's book series explore fossils and dinosaurs with a show-and-tell.
25 February, 11 am to 12.30 pm
Lee Kong Chian Natural History Museum
If I Were My Great-Grandmother/father
In this storytelling/workshop based on 'The House On Palmer Road', children aged 7 to 12 will discover how depicting the past calls for research, imagination and a little time travel.
25 February, 2.30 pm to 3.45 pm
Forum the Shopping Mall
Nek Selampit Junior Storytelling Workshop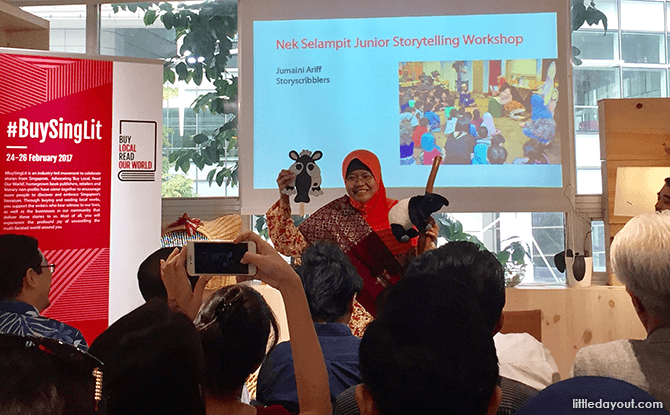 A Malay-language storytelling workshop led by storyteller Nek Selampit.
25 February, 2 pm to 4.30 pm
Changi-Simei Room, Tampines Regional Library
*This programme will be in Malay.
#3 SingLit Hands On
Be part of the story through writing workshops, craft sessions, and a range of immersive games. Children will be encouraged to engage with stories in a more tactile manner through art & craft sessions at various venues. They will also get the opportunity to discover socially inclusive forms of communication, such as Braille and sign language, through activities.
Poke-a-Braille Go! The Singapura way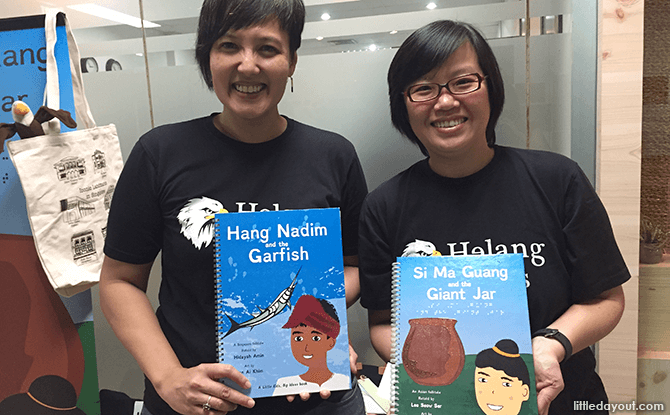 An interactive game in which participants decode messages in Braille based on the books Hang Nadim and the Garfish and Si Ma Guang and the Giant Jar.
26 February, 3 pm to 5 pm
Plaza, National Library Building, 100 Victoria Street
SingLit Story: How not to write like a robot or zombie
A two-hour writing workshop by authors Don Bosco and Nicholas Yong to help aspiring writers get started on their creative journeys.
26 February, 10 am to 12 pm
Programme Zone, Level 2, Bishan Library
Celebrating SingLit with Storytime
An interactive, multi-sensory telling of Jason Erik Lundberg's Bo Bo and Cha Cha's Big Day Out, using playdough, playdough mats, accessories and figurines.
25 February, 10 am to 11 am; 11 am to 12 pm; 2.30 pm to 3.30 pm
My Imagination Kingdom, 11 Tanjong Katong Road, #03-43 OneKM Mall
LITTLE SingLit
A weekend of art, craft and fun that showcases the richness and diversity of Singapore children's literature.
24 – 26 February, 10 am to 7 pm
Woods in the Books
3 Yong Siak Street, Tiong Bahru
Storytelling & Drama Sama-Sama
A dramatisation of Hang Nadim and the Garfish with interactive and socially inclusive activities, held in the evocative setting of Kampong Glam.
25 February, 4 pm to 7 pm
Malay Heritage Centre
#4 SingLit On Stage
Watch SingLit come to life through theatre adaptations, video performances, spoken word events and more.
Storytelling of Ranger Anne with Puppets!
An interactive storytelling event in which a Ranger Anne story with a wildlife conservation message is brought to life by puppeteers.
25 February, 3.30 pm to 4 pm
Treehouse, Central Public Library
A Storyteller Reads – Live Readings by Kamini Ramachandran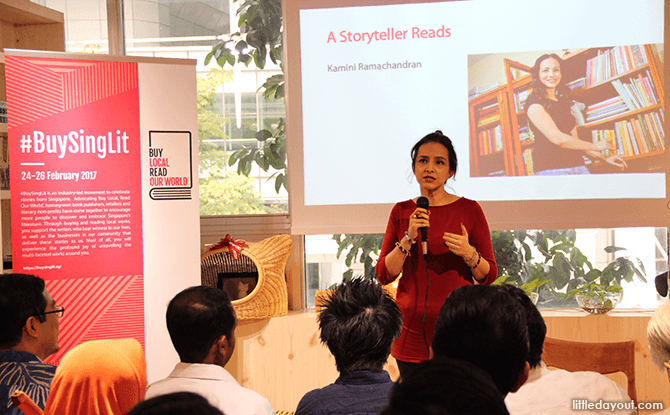 In a live reading, storyteller Kamini Ramachandran performs a selection of translated works by Singapore writers.
26 February, 12 pm to 1 pm; 2 pm to 3 pm; 4 pm to 5 pm; 6 pm to 7 pm
The Storyteller's Studio
Block O, #01-58, 90 Goodman Road
King and Queen!
A Malay pop-up theatre performance for pre-schoolers, starring characters from Siri Bacaan Awal Kanak-kanak.
24 February, 10 am to 10.45 am; 11.30 am to 12.15 pm; 1.30 pm to 2.15 pm; 3 pm to 3.45 pm
Blisshouse Theme Restaurant, 6 Eu Tong Sen Street, #03-21 Clarke Quay Central, The Central
*This programme will be in Malay.
#5 SingLit For Sale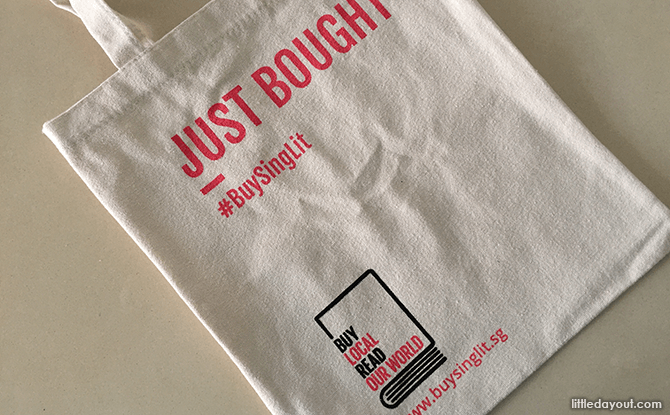 Shop at book fairs at Gillman Barracks, VivoCity, Raffles City, Forum the Shopping Mall and the Plaza at the Central Public Library.
Also, get a set of four Ticket Books containing original, specially commissioned SingLit stories, poems and illustrations in four language editions – featuring authors and illustrators such as Paatheral Elamaran, Balli Kaur Jaswal, Noridah Kamari, Xi Ni Er, Joshua Ip and Chempaka Aizim. Ticket Books will be sold at $15 in all leading bookshops from 24 February, and each includes a NETS FlashPay card that can be used on public transport.
Kids' SingLit Town
Children's books set in Singapore featured alongside readings and workshops at a weeklong pop-up bookstore.
21 to 26 February 2017, 10 am to 10 pm
VivoCity, West Boulevard
Hello SingLit!
A pop-up bookstore and browsing corner, with storytelling sessions and other activities.
24 to 26 February, 10 am to 9 pm
Atrium, B1, Forum the Shopping Mall
Take a Look, Read a Book
An afternoon of storytelling and activities centred on the children's book Fishy Tales by Caline Tan.
26 February, 12 pm to 7 pm
Plaza, National Library Building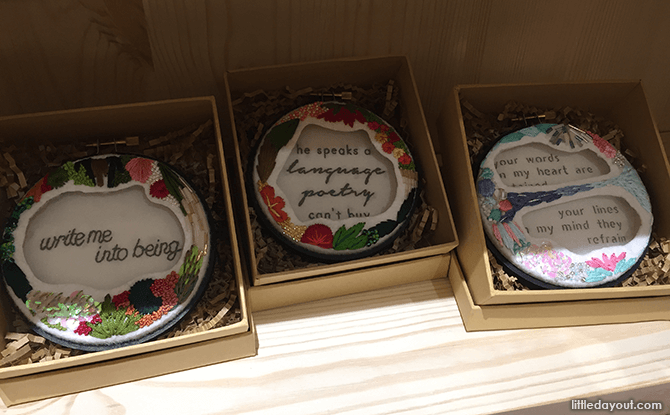 Fifteen artworks specially commissioned by #BuySingLit, created by embroidery artist Jamie Teo featuring SingLit quotes.
24 February, 6 pm to 9 pm; 25 February to 25 March (Exhibition):
Sundays & Mondays 10 am to 6 pm;
Tuesdays to Saturdays 10 am to 8 pm
BooksActually, 9 Yong Siak Street
Buy SingLit Festival
Two-day book fair at Gillman Barracks featuring the latest SingLit titles from participating publishers
25 to 26 February, 10 am to 7 pm
Block 7 Gillman Barracks, 9 Lock Road
MPH Buy SingLit Book Fair
A book fair offering a wide range of SingLit titles, literary events, and a chance to vote for your favourite local title.
24 to 26 February, 10 am to 10 pm
Level 1, Garden Court, Raffles City Shopping Centre
For more information on #BuySingLit, visit:
www.buysinglit.sg
www.facebook.com/buysinglit
@buysinglit on Instagram
This feature is brought to you by the National Book Development Council of Singapore.