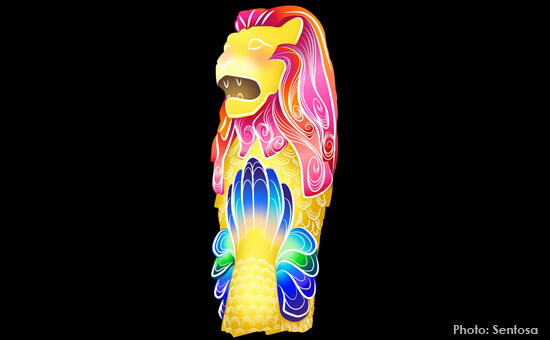 Earlier this year, we saw the Merlion go for a swim at the National Day Parade.  Now, you can head to Sentosa's Merlion Plaza during the school holidays to watch the Merlion come alive and "dance" the night away.
From 23 November 2013 to 1 January 2014, the Merlion Plaza will be abuzz with activities as part of the Sentosa PLAYcation 2013.
Every night, the iconic 37-metre tall Merlion will "dance" as vibrant 3D video images are projected onto its façade. Accompanied by lively music, these 3D images will create a spectacular light show for visitors to enjoy. Daily performances, from 23 November 2013 to 1 January 2014, start from 7.30 pm onwards.
Turn the Merlion light display into a dinner show by tucking in to the grilled delights being offered at the Grill n' Chill food square. Grill n' Chill will be operating in front of the Merlion every Friday and Saturday from 23 November to 14 December, and daily from 20 to 28 December. Retro pop rock band, The Blokes, will also be on hand to entertain the crowds.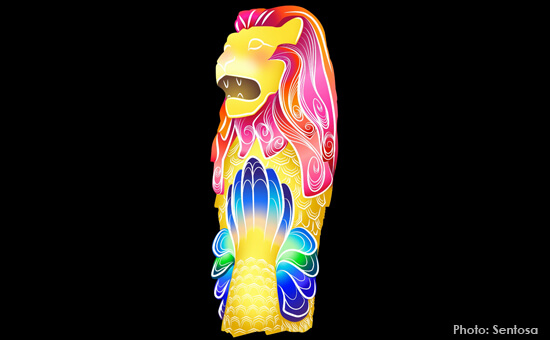 Activities for Kids and the Family
If you are looking for fun things to do with the kids during the school holidays, Merlion Plaza may have just the answer for you with Gifts of Mother Nature activity stations for the children to get "crafty".
Paper Play – Families can view and pose with unique life-sized art displays made from environmentally-friendly materials and kids can create their own mini-cardboard figurines of the Merlion and a Rocking Horse.
Little Hands and Minds – Children can make their own Christmas ornament to bring home and platter up yummy pizzas!
Season of Well-wishes – Together, the entire family can pen down their wishes on stickers and paste them on the Sentosa word block as part of a collective art project.
Activity stations are open from Sun to Thu, 2.30 pm to 9 pm and up to 9.30pm on Fri and Sat. All Gifts of Mother Nature activities cost $10 each with a 50% discount for Sentosa Islanders. The Merlion and Rocking Horse figurines at the Paper Play Workshop cost $20 and $15 respectively. Last purchase of activities will be half-an-hour before closing time.
Entertaining Acts
Keep a look-out for various performers entertaining the crowds at the Merlion Plaza as well.
On 23 November and 29 December, world-class balloon artist Alfred Lee will bring his unique blend of balloon sculpting with magic and comedic puppetry to audiences at the Merlion Plaza. (23 November, 4.30 pm and 5.30 pm; 29 December 4.30 pm and 6.30 pm)
During the Christmas week, music acts such as Skunk Jive, Jessica Lu and Nathan Hartono will help celebrate the holidays with popular festive favourites from 20 December onwards. On Christmas Day itself, Polka Dot + Moonbeam and Ukes Avenue will be on hand with ukulele-filled renditions of pop, rock, evergreens and Christmas tunes.
With the festive atmosphere of the Sentosa PLAYcation 2013 at its feet (if it had any), its no wonder that the Merlion has reason to "dance" the night away!
DETAILS
Sentosa PLAYcation 2013
23 November 2013 to 1 January 2014
Various events, various timings
The Merlion Plaza, Sentosa
The Merlion 3D Video Mapping
Fri and Sat, 7.30 pm, 8.30 pm, 9.30 pm
Sun to Thu, 7.30 pm, 8.00 pm, 8.30 pm, 9.00 pm and 9.30 pm
Gifts of Mother Nature Activity Booths
Fri and Sat, 2.30 pm to 9.30 pm
Sun to Thu, 2.30 pm to 9 pm