3 December is the International Day of Persons with Disabilities and to mark the occasion, SG Enable is organising the Enabling Lives Festival from 1 to 4 December 2022. This event provides opportunities for persons with disabilities, caregivers and members of the public to come together through a series of activities over four days.
---
Enabling Lives Festival 2022
The highlight of the Enabling Lives Festival takes place from 2 to 4 December at the Enabling Village.
i'mable Gift Market (3 Dec)
Pay a visit to the i'mable Gift Market, taking place from 10 am to 5 pm, which showcases original works by talented persons with disabilities, artisanal gifts, as well as premium items. There will be more than 20 vendors from various non-profit, social and commercial enterprises present with merchandise and products ranging from festive gifts and bakes, to fashion, home and living for sale.
---
Enabling Village Open House Tours (3 Dec)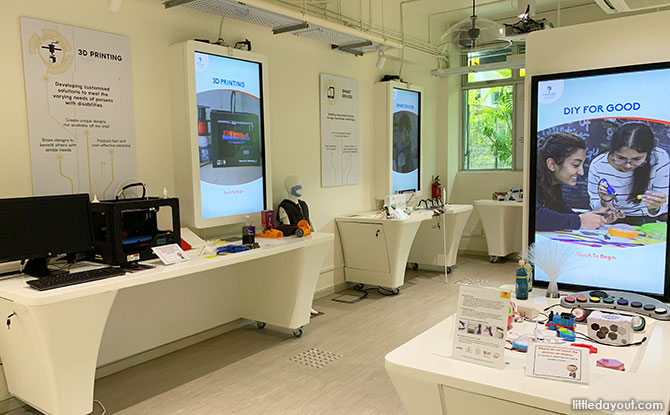 Go on a tour of Enabling Village and visit six key points of interest within the inclusive community space.
The tour will be led by SG Enable's iChamps (inclusion champions), volunteers with disabilities who champion for disability inclusion, and Enabling Volunteers. Each walkabout of the Enabling Village will take approximately 1.5 hours. Each session can accommodate up to 20 participants. Registration is required. Sessions start from 10 am.
---
Mediacorp Celebrities Charity Fair (3 Dec)
Get to meet your favourite Mediacorp personalities like Elvin Ng, Romeo Tan, Desmond Tan, Hong Ling, Chantalle Ng, Tyler Ten, Jean Danker, Ravi G, Gunalan Morgan, and more while shopping for a good cause!
Pick up some pre-loved items such as apparel, eyewear and shoes, and brand-new handmade creations such as frames and flower arrangements contributed by the celebrities.
You will also get the opportunity to watch Zhu Zeliang belt out his favourite songs and artistes draw intricate calligraphy, as well as savour delectable treats made with love by the celebrities!
All sales proceeds go towards the Mediacorp Enable Fund to support persons with disabilities.
---
Learn-A-Skill Workshops Co-facilitated by Persons with Disabilities (2 to 4 Dec)
Participant in a Nutty Christmas Snack Bar and Brew Bag Workshop and learn how to make a healthy no-bake Christmas bar and a complementary brew bag. This ticketed session will be led by apprentices with disabilities from Metta Café and Temasek Polytechnic.
Other workshops taking place on 3 December during the Enabling Lives Festival include book binding and No Sew Festive Tote workshops.
On 2 December, there will be a basic Singapore Sign Language workshop at TOUCH Community Services @ Gateway Theatre, and more arts-related activities and carolling performances will be held on 4 December at ART:DIS @ Bukit Merah Community Hub.
For details on all the activities being held as part of the Enabling Lives Festival, and to sign up for these activities, visit www.enablinglivesfestival.sg.