If ever there was a historical "Singapore bridge", the Elgin Bridge would be it. The current white bridge is located at the site of the original bridge that crossed the Singapore River.
Jackson's Bridge
In the 1822 Jackson Plan, the first attempt at urban planning in Singapore, a drawbridge is marked out for the site. In 1823, Lieutenant Philip Jackson, the colony's engineer and land surveyor, realised this plan by putting up a wooden footbridge on the site, replacing an earlier span built by the British when they first arrived.
This bridge was known as Jackson's Bridge and, up until 1840, was the only bridge to cross the Singapore River.
Thomson's Bridge
In 1844, the Jackson Bridge was replaced by another wooden footbridge which was later  widened to accommodate carriages in 1847. This bridge was known as Thomson's Bridge.
First Elgin Bridge
By 1862, Thomson's Bridge had to be replaced with an iron bridge to carry increased traffic loads. The new structure was named the Elgin Bridge after Lord Elgin, Governor-General of India.
Today's Elgin Bridge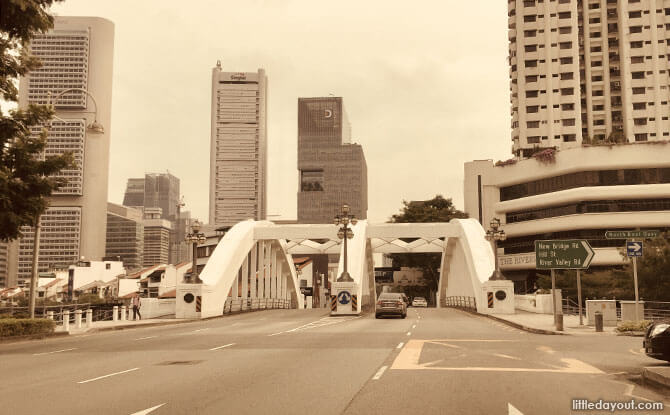 Elgin Bridge was then closed again in 1926 for reconstruction before a new steel bridge, designed to carry the load of modern traffic, opened on 30 May 1929. This is the Elgin Bridge that exists till today.
The Elgin Bridge consists of three arches with cast-iron lamp posts at both ends. It connects the north bank of the Singapore River to the south bank, hence North Bridge Road and South Bridge Road.
Murals at the Elgin Bridge
Today, there are two pedestrian underpasses run under the Elgin Bridge on the north and south banks. Murals decorate the walls of the underpasses with the artworks focusing on Singapore's past and the role of the Singapore River in generating commerce and prosperity. These are a fitting tribute to the location of the oldest crossing point along the Singapore River and the prosperity that was accelerated once both banks were connected.
This article is part of a series by Little Day Out on the stories behind places in Singapore.
References
http://eresources.nlb.gov.sg/infopedia/articles/SIP_921_2004-12-10.html
National Heritage Board (2018). Singapore Trails – Singapore River Walk & Jubilee Walk. Singapore: Straits Times Press.
Dhoraisingam S Samuel (1992). Singapore's Heritage Through Places of Historical Interest. Singapore: Elixir Consultancy Services.