Get a glimpse of Singapore's early years through the eyes of local artists at the latest exhibition at the National Museum of Singapore, A Changed World: Singapore Art 1950s – 1970s.
Featuring 120 works from the National Collection, the exhibition includes paintings, drawings, prints and sculptures from noted Singaporean artists including Lim Yew Kuan, Ong Kim Seng and Georgette Chen. Through their works, visitors will be able to get an insight into what Singapore was like, through the eyes of Singaporean artists, as the country transformed from British colony to independent city-state through the 1950s to the 1970s.
The exhibition is divided into two main themes.
Contexts and Conditions captures the search for identity and national consciousness during the post-war years up to the 1960s while the next section, Emerging Modernities, documents the decade and a half after Singapore achieved nationhood, reflecting the changes taking place in Singapore's urban landscape and the growth of individualism and self-expression.
The exhibition's co-curators, Szan Tan and Daniel Tham, from the National Museum of Singapore shared that the exhibition was the result of constant dialogue between themselves. Their intention was for A Changed World to initiate a dialogue with visitors, engaging them to respond to what they see. There are even audio stations set up in front of the artwork that allow curious visitors to eavesdrop the two co-curators' conversations, providing an interesting commentary to the displayed pieces.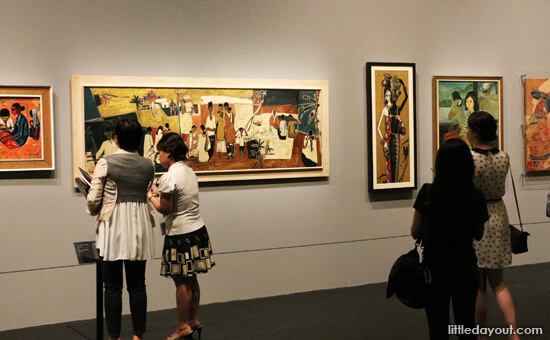 Visitors to A Changed World: Singapore Art 1950s – 1970s can pick up a companion booklet, Dialogues, if they wish to delve deeper into the curator's thoughts behind the exhibition. This will be made available to visitors to at the door, free-of-charge, and only limited quantities are available.
A Changed World: Singapore Art 1950s – 1970s
25 October 2013 to 16 March 2014
Exhibition Gallery 2 (Basement), National Museum of Singapore
Open daily from 10.00 am to 7.00 pm
Admission is free.