Dyson is a brand that needs no introduction, its vacuum cleaners, hair dryers, bladeless fans are familiar household products I have seen or used. We had the opportunity to try the Dyson V12 Detect Slim and here's our take on how it would help or hinder cleaning.
---
Overview of Dyson V12
Unlike its predecessors, the Dyson V12 is the lightest cordless vacuum by Dyson. It also has the laser and dust detect technology which features a precisely-angled laser beam that reveals hidden dust.
Its sensor measures and records the dust and debris that gets sucked up.
---
-- Story continues below --
In addition, Dyson V12 Detect Slim comes with a de-tangling technology that clears hair from the brush bar, plus a pet groom tool.
---
Design & Build Quality of Dyson V12
While it is light, Dyson V12's suction power runs up to 150 Air Watts in "Boost" mode. This lean mean machine is a workhorse despite its slim built. It weighs just 2.1kg with the wand and soft roller attachment, and under 2.4kg with the motorised cleaner head.
Its slim, light body means even children can help out in the cleaning and one hand does the job of easy manoeuvring. The V12 is also suitable for cleaning cars, walls, ceilings, wall fans and hard-to-reach places requiring less elbow grease.
The V12's unique filtration system captures 99.97% of particles as small as 0.3 microns, including allergens and bacteria. It also captures data on the kind of dust and dirt it sucks up. The stick vacuum can be dismantled quite easily for cleaning inside out.
The technical specifications of the Dyson V12 Slim Detect are:
Suction Power: 150 AW
Bin Volume: 0.35L
Run Time: Up to 60 minutes
Charge Time: Two hours
Motor Spins: 125, 000 rpm
---
Dyson V12 Review: Performance and Cleaning Abilities
I tested Dyson V12 in our two-bedroom apartment, on both hard floors, carpets as well as ceilings, sofas and mattresses.
Our usual go-to is a corded vacuum cleaner for floors and a handheld vacuum for quick clean-ups. The V12 was a reliable in-between vacuum that could perform functions of both tools and even more.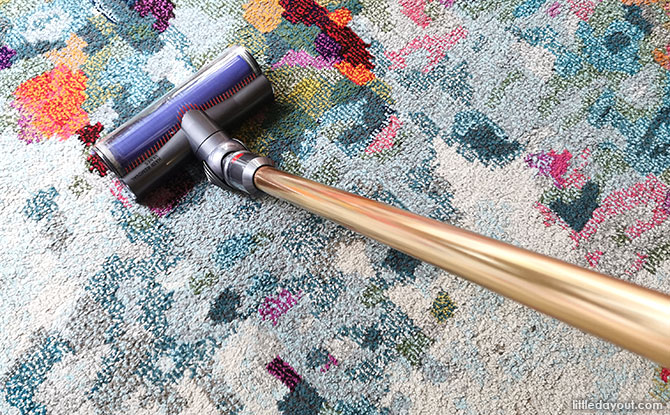 For the carpet, the V12 could suck up a fair bit of dust, fur and dirt that our usual floor vacuum could not. I was flabbergasted at how much dirt the carpet trapped. This showed how effective the V12 was, in Auto mode, cleaning notoriously tough-to-clean carpets.
It also managed to rid the carpet of human hair with the motorbar cleaner head, effectively separating the hair and preventing it from getting trapped in the head.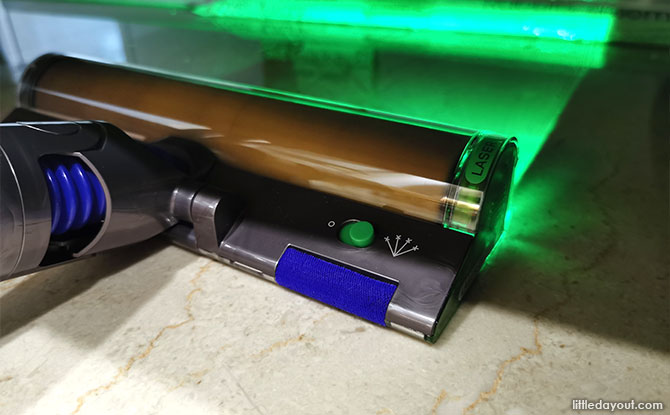 As for hard floors such as tiled floors and parquet flooring, we used the Laser slim fluffy cleaner head which was lighter than the motorbar cleaner head. It was easy to manoeuvre especially in tight spaces and hard-to-reach spots.
The hair-detangling technology was a godsend, since hair usually gets trapped in the cleaner heads of vacuum cleaners.
The Laser slim fluffy cleaner head's angled laser is a "superpower" of the vacuum that "spotlights" dust accumulated under cupboards or in dark corners.
Battery life is also critical to the cleaning efficiency of the vacuum.
The V12 can last up to 60 minutes on the Eco-mode, 45 minutes on the Auto-mode and 15 minutes on the Turbo mode.
We personally found this to be a little short as we tend to vacuum all floors on at a go using the Auto mode and required a charge in the midst of the session. Otherwise, the V12 is perfect for shorter cleaning needs.
---
Attachments & Accessories of the Dyson V12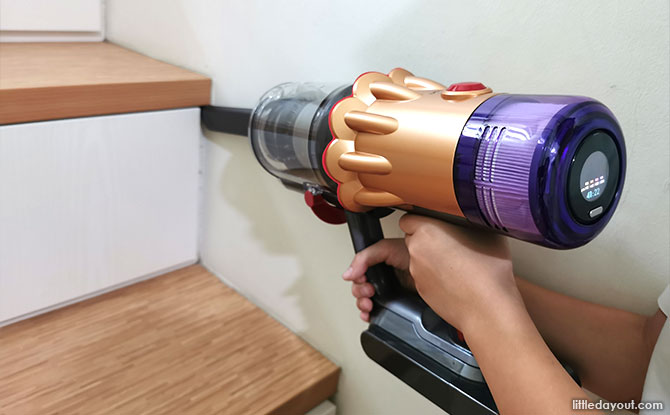 Dyson V12 Slim Detect Absolute comes with seven attachments such as the crevice tool and dusting brush. Each attachment can be used in different situations.
The attachments are:
Mini Soft cleaning brush: for gentle dusting
Up-top Adaptor: bends and locks, for hard-to-reach spots
Laser Slim fluffy head: for hard floors and dust that is hard to spot
Motorbar cleaner head: powerful dusting for all floors especially with hair
Hair Screw Tool: Anti-tangle conical dust bar for hair and pet hair
Combination Tool: For switching in between cleaning needs
Crevice Tool: for precise cleaning
Wand clip: for storing of tools on the wand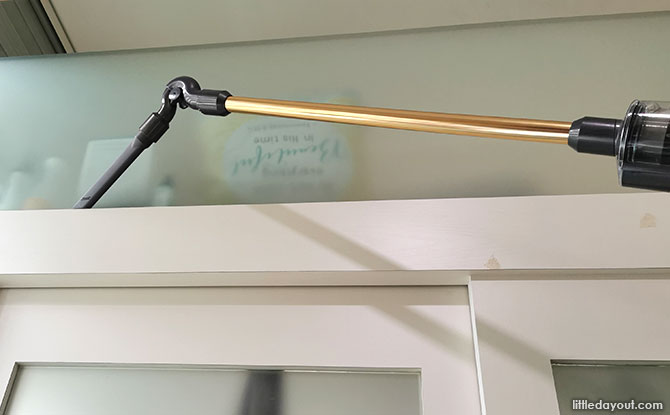 We used mainly the cleaner heads, crevice tool and also made use of the up-top adaptor for cleaning of the top of cupboards and even ceiling fans.
A recommended addition to the V12 would be the fabric and mattress tool. We found this to be helpful for mattresses and fabric sofas. This has to be purchased separately.
---
Overall Thoughts about the Dyson V12 Vacuum Cleaner
We loved how easy it was to clean with Dyson V12; it is a foolproof device that a young child can figure out and manage.
It is a powerful vacuum, slim yet with 125, 000 rpm. Compared to the conventional corded vacuum, this was easier to manage with just one hand.
It was also easy to see the kind of dust and debris in the bin and quick to release.
One gripe we have is how hair can get trapped at the lid of the bin as well as the scattering of dust as you release it. One way to overcome this is to push the lever only when the bin is deeper in the rubbish bin.
Another perk we appreciated was how we could dismantle brush heads, the bin and the filters to wash and clean them.
This would definitely lengthen the life of the vacuum plus maximise the cleaning efficacy. Do follow the instructions given on the Dyson Youtube videos when you dismantle the different parts for cleaning.
The Dyson V12 Detect Slim Absolute retails online for $949.00. More details here.
If you enjoyed this story, read about five handy tools that kids can use to help out with cleaning around the home.