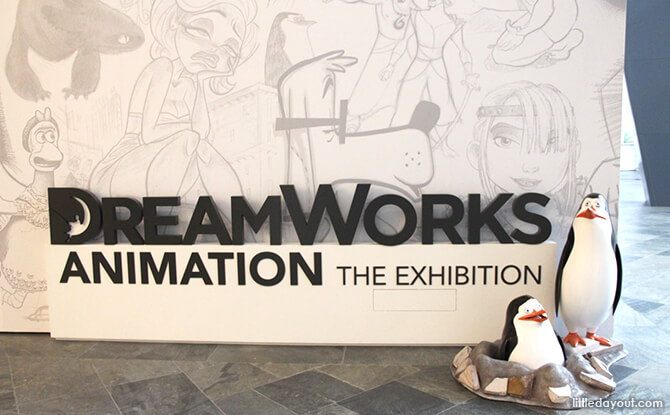 Did you and your kids love Shrek, Kung Fu Panda and How to Train Your Dragon?
Now, there's now a way for your whole family to discover and tinkle with the magic behind the creation of these animated films. For the first time in Asia, DreamWorks Animation: The Exhibition has opened here at ArtScience Museum at Marina Bay Sands in Singapore.
Featuring 31 films and more than 400 displays from 20 years of DreamWorks Animation's collection, budding young animators will have a field day exploring the exhibition. Interactive components, craft stations and animation workshops bring this exhibition up another notch.
From the Animation Desk to the Big Screen
DreamWorks Animation: The Exhibition takes you through the journey of animation from sketches to their big-screen debuts with three main galleries: Character, Story and World.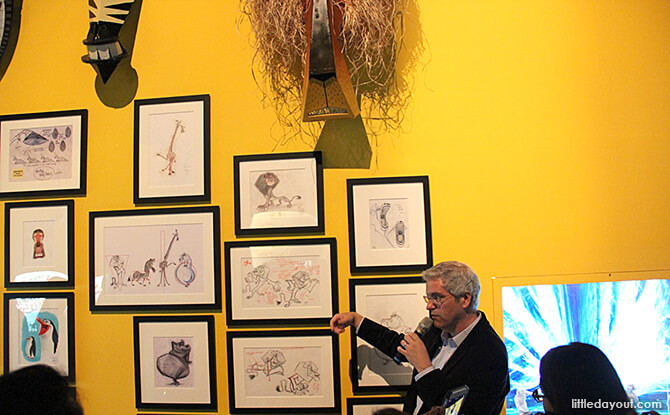 For children aspiring to be animators, advice from Doug Cooper, Visual Effects Supervisor (above) at DreamWorks Animation can be summed up in one word – draw.
"Draw, draw lots. Explore your artistic talents, try out different expressions, tell stories, learn poetry and just keep developing and expressing yourself," said Doug who joined DreamWorks himself at a young age of 23.
Character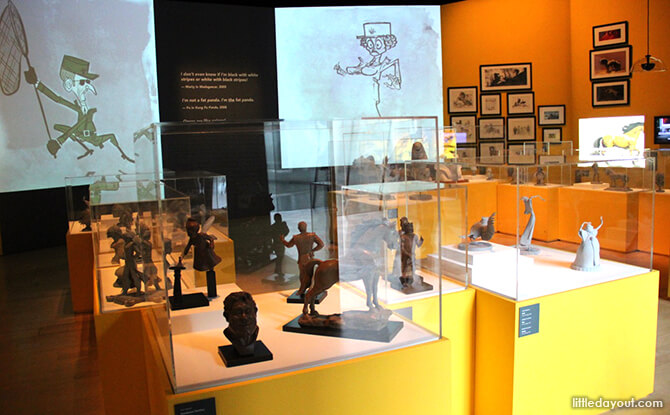 In this first section of the exhibition – Character, you will see the evolution of characters from sketches and learn about the thought process and details poured into each character through the development process.
You can get unprecedented access into DreamWorks' archive of beloved characters including the early versions of Po from Kung Fu Panda and the gang from Madagascar.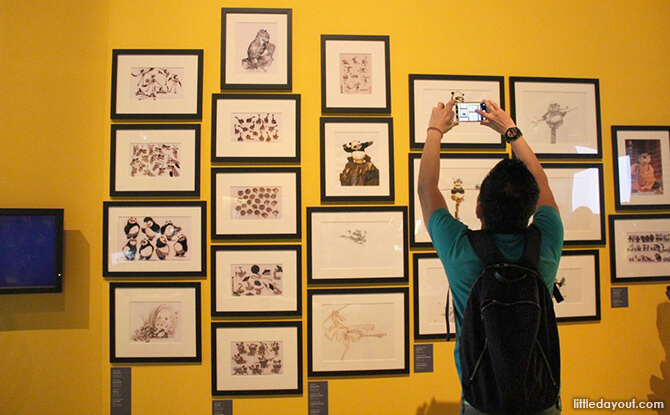 If you have fallen in love with any film in the past, it is highly likely that it is because you have gotten so deeply engaged with a character or a few characters within the film. Hence, creating a character and its emotional content is key to capturing the audience's imagination in any story.
The animation department participated in tai chi classes and kung fu workshops just to get into the character of Po and understand the mechanics of motion. They also went through flight school to understand flight sequences before developing Toothless in How to Train Your Dragon.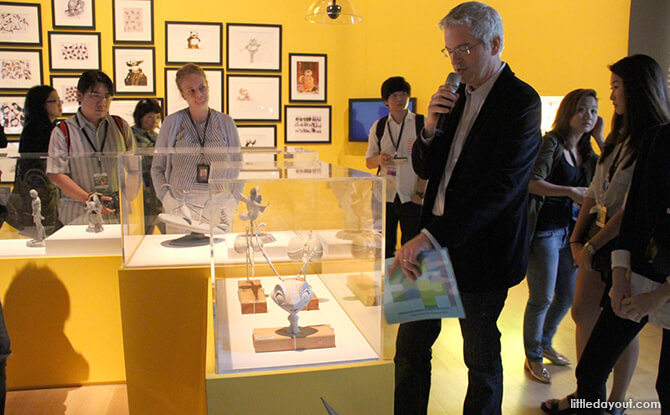 There are forty-seven hand-crafted maquettes. With the help of these small-scale models made of clay or moulded plaster, they looked at a character from different angles, studying them in terms of shadow, lighting, design etc and made the necessary modifications.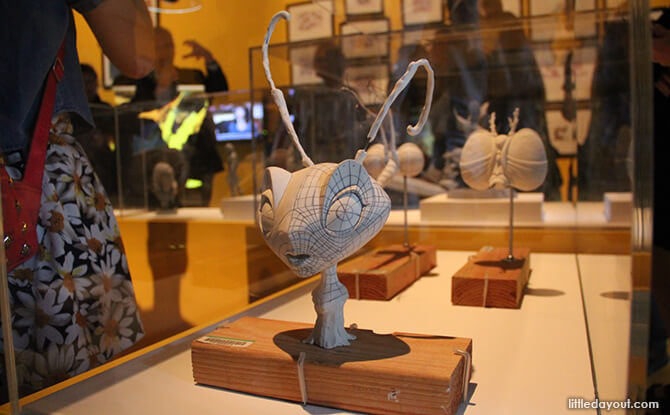 At the Face Poser, you can try your hand at raising or furrowing an eyebrow and see the expressions change immediately on screen. This is a useful tool to show your kids how facial expression manipulation can create different emotions on a character.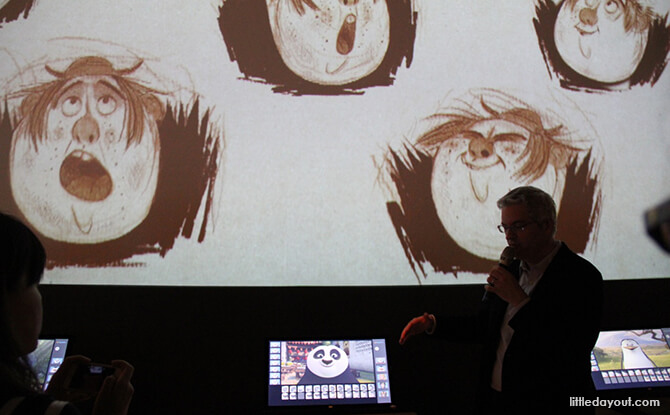 Story
In the Story section, the storytelling process is revealed.
At the centre of it is a reconstruction of DreamWorks' real-life workspace, a large table for the creative process.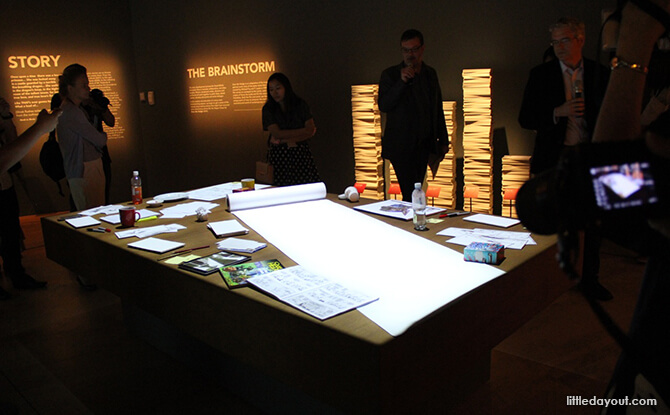 This is the number of storyboards that each film went through. Make a guess how many pieces of artwork this translates to!
Watch filmmaker Conrad Vernon perform, step-by-step, his pitch for the infamous 'Interrogating Gingy' scene in Shrek on a giant digital storyboard.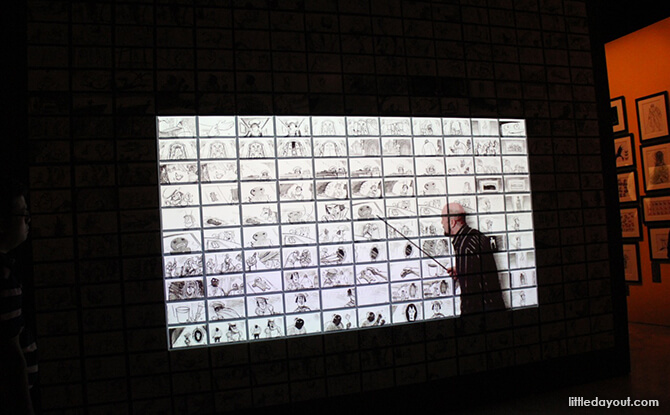 World
In this largest section of the exhibition, you will see the work of directors, production designers and concept artists and get your chance to pose next to the vivid, colourful worlds seen in all DreamWorks films.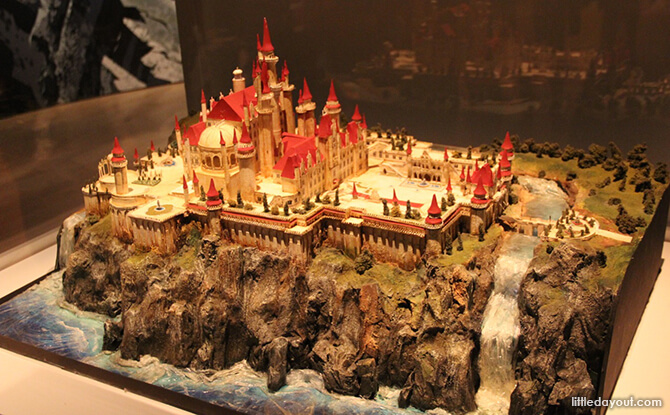 The Ocean Simulator is one of the interactive components in this section. In Computer Generated animation, water is one of the most difficult effects to realise. Take on the challenge and make waves with this simulator by controlling a few simple effects layers.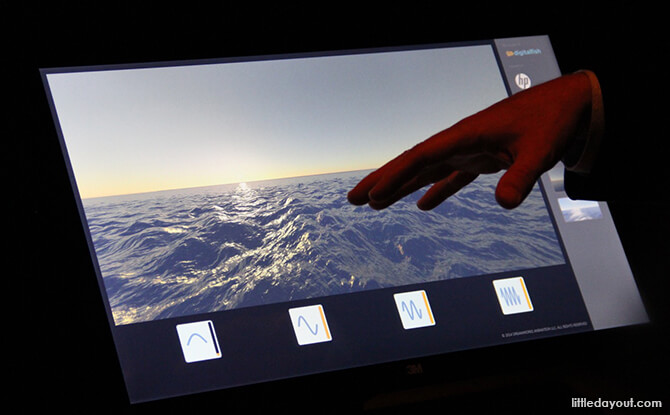 Lighting in a scene can affect the mood and atmosphere in a story. Play the Lighting Designer and experiment with different colours and lighting components.
Make your own flipbook and Thaumatrope, a disc with two different images on both sides, and bring them home.
Don't forget to pop into Dragon Flight: A Dragon's-Eye View of Berk, the exhibition's highlight of a 180-degree projection. Here, you can watch the Isle of Berk being built before your very eyes as you take a panoramic ride on the back of Toothless from How To Train Your Dragon. It's a great visual walkthrough and summary of the whole animation process.
In the Drawing Room, you can create a short animation sequence yourself, using a simplified version of the software all animators use at DreamWorks. Go through a brief tutorial video and begin sketching your vision in 2D animation.
Bridge Between Art and Science
DreamWorks Animation: The Exhibition displays both the art and science of animation, and the very synergy between the two that makes this art form so successful.
"It reveals the art and science of animation, and the creative processes and technical ingenuity that go into making the stunning storyworlds at the heart of films," said Honor Harger, Executive Director of ArtScience Museum.
After all, some of the most successful people in the world are the ones who are able to make the connection between art and science, which is the use of both the left and right brains. So, even if your child is completely new to what animation is all about, this will be a chance for him to be introduced to and to dwell on both the artistry and technical aspects of animation.
Guided Tours and Workshops
Besides the exhibition, there are workshops and programmes you can take part in to get your animation juices flowing and gain hands-on experience. Join the guided tours, Claymation and The Magic of Animation Workshops at $5 per person, and catch screenings of DreamWorks films, complimentary to ticket holders.
Date: From 13 June 2015 till 27 September 2015
Venue: ArtScience Museum, Marina Bay Sands
Open
 daily: 10.00 am to 7.00 pm 
including public holidays,
 last admission at 6.00 pm
Click here to find out more about the programmes and workshops.