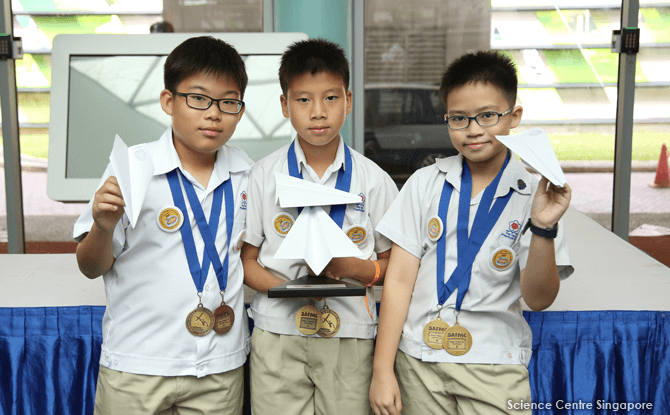 "No age is too young to start innovating," said Mr Tan Soo Kee, Head of Outreach Department, DSO National Laboratories (DSO) at the awards presentation for the Singapore Amazing Flying Machine Competition (SAFMC) held on Saturday, 19 March 2016.
And this was the case as participants as young as primary school children and their flying machines faced-off against each other in the annual competition. Now into its 8th edition, participants at the competition also came from secondary schools and tertiary institutions. This year, a record-breaking 377 teams took part in the competition – the largest number of participating teams since the start of the competition in 2009. This included 14 teams that flew in from Hong Kong and Thailand to participate in the competition.
The SAFMC required teams to undergo trials, workshops, presentations and site visits. They were then asked to complete various challenges during the final judging.
Winners in the various categories were:
---
-- Story continues below --
Category A (Student Class): Flying Rocket, Pei Hwa Presbyterian Primary School
Category A (Open Class): CCHM_G5, Chung Cheng High School (Main)
Category B: Galileo-Alpha, Dunman High School
Category C: Team Brownn, Fairfield Methodist School (Secondary)
Category D (Semi-Automated): NYP PEGASUS, Nanyang Polytechnic
Category D (Automated): SP AERO 2A, Singapore Polytechnic
Category E: Ravitailleur, Singapore University of Technology and Design
A/Prof Lim Tit Meng, Chief Executive, Science Centre Singapore said, "Since 2009, SAFMC has provided an excellent platform for over 6,000 students and aviation enthusiasts to learn STEM (Science, Technology, Engineering and Math) through designing, building and flying their own unique flying machines. Participants gain a tactile experience as they apply their knowledge of aerodynamics and motion to the construction of their flying machines. The quality of entries continues to push boundaries and impress us every year."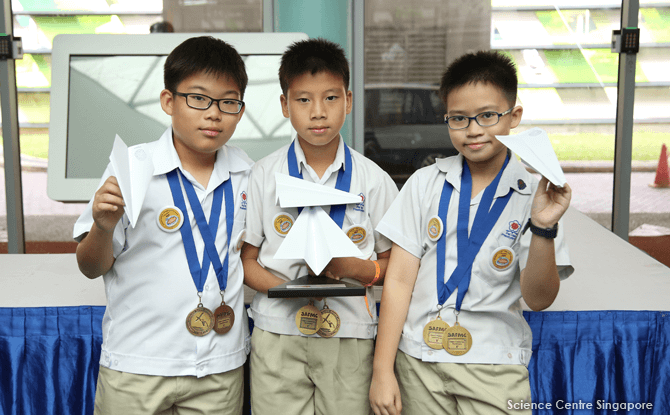 Category A Student Class Champions from Pei Hwa Presbyterian Primary School with their paper planes