From 17 November to 31 December 2018, step into a parallel universe as 17 mythical creatures, including the Ice Dragon from HBO's award-winning series, Game of Thrones, descend upon Singapore Zoo as part of its year-end holiday special, Dragons and Beasts.
A collection of unique, life-like animatronic dragons and mythical beasts awaits visitors in the newly installed Valley of Myths. Catch sight of pop culture favourites like the Unicorn, Griffin and Dragon amongst the lesser known but equally intriguing Ninki Nanka from West African folk stories, and Baku from Japanese legends.
Beyond the physical life-like displays, gear up for a host of specially-designed games and interactive activities on the weekends, and even on Christmas Day! Take on the "Who Inspired Who?" challenge to discover how the fantastical powers of these ethereal creatures in popular culture were inspired by real-life animals, many of which can be admired at Singapore Zoo. Be sure to complete all three challenges to win an exclusive collectible pin!
Up Close and Personal Sessions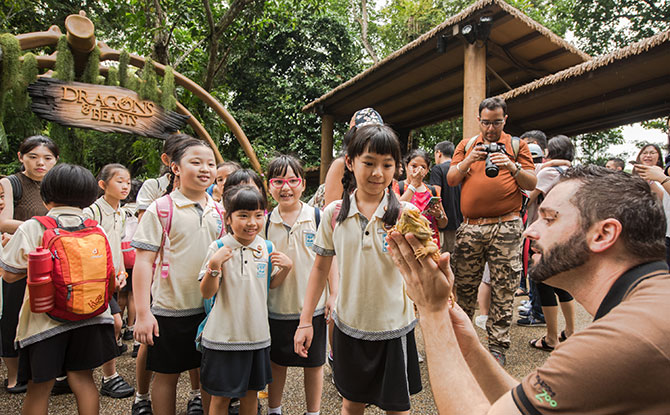 And that's not all. Thrill the little ones with a face-to-face with a real-life dragon in the form of Singapore Zoo's friendly bearded dragons, and have them walk away from the Valley of Myths with a newfound regard for the amazing creatures on this earth.
---
-- Story continues below --
Or go on the Creature Researcher Trail to get up close and personal with the living animals that inspired all the best-loved Dragons and Beasts at Singapore Zoo! Follow the clues closely and record your findings to redeem an exciting prize at the end of it all.
Of the Ice Dragon, the Night King, and his Night Walkers
Beyond the Valley of Myths, winter has come. In collaboration with HBO Asia, Singapore Zoo will for the first time ever, display a 3D replica of Viserion, the Night King's Ice Dragon from the hit HBO Original series, Game of Thrones.
Brace yourselves for special appearances in and around Singapore Zoo from the Night King himself and his White Walkers as they make their rounds on the weekends this year-end. Get your cameras ready to score some amazing insta-worthy GOT selfies!
Dragons and Beasts Promo
From 17 Nov to 31 Dec 2018, local residents will enjoy great savings online!
With every paying adult, receive 45% off for the second admission ticket to Singapore Zoo. Terms and conditions apply.
Going solo? Skip the queues by purchasing your ticket online, and enjoy a 15% discount on admission!
To learn more about Dragons and Beasts at Singapore Zoo, go here.
READ: Discover Amazing Things to Do During the Year-end Holidays 2018