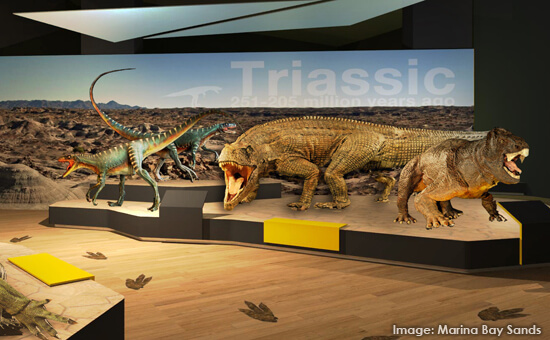 An exhibition of prehistoric proportions stomps into the ArtScience Museum in 2014.
Dinosaurs: Dawn to Extinction opens on 25 January 2014 with over 400 fossils and models, and 50 original art works that tell the story of what came before and after the dinosaurs. Uncover how the dinosaurs lived through hundreds of fossils and vivid illustrations that provide a window into the fascinating world of dinosaurs.
This exhibition promises to be highly interactive and take visitors on a journey through the Precambrian, Triassic, Jurassic and Cretaceous time periods while providing insights into how the dinosaurs adapted to their changing environmental conditions.
On display will be some of the oldest dinosaur fossils ever found. Highlights of the exhibition include an 18-metre long Apatosaurus and 17.6-metre long Lessemsaurus.
---
-- Story continues below --
Part of the exhibition will be devoted to enabling visitors to learn and explore the behaviour and movement of dinosaurs. A free mobile application, "ArtScience Museum: Dinosaurs Dawn to Extinction", will also be available for download and includes interactive and educational features rendered for different parts of the exhibition.
Dinosaurs: Dawn to Extinction is curated by paleontologist Dr. Patricia Vickers-Rich from Melbourne's Monash University and brings together four exhibitions from the American Museum of Natural History, San Juan National Science Museum, SCI! Expo at Monash University and artist Peter Trusler.
"We're extremely honoured to work with some of the world's leading paleontologists, experts in the domain of dinosaurs and the long history of life on planet Earth, to present this first-of-its-kind exhibition, unlike anything seen in Singapore or Southeast Asia. The exhibition will shed light on how dinosaurs lived on earth. It will also serve as a window into the past where visitors will have the opportunity to immerse themselves in this prehistoric world," said Ross Leo, Associate Director of ArtScience Museum.
Read our review of the ArtScience Museum's Dinosaurs: Dawn to Extinction Exhibition.